Latest posts by Stefan Stevanovic
(see all)
LEGO Overwatch Sets are the perfect gift for the fans of the game. These products feature heroes and vehicles from Blizzard's title, most of which have a sci-fi feel to them. Even if you're not the biggest fan of the series, you'll be hard-pressed to refuse such a gift.
As someone who has always enjoyed the company's titles, dating back to Diablo 2, I was excited when Overwatch was first announced. The game was a breath of fresh air within the MOBA genre, dominated by Dota and League of Legends.
LEGO Overwatch items combine the best of both worlds. They rely on Blizzard's fantastic character and vehicle design coupled with the playability of LEGO cubes. These products are much better for younger kids. Then again, I have a couple of colleagues who were chomping at the bits to buy some of these sets.
In this article, I will review the best LEGO Overwatch sets, focusing on their pros and cons. Regardless, if you're a fan of the title, you would probably like to buy all of them and display them in your cupboard.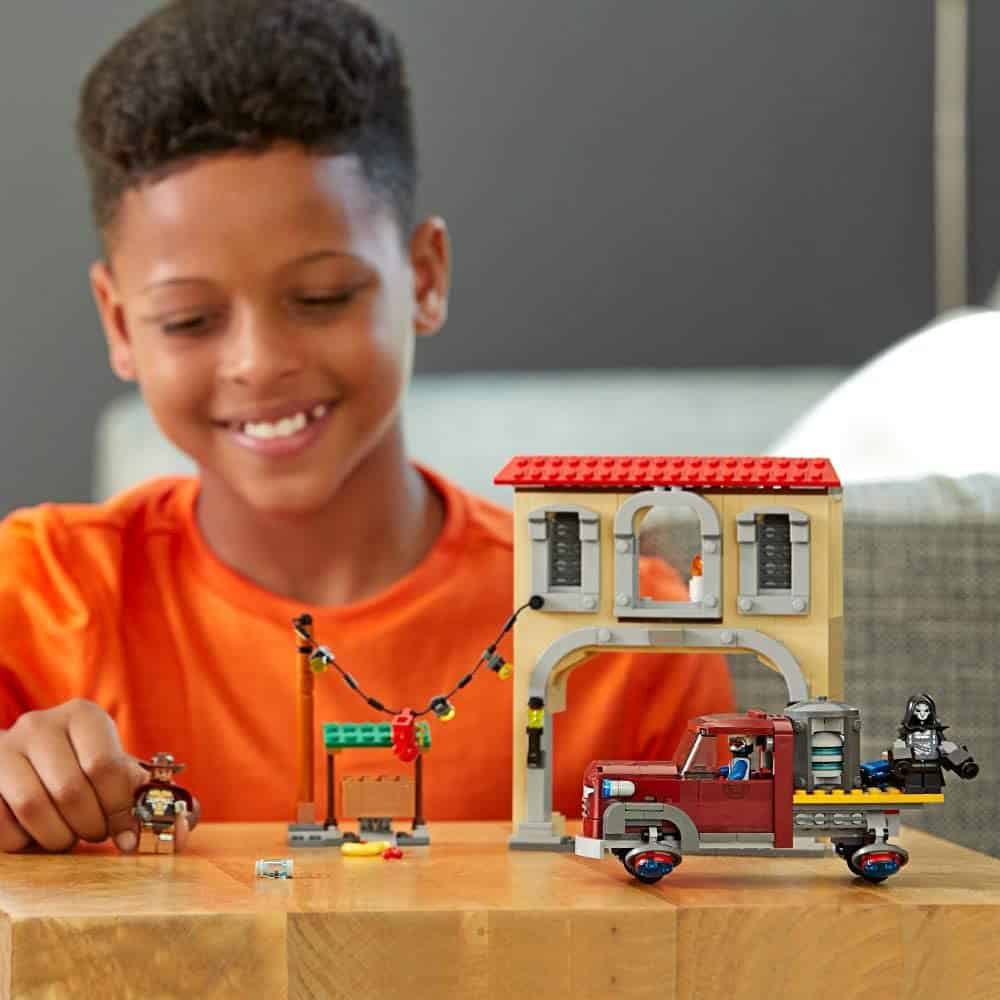 Key Info Up Front
Best LEGO Overwatch products are small pieces of art. They have beautiful, colorful designs, mimicking Blizzard's virtual models. As with any other LEGO products, you can combine them with other sets, further increasing the fun.
My favorite item is Lego Overwatch 2 Titan set. This is a famed set that was pulled quickly after the initial release. There are rumors that this product will never return back to the stores. A lucky few that had the opportunity to buy are now selling the item at about $400 to $500.
My Top Picks at a Glance
Tips for Reader
Truth be told, LEGO hasn't released that many Overwatch sets. So, if you're a big fan of LEGO and this video game title, you can buy all of them for your collection.
If you're looking for a nice first set, I would suggest going with LEGO Overwatch Wrecking Ball. LEGO Overwatch Junkrat & Roadhog is another retired set that looks more like a collectible than a toy. LEGO Overwatch Watchpoint: Gibraltar is ideal if you're looking for a generic gift.
As with most toys, Amazon, Wal-Mart, and eBay are the best place to purchase these products. Some of these items are only available on eBay, such as the case with LEGO Overwatch 2 Titan set, and are auctioned at high prices.
If you check LEGO's official site, you'll notice that all of these products are listed as "Out of stock." Because of that, I didn't want to feature any products from the official store. Still, if you're interested in LEGO Overwatch, you can still acquire them through secondary retailers.
Due to the recent Blizzard Activision controversy, certain sets were quickly removed from the shelves after the initial release. This made them instant collectibles. We don't know what will happen with this series in the future and when we are getting the new Overwatch 2 pieces.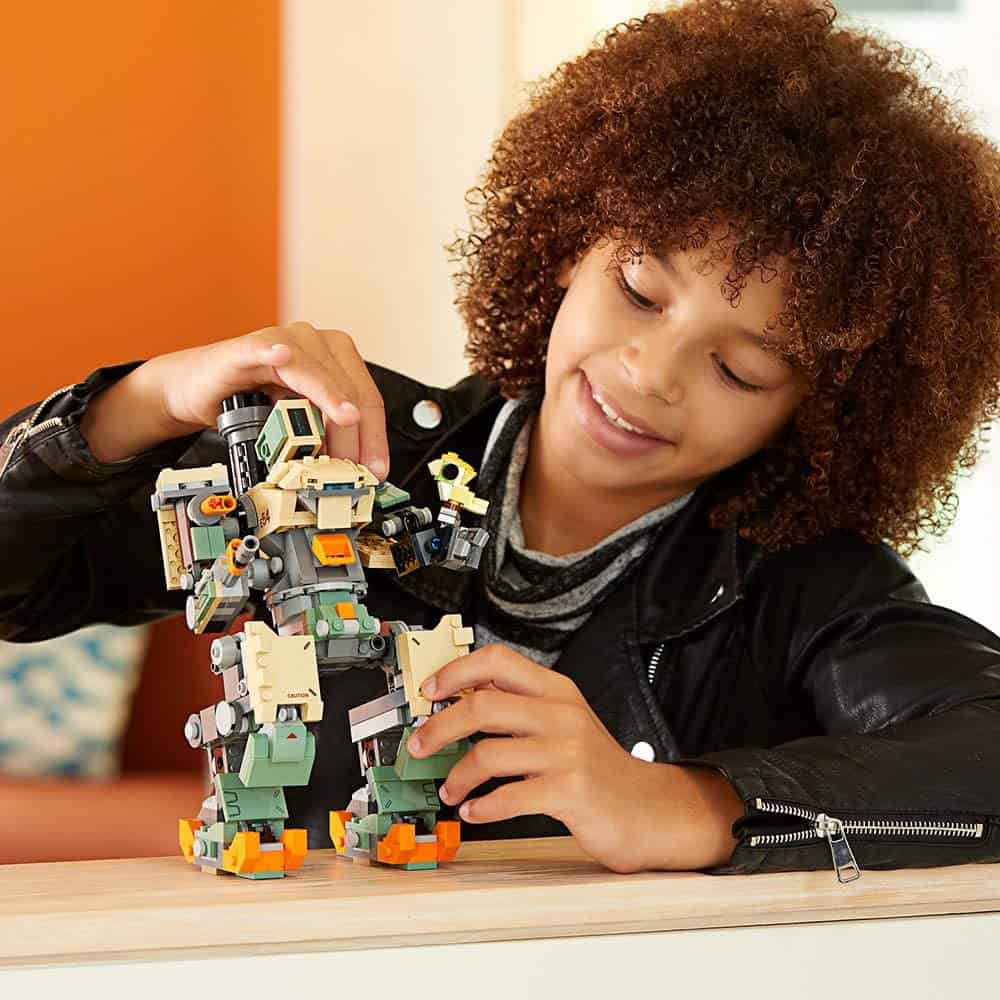 What Were the Selection Criteria?
When making this list, I followed a few rules:
The product is featured in one of the largest online stores.
It should work well as a plaything but also collectible.
A set should feel unique when we compare it to LEGO products from other collections.
There aren't many LEGO Overwatch sets available online, so it wasn't particularly hard to make this list. I just went with the few best items that could, in my opinion, serve several purposes.
I added sets that are suitable for people of all ages. Most notably, you can buy each one of these as a gift without worrying if the person will like the item. I also made sure to prioritize products that "feel" different. Even if you have 100 LEGO sets, a product that I listed should offer something unique.
Product List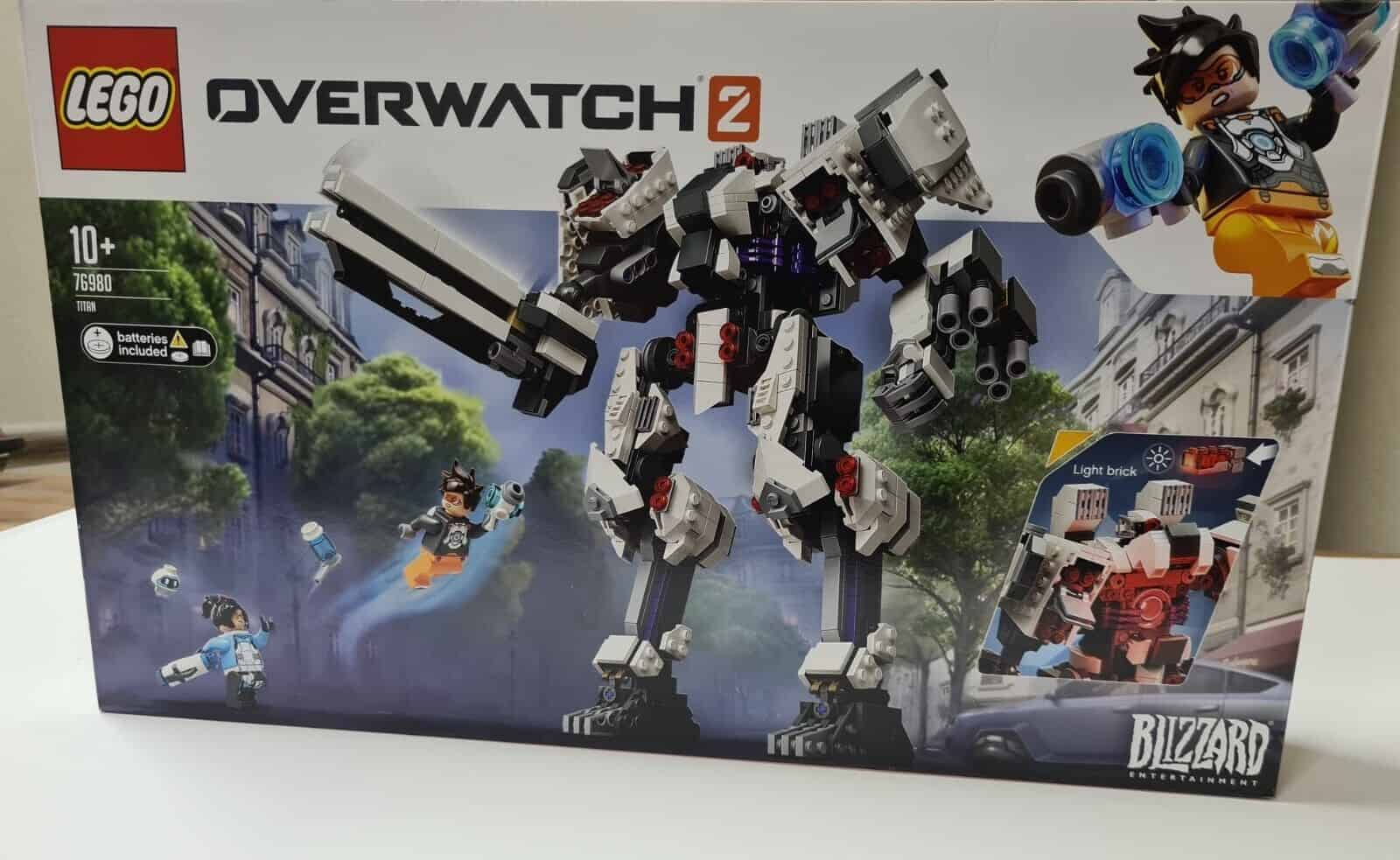 LEGO Overwatch 2 Titan set is a beautiful piece that should be at the top of every reviewer's "Best of" list. This item was briefly featured in stores back in February, but the company had to pull it from the shelves amidst the Activision Blizzard controversy. As a result, only a handful of people had the chance to buy it.
Nowadays, you can find Null Sector Titan only in auction stores such as eBay. The item is sold for $400 and even more (it was initially $70), and there's a good chance its price would keep on rising. Then again, this all depends on how Blizzard's situation would resolve and whether these items are rereleased.
However, I didn't put this set first just because of its perceived value or novelty factor. I actually think that it's a beautiful piece. If you're a fan of mechs, this is one of the best LEGO sets to purchase. It also features Mei and Tracer, who are battling the enormous mechanical beast.
Pros
Excellent design; among the best mechs across all LEGO product categories.
His weapons systems are fantastic and one of the highlights of the set.
If you're buying these products as collectibles or you're looking to resell them, it doesn't get better than this. Due to the whole situation with Activision Blizzard, this might become one of the most notorious LEGO collectibles ever.
Cons
Hard to obtain at this moment.
LEGO Overwatch Wrecking Ball is another item I simply adore. In terms of its quality and uniqueness, it's similar to LEGO Overwatch 2 Titan set. In fact, I will go as far as to say that this is one of the most peculiar sets I've ever seen.
It's worth buying this product just so you can get a hamster figure. When assembled, the Wrecking Ball looks incredible, featuring numerous high-tech weapons. Another thing worth mentioning is the fantastic colors. Although not exactly the same as the ones in the game, they are similar enough.
If this is your first time buying an Overwatch set, I would recommend going with this one. It's much cheaper and easier to acquire than LEGO Overwatch 2 Titan. LEGO collectors will appreciate its unique appearance, which sets it apart from other items. As for the kids, they'll love the jovial hamster.
Pros
The product features a unique design. According to my knowledge, the company doesn't sell anything similar.
The item has beautiful colors, which are even better than those in the game.
LEGO Overwatch Wrecking Ball is an excellent purchase for kids. It has weapons and a hamster pilot; it doesn't get much better than that!
Cons
There are some tricky pieces that could be difficult for first-time builders to put together.
Once assembled, the legs of the wrecking ball can be quite fragile, so be careful when playing.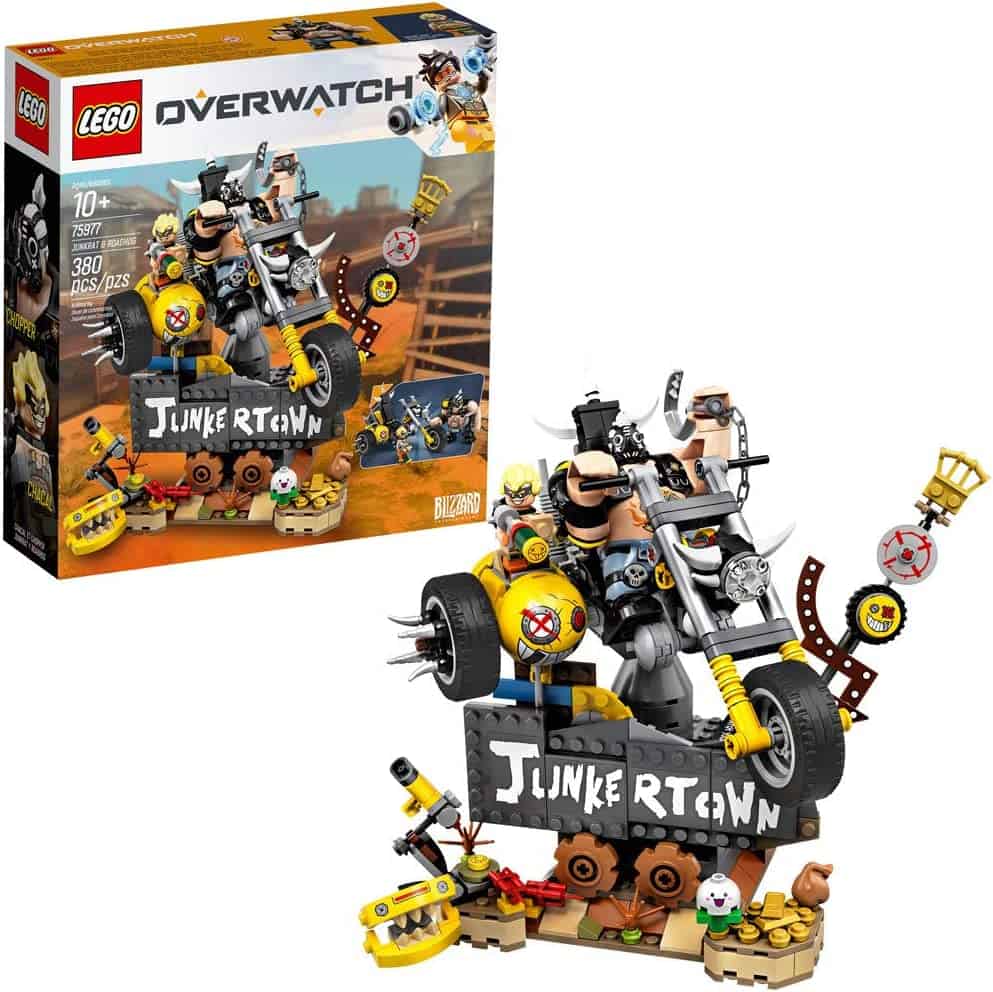 Junkrat & Roadhog is another item that looks apart. This set is a real treat for bikers and fans of Mad Max. In fact, Roadhog and Junkrat are probably a reference to this movie as they are from Australia. The product comes with a makeshift stall making it the best piece for a cupboard or a desk.
The set has numerous small details that you can't find in other LEGOs. A good example is the steel trap and the side driver. I love the spikes on tires and horns on the headlight. Lastly, I'm compelled to mention the happy flower beneath their bike. Although I'm not a fan of Junkrat's piece, the company did an excellent job with Roadhog.
I feel that this particular set is much better for exhibiting than for playing. Then again, kids love to roll vehicles around, so most boys will have lots of fun when they assemble the item. No matter how you look at it, the product deserves to be at the top of my list because of all the intricate details.
Pros
The Roadhog model is simply fantastic. I adore his hook and kneepads.
This item has numerous beautiful pieces combining silly and fun.
If you're looking for a new set to showcase in your personal LEGO area, it doesn't get much better than this.
Cons
Junkrat doesn't work for me.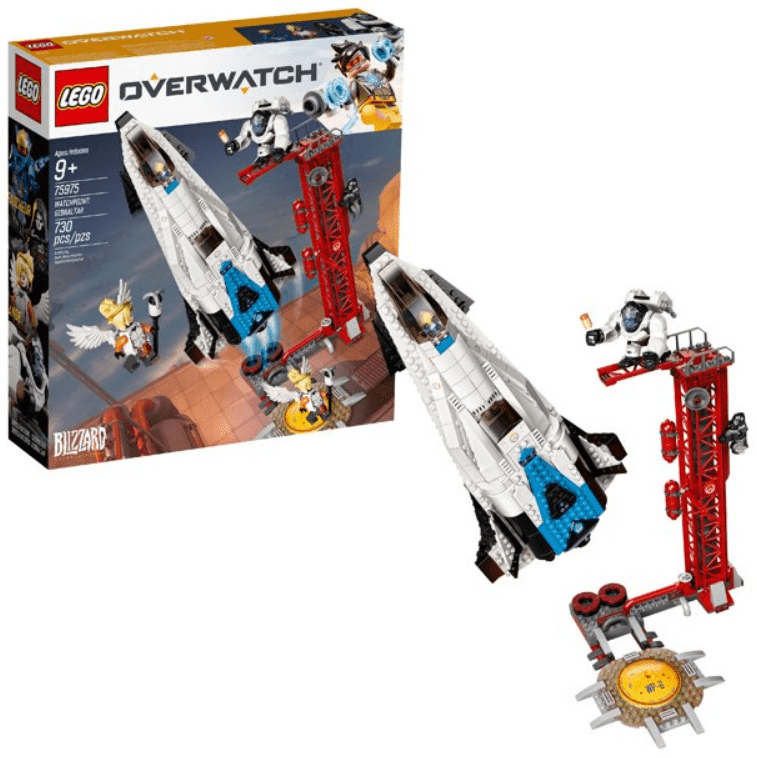 If you're going to a kid's birthday party, and you think they might like Overwatch, you should get them this set. LEGO Overwatch Watchpoint: Gibraltar is what I refer to as a "safe product." It's a solid set that features numerous pieces. What's even better, you can easily combine it with LEGO sets from other product lines.
This product references an Overwatch escort map. To win the match, you need to place a drone in the rocket. Besides the spaceship, you also get Mercy, Reaper, Pharah, and Winston figures. I like the spaceship as you can easily combine its parts with other types of non-Overwatch LEGOs. The figures are fantastic if you have other Overwatch sets.
I think this set is especially great for families with several kids. Having several mini-figures is always great for roleplaying. Also, the spaceship looks like something from a different set, which is both good and bad. In other words, although you can easily combine it with other sets, some people might not realize that it's from Overwatch.
Pros
The item features the most mini-figures out of all the Overwatch sets.
The launch pad is unique and goes well with the spaceship.
Works well with other sets.
Cons
The spaceship is a bit generic. It feels that most of these pieces are borrowed from other products.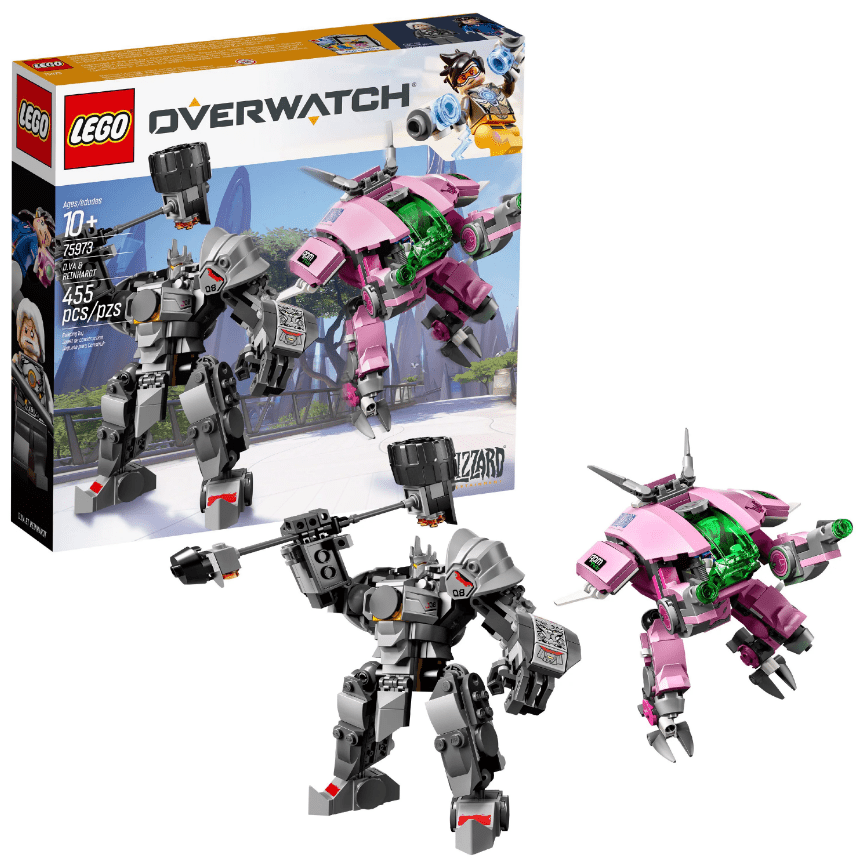 This product is a great choice for people who like mechs but also those who like playing with Reinhardt or D.Va. As in the game, Reinhardt wields a massive hammer, while D.Va relies on her modern weapons systems to deal with the baddies. You also get two hero figures that fit perfectly in the mechs.
There are several reasons why I decided to place this product on the list. First off, there aren't many LEGO sets, Overwatch or otherwise, where you get two mechs. Although these robots are not enormous, they are large enough to hold with two hands.
Another thing I really like about the set is that it's perfect for a brother and a sister. Reinhardt is an epitome of wisdom and masculinity, wielding a massive futuristic hammer. D.Va is young and jovial. Her pink mech is a perfect plaything for young girls.
Pros
The product is perfect for sister/brother households.
You get two mechs in one set, which is beyond amazing. Furthermore, while both of these are robots, they feel completely different.
Like some other LEGO Overwatch sets, these robots have beautiful paint jobs.
Although I would call this the best set on the list, it's likely the most complete one. In other words, you can use it as a plaything, as an exhibition piece, and it's great for siblings.
Cons
There are lots of stickers in this set, which might be tricky for some people to place correctly.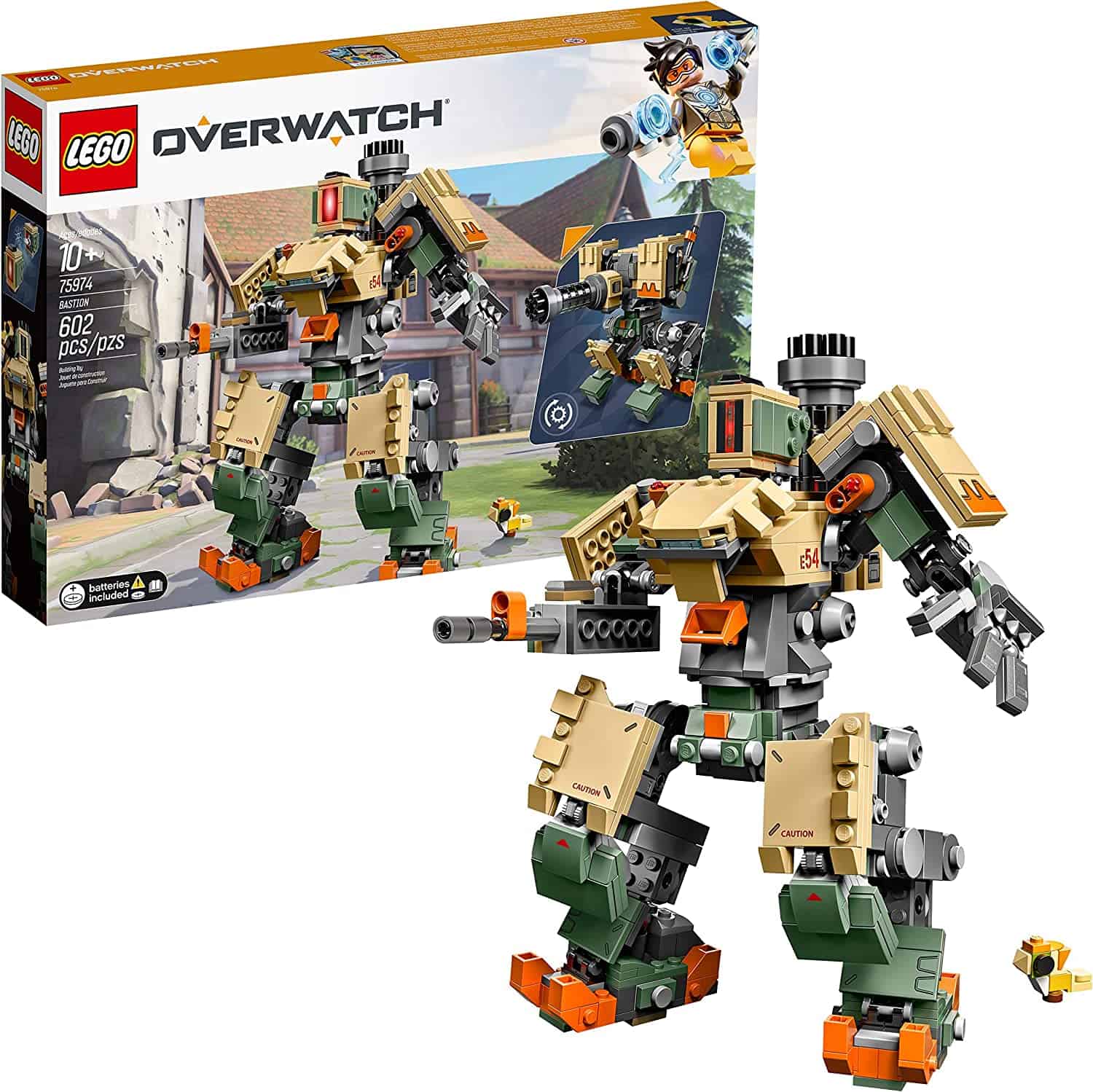 LEGO Overwatch Bastion is one of the several mechanized characters in the game. Unlike most other mechs, this is an autonomous robot. It has its own program that allows it to fight other combatants. As a result, you won't get any mini-figures when you purchase the set.
The thing that separates this product from the pack is not necessarily its design. Instead, Bastion has a unique feature that you almost never see on LEGOs. You can lower the figure down to assume a position of a tank, barely changing the placement of the cubes. This makes it one of the best playthings on the list.
Although the product has unusual colors, I like its uniqueness. When you buy the set, you also get the bird companion, which follows the hero in the game. As a cherry on a cake, you can also turn on his head visor.
Pros
An incredible feature that allows you to change the robot into a tank.
One of the most enjoyable playthings on this list, which says a lot given that most of them are excellent in that regard.
A red headlight adds to the sci-fi feeling.
I love the addition of the bird companion. Not only is it according to the lore, but it is also a cute small detail.
Cons
The robot's joints look a bit flimsy. Then again, this is what allows easy transformation.
No mini-figures are included in this set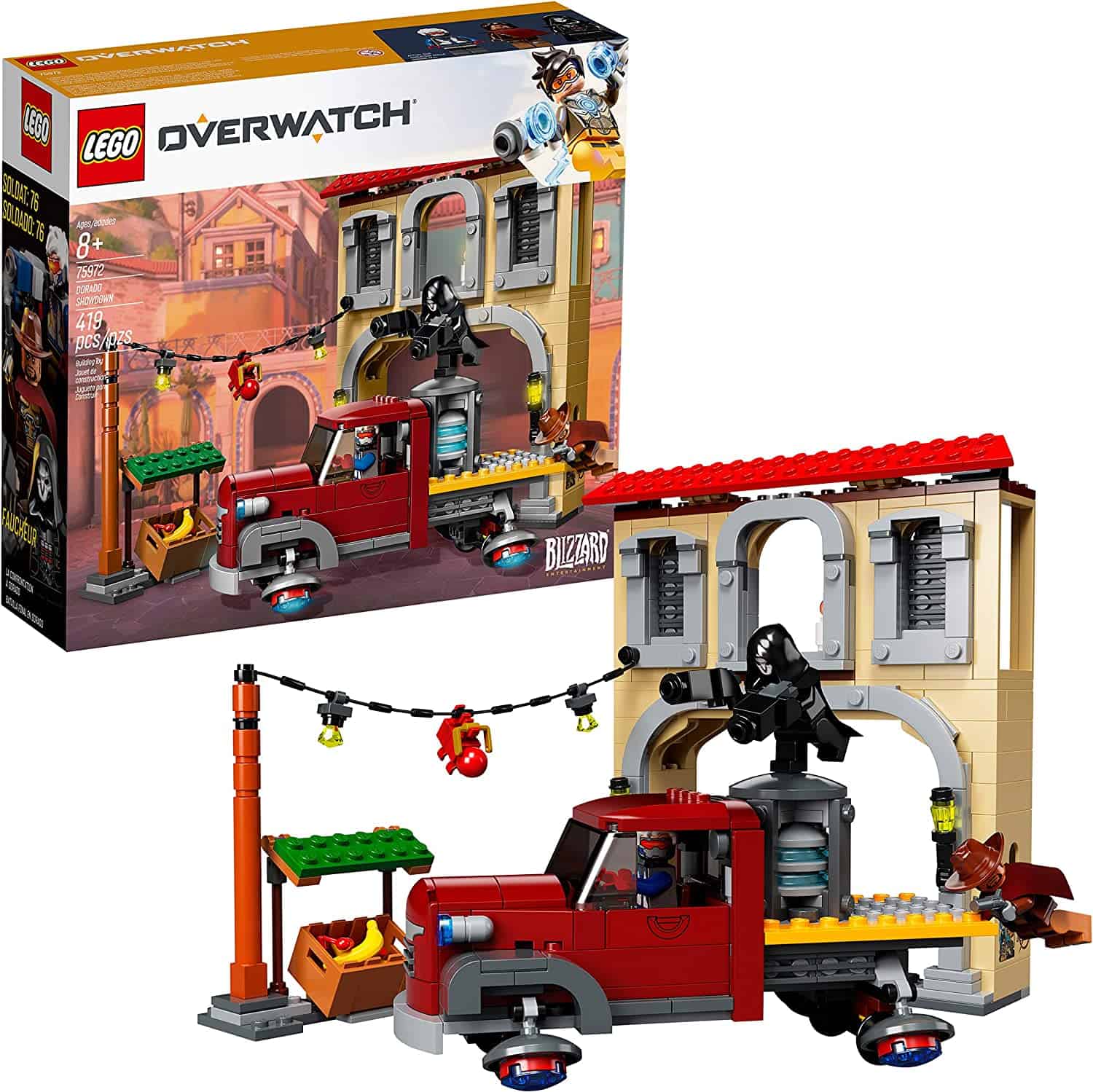 With this product, you can create the Dorado building from the game, as well as the payload truck. This is the second map-related set in the game alongside Watchpoint: Gibraltar.
As you can presume, LEGO Overwatch Dorado Showdown is fantastic for combining with other pieces. Within the package, you'll get Reaper, Cole Cassidy, and Soldier: 76 with their signature weapons and accessories. However, you can use just about any Overwatch mini-figures for this map.
I especially like the payload truck. It is designed to host several figures in the back, so you can even use it as a showcase piece. For example, I would personally love to combine it with some other vehicles such as the Wrecking Ball and Junkrat & Roadhog bike.
Pros
One of the two map sets available. It's excellent for combining with other vehicles and heroes.
The payload truck is generic and unique at the same time. You can combine it with other categories of LEGO products, yet, it's obviously a reference to Overwatch.
I also like that the creators added all the heroes' weapons and accessories. When you buy the set, you'll get Reaper's dual shotguns, Solder: 76's gun, and Cassidy's revolver.
This is one of the rare, underpriced LEGO sets (counted based on the number of cubes).
Cons
I would love a bit more pieces as additional parts of the scenery.
FAQs
Question: Are Overwatch LEGOs discontinued?
Answer: If you check LEGO's official site, you'll notice that all LEGO sets are currently unavailable. While you can still find these sets via third-party retailers, like Amazon and Wal-Mart, the new units are no longer being made.
LEGO planned on releasing Overwatch 2 products back in February. After a brief stint on the shelves, they decided to suspend Overwatch 2 Titan set, which has become a valuable collectible since. The organization decided to make this move after rampant sexual allegations involving Blizzard employees.
Question: How do you get Overwatch LEGO?
Answer: Although LEGO Overwatch items are currently suspended by the company, you can still find them in various online stores. Most people buy them from Wal-Mart and Amazon, but you can also find them in toy and hobbyist shops.
Certain items, such as Overwatch 2 Titan set, can only be found through auction websites. If you're looking for this particular product, which has become notorious since the suspension, I suggest you visit eBay.
Question: Is the LEGO Brick Bastion skin rare?
Answer: To celebrate their cooperation with LEGO, Activision Blizzard has released Brick Bastion cosmetic. This item changes the hero so that it resembles its LEGO counterpart. The skin was available for a short while and has now become one of the rarest Overwatch virtual items.
Question: When were the first LEGO Overwatch pieces released?
Answer: The first LEGO Overwatch sets were introduced back in October 2018. The toy company has decided to make a licensing deal with Blizzard Activision after witnessing the game's massive success. They were also supposed to release a new set of products in anticipation of Overwatch 2. However, this never happened, and the collection was since retired.
Conclusion
LEGO Overwatch is a collection of toy products that feature vehicles, heroes, and maps from this incredibly popular MOBA game. After the massive success of the LEGO Overwatch 1 series, the company was supposed to release new items ahead of Overwatch 2 launch.
Unfortunately, this never happened because the toy company had to stop its cooperation due to allegations against Blizzard employees. After releasing their newest set in February, Overwatch 2 Titan, they had to stop the campaign just a few days later. Today, collectors pay 400 to 500 dollars to enjoy this product.
Overwatch 2 Titan is my favorite product from this collection. It is a massive, beautiful mech that features numerous weapons. The piece is somehow unique and generic at the same time. You can easily combine it with other Overwatch 1 sets.