Latest posts by Stefan Stevanovic
(see all)
Given that Valorant is a free-to-play game, Riot uses skins to make money off the title. So far, they have released a plethora of cosmetics that are categorized based on the edition. You can buy them as individual skins or bundles, and there are several ways you can acquire them.
As someone who has played numerous free-to-play games, I've always loved skin systems. They are the best, most democratic way for a company to make money without jeopardizing player experience. Some of these cosmetics are really amazing, and I'm especially a fan of the Glitchpop bundle.
Even better, some popular titles such as League of Legends and Dota 2 have made massive profits relying on these systems. Selling skins and battle passes turned out to be much more lucrative for Valve and Riot than if they simply sold just the base game.
But let's not neglect the impact of these skins and battle passes on player experience. They truly make a game better. As someone who has played Dota 2 and LoL for thousands of hours, getting a new skin can break the monotony. What's even better is that you can sell or trade these skins later on.
In this ultimate Valorant skin guide, I will go through all the skins in Valorant, what they look like, and how you can acquire them.
Key Info Up Front
Riot has made some excellent skins for Valorant. They are cosmetic enhancements that don't improve your results but can make the game more fun. You can purchase skins as individual items or parts of the bundle. Aside from buying them in the store, there are a few other ways to acquire them.
My favorite bundle is Glitchpop. I simply love how this cosmetic looks on your weapons, especially on Bulldog.
General information
Like in some other games, skins are categorized based on their quality: Select, Deluxe, Premium, Exclusive, and Ultra. As you can presume, higher-tier skins are more expensive. When purchasing skins, you can go with single items or bundles. If you're a collector, it is much better to buy a bundle as you can make enormous savings.
Every skin has unique reload, animations, death effects, and sound effects. A cool thing about Valorant cosmetics is that you can evolve some of them. You can do this by finishing battle pass contracts, which gives you a currency known as radiant points. You can also get this currency by spending Valorant points.
By upgrading your weapons, you're getting more than an improved appearance. Some of the guns will receive new sounds, animations, and other effects. Although it might take some time to fully upgrade a weapon, the final results are more than worth it.
How to Get Valorant Skins?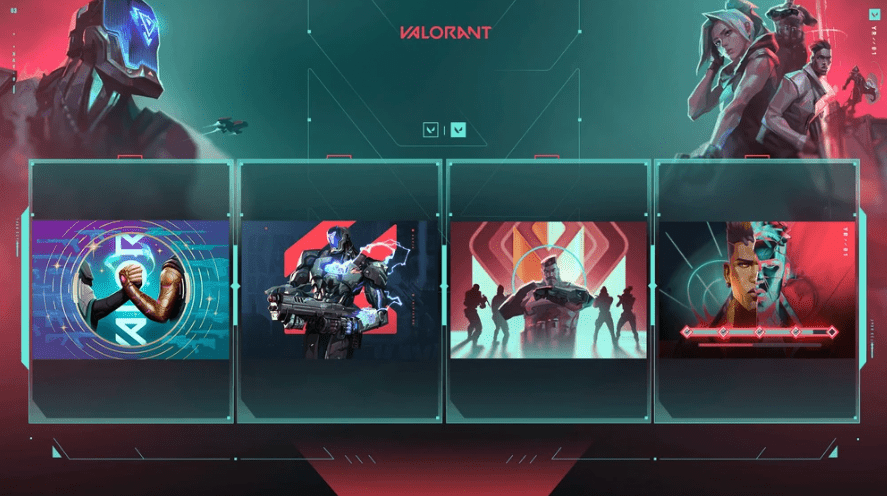 There are several methods of acquiring Valorant skins:
Agent contracts
Battle pass
Legacy skins
Store purchases
Agent contracts
Once you reach tier 10, you get a specific weapon skin. This isn't the best way to collect skins, as you get only certain cosmetics upon meeting the criteria. Still, if you don't want to invest any money in the game and you'd like to have a few esthetic options, this is the best way to get them.
Battle pass
Like few other games, Valorant has battle passes. You can buy one for each act; a battle pass has cosmetics for 13 weapons. Once an act is over, you will lose access to the current battle pass and have to purchase one for the next act. Aside from the standard track, you can pay an extra 1,000 Valorant points to gain access to the premium track and new rewards.
Occasionally, Riot would release extra battle passes that do not follow the acts. For example, they released one for their anniversary. Besides weapon skins, battle passes also allow you to get new sprays, player titles, player cards, gunbuddies, and radiant points.
I love battle passes because they provide additional gamification options. Earning experience from missions is pretty awesome, and it almost forces you to play the game every day.
Legacy skins
Legacy skins are exclusive cosmetics that you only get when an original cosmetic is initially released. The majority of them come as prime gaming rewards or from special bundles.
Store purchases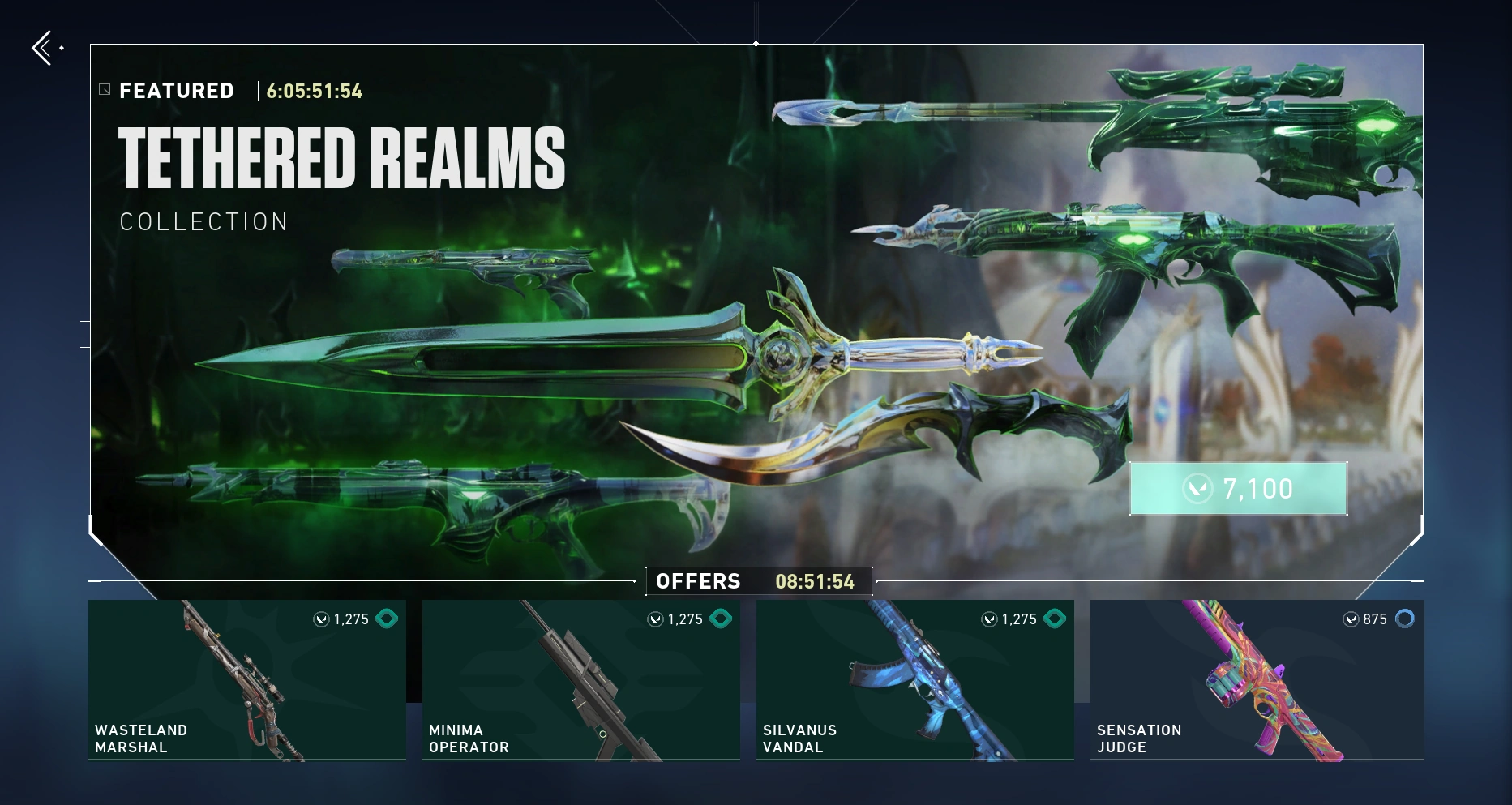 Most people get their skins via the official Valorant store. Each day, you have access to featured bundles and daily offers. The price of a weapon/bundle varies based on the type of a weapon and the edition:
Select (875 VP for guns, 1,750 VP for melee, 2,930 VP to 3,500 VP for bundles)
Deluxe (1,275 VP for guns, 2,550 VP for melee, 5,100 VP for bundles)
Premium (1,775 VP for guns, 3,550 VP for melee, 7,100 VP for bundles)
Exclusive (2,175 VP to 2,675 VP for guns, 4,350 VP to 5,350 VP for melee, varier for bundles)
Ultra (2,475 VP for guns, 4,950 VP for melee, 9,900 VP for bundles)
VP stands for Valorant points. You can buy this currency with real money, and the currency differs based on your country of origin (i.e., the price is calculated in euros for Europeans, Canadian dollars for Canadians, etc.)
If you live in the US, here is how much you would have to pay for VPS:
$4.99 for 475 VP
$9.99 for 1,000 VP
$19.99 for 2,050 VP
$34.99 for 3,650 VP
$49.99 for 5,350 VP
$99.99 for 11,000 VP
List of skins
Here is a list of all Valorant skins published so far, categorized based on bundles:
Aristocrat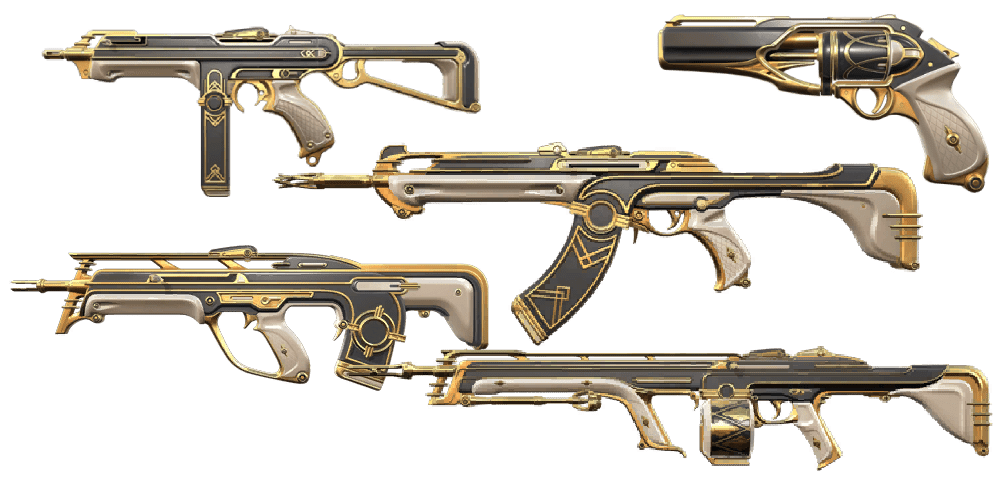 Aristocrat weapons look like something from a steampunk game. The bundle utilizes a combination of white, gold, and dark gray. These cosmetics are well polished and, as the name implies, a bit posh. In my opinion, they are a great purchase if you want to be cocky. Just imagine how furious your enemies will be after you troll them and subsequently kill them, all while holding an Aristocrat gun.
You can apply Aristocrat to:
Ares
Bulldog
Sheriff
Stinger
Vandal
Avalanche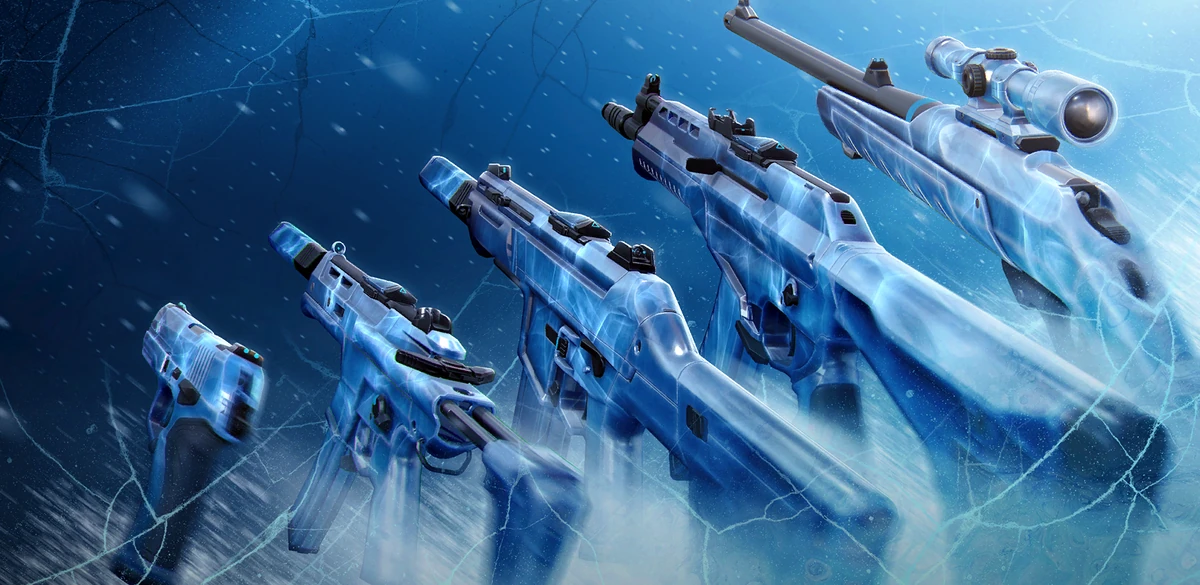 If you're a Icebox map fan, you should consider buying an Avalanche set. The cosmetics have ice-blue color, with a few black parts. The collection appeared during closed beta and hasn't changed much. Overall, it is a solid bundle but nothing to write home about.
You can apply Avalanche to:
Classic
Marshal
Phantom
Spectre
Vandal
BlastX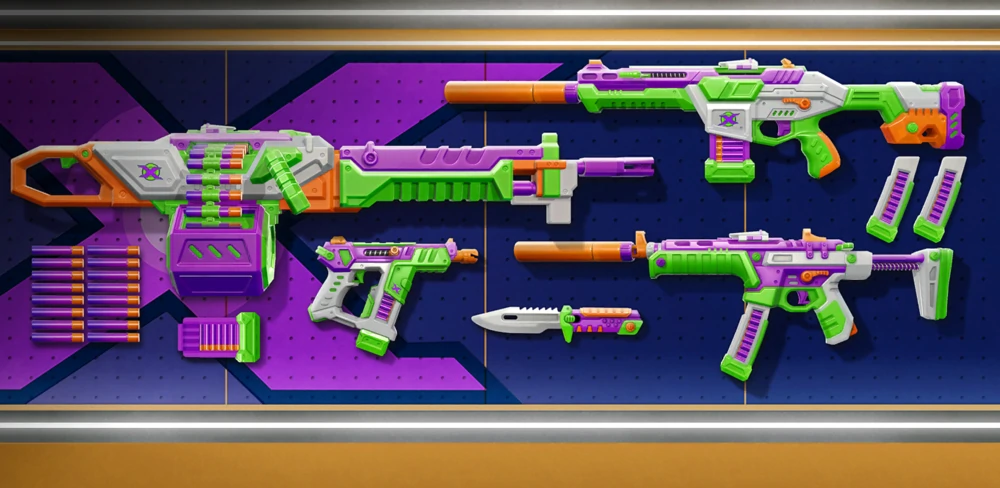 If you're looking for something whacky and colorful, you can't go wrong with the BlastX set. These cosmetics remind me a lot of kids' Nerf guns and other toys. It feels very demoralizing every time I'm killed by a guy who wears one of these.
You can apply BlastX to:
Frenzy
Odin
Phantom
Polymer Knifetech Coated Knife
Spectre
Celestial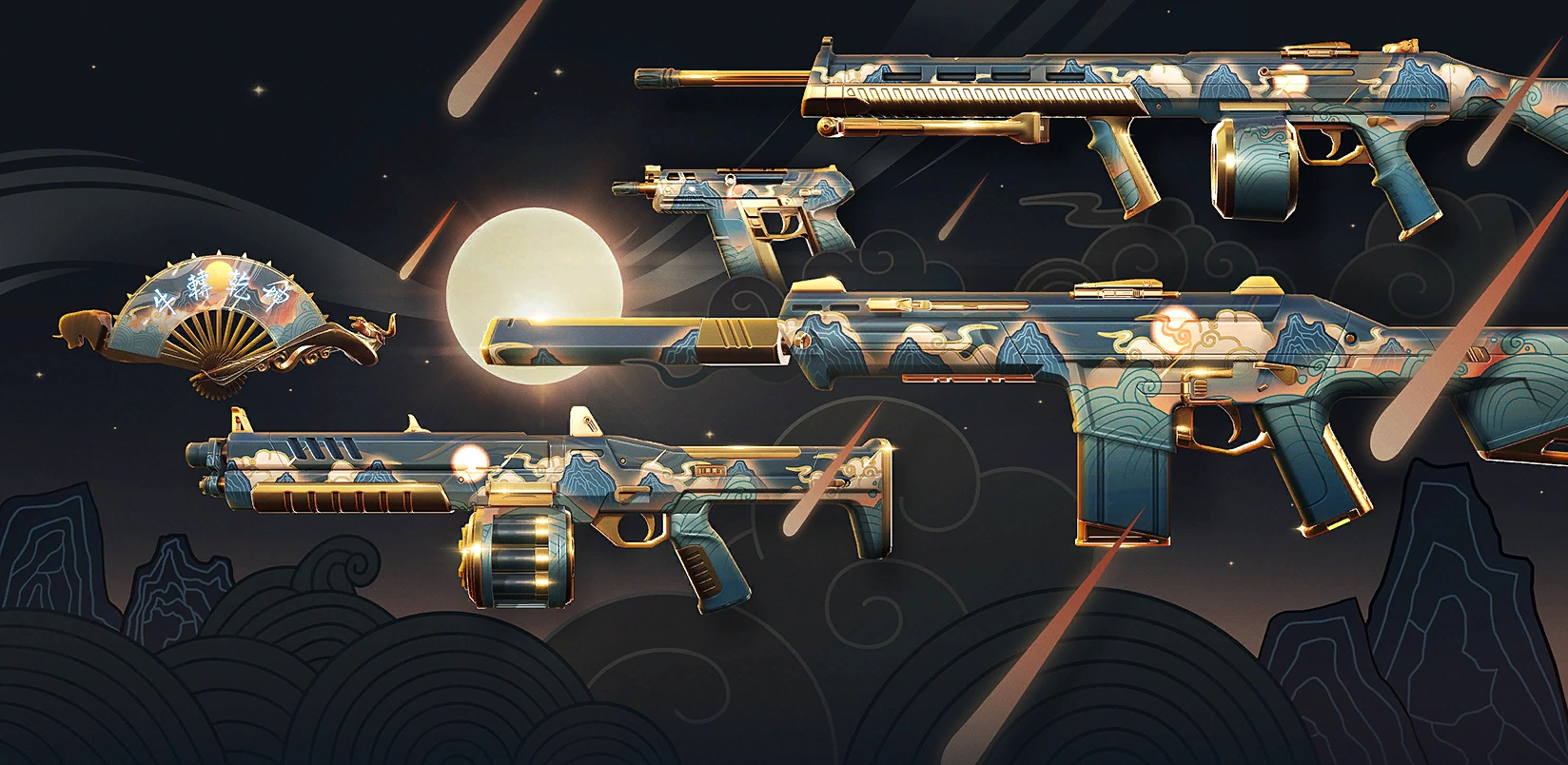 You need to take a closer look at this set to appreciate all the intricacy. The skins from this bundle show mountain tops, wind, and clouds as if you're close to the gods. I'm not a big fan of colors from afar; they make more sense when you take a closer look at the weapons.
You can apply Celestial to:
Ares
Fan
Frenzy
Judge
Phantom
Convex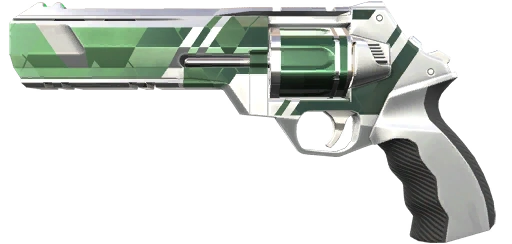 This set is tailor-made for engineers and mathematicians. Its design consists of numerous triangles, diamonds, and other shapes while combining white and green. Although I don't particularly like this set, it definitely looks apart from the others.
You can apply Convex to:
Bulldog
Judge
Operator
Sheriff
Spectre
Doodle Buds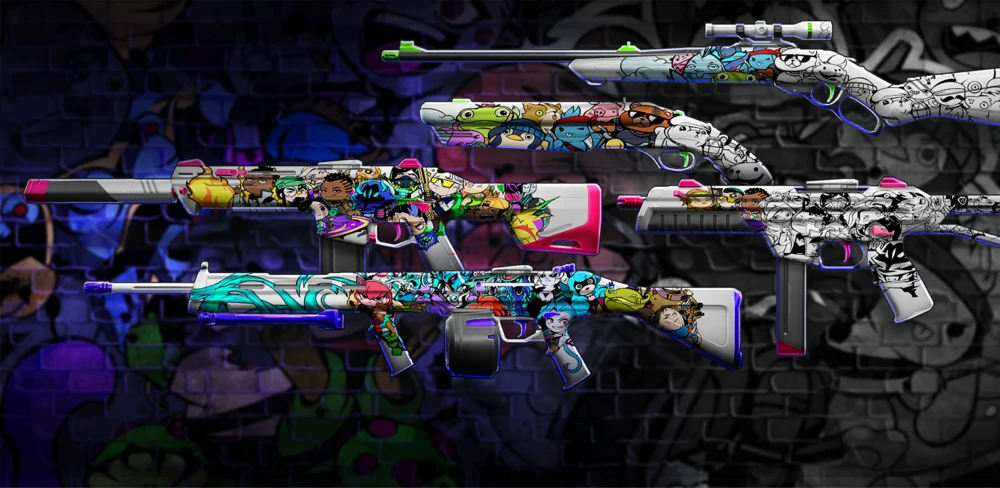 In my opinion, this is one of the best bundles money can buy. Weapons feature numerous characters from Valorant, League of Legends, and tactifriends collection. Each one of them is drawn as a colorless caricature. As you score kills, the colors will start appearing, making your guns cooler and cooler. However, they will vanish if you decide to purchase a new weapon.
You can apply Doodle Buds to:
Ares
Marshal
Phantom
Shorty
Stinger
Ego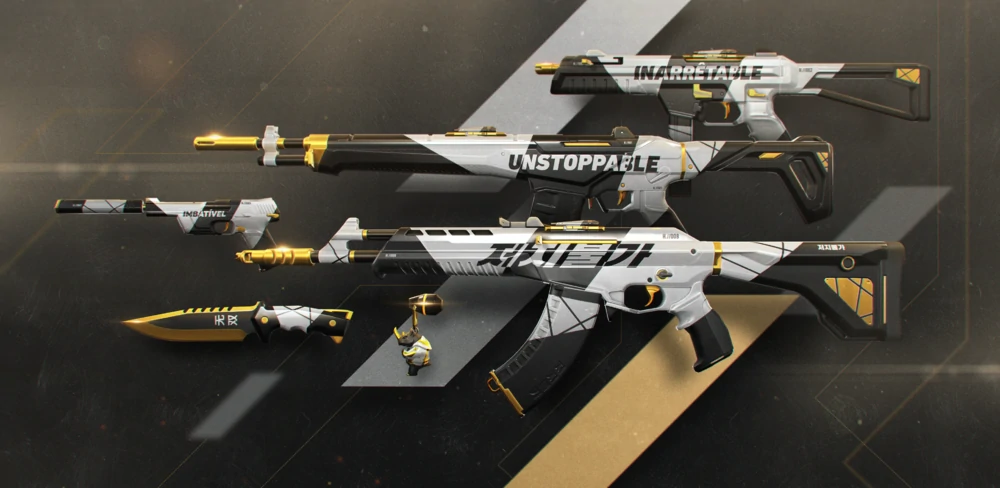 Although Ego series weapons are nothing special in terms of colors and patterns, they have one very cool feature. Each piece has something written in a foreign language. For example, Guardian reads "Unstoppable" in English while Ghost has "Imbativel" in Portuguese (translates to "Unbeatable" in English). A small thing but a lovely touch.
You can apply Ego to:
Ghost
Guardian
Knife
Stinger
Vandal
Elderflame
Edlerflame weapons have dragon heads instead of the usual muzzle and dragon hands and legs instead of clips. Although these pieces look apart, I don't necessarily like them. The design is all over the place. However, I do appreciate the fact you can upgrade these skins.
You can apply Elderflame to:
Dagger
Frenzy
Judge
Operator
Vandal
Endeavor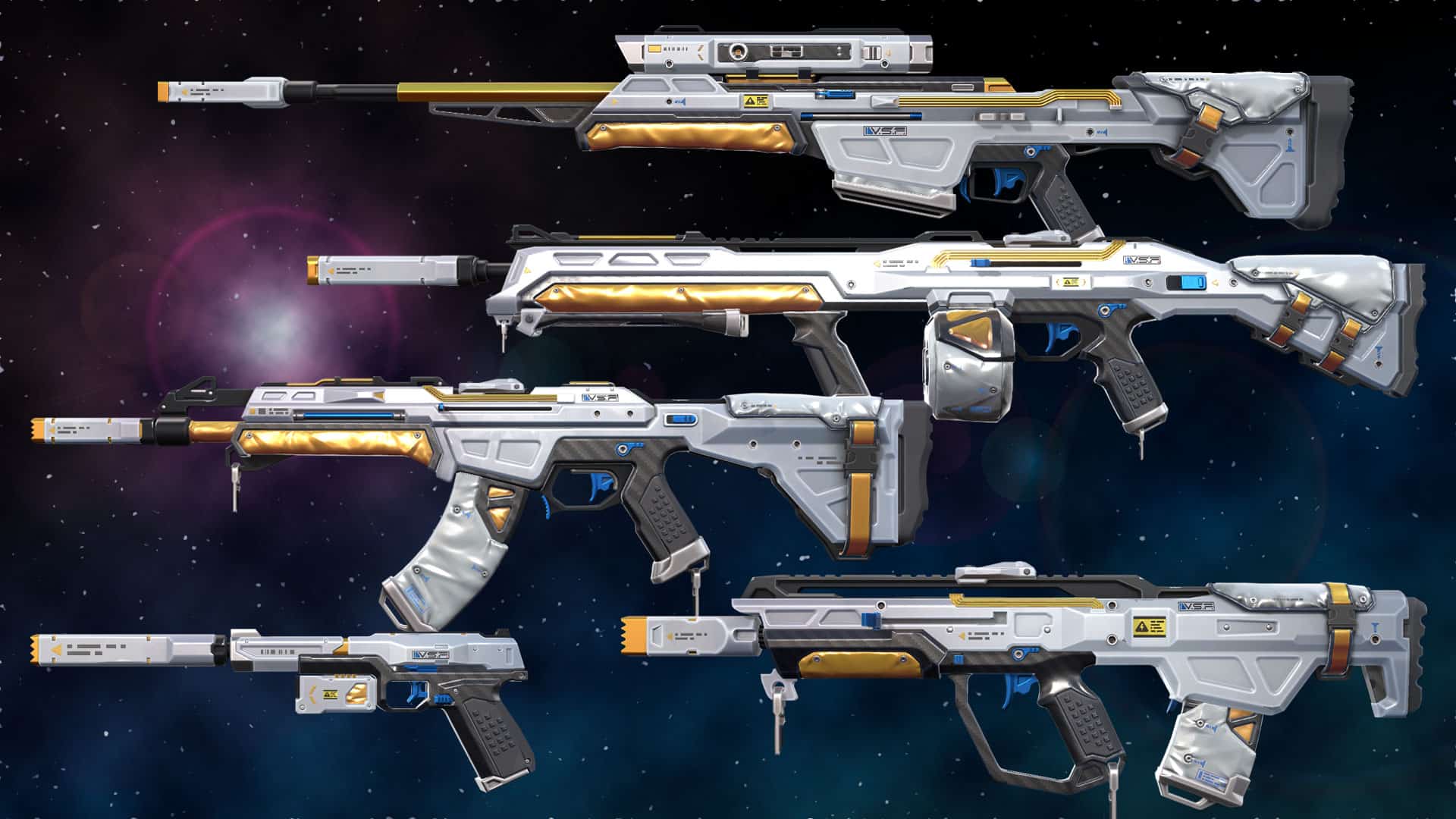 The Endeavour collection looks very futuristic. It combines light silver, black, gold, and blue colors. Excellent cosmetics to have, but you will likely change them as soon as you get something better.
You can apply Endeavor to:
Ares
Bulldog
Ghost
Operator
Vandal
Forsaken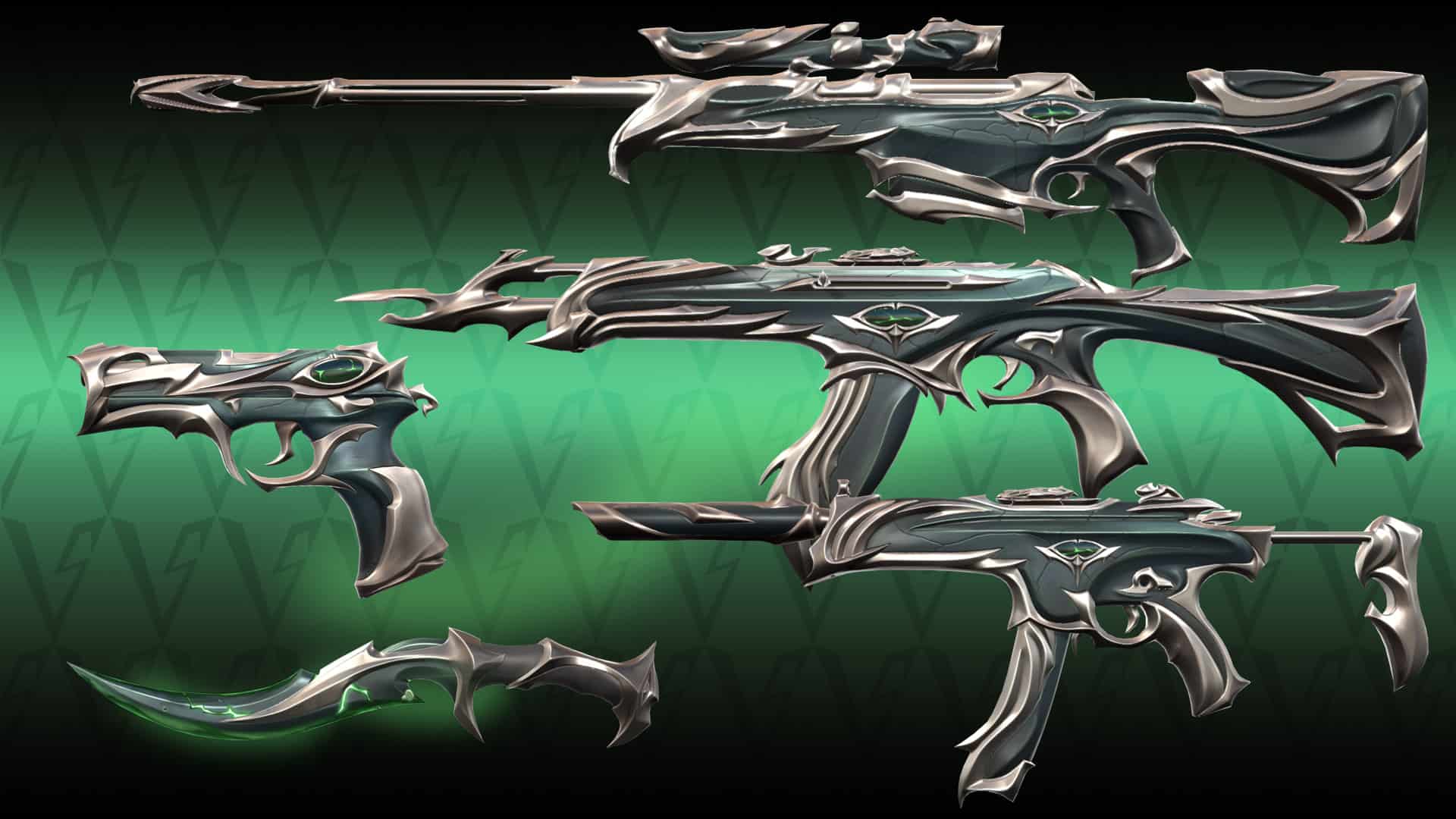 The Forsaken set uses a lot of curves. The lines are imperfect, and they remind me of tree branches. The color combinations are unique, relying on olive green and light brown. They look similar to the colors used for Borg and Romulan spaceships (Star Trek).
You can apply Forsaken to:
Classic
Operator
Ritual Blade
Spectre
Vandal
Gaia's Vengeance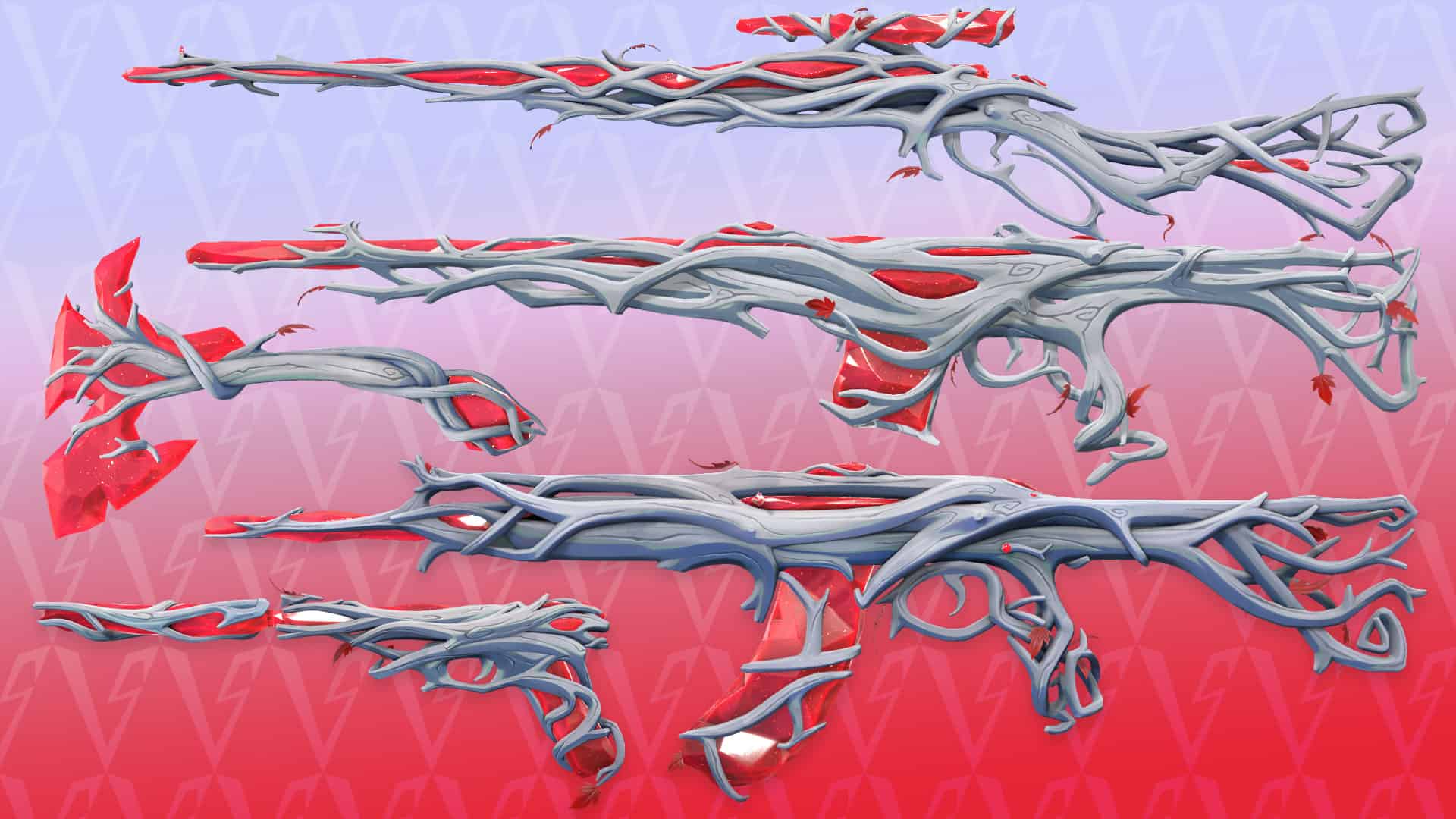 As you can presume based on the name, this bundle utilizes various earthy elements. Using one of these skins will make you feel as if you're holding a tree branch. You might also notice small leaves protruding from weapons here and there. The colors start changing as you upgrade the items.
You can apply Gaia's Vengeance to:
Gaia's Wrath
Ghost
Guardian
Marshal
Vandal
Galleria
It is hard to describe this bundle in one sentence, given that each weapon has a visibly different pattern. The creators used various colors and designs for every piece, which is the set's main selling point.
You can apply Galleria to:
Bucky
Classic
Guardian
Marshal
Phantom
Glitchpop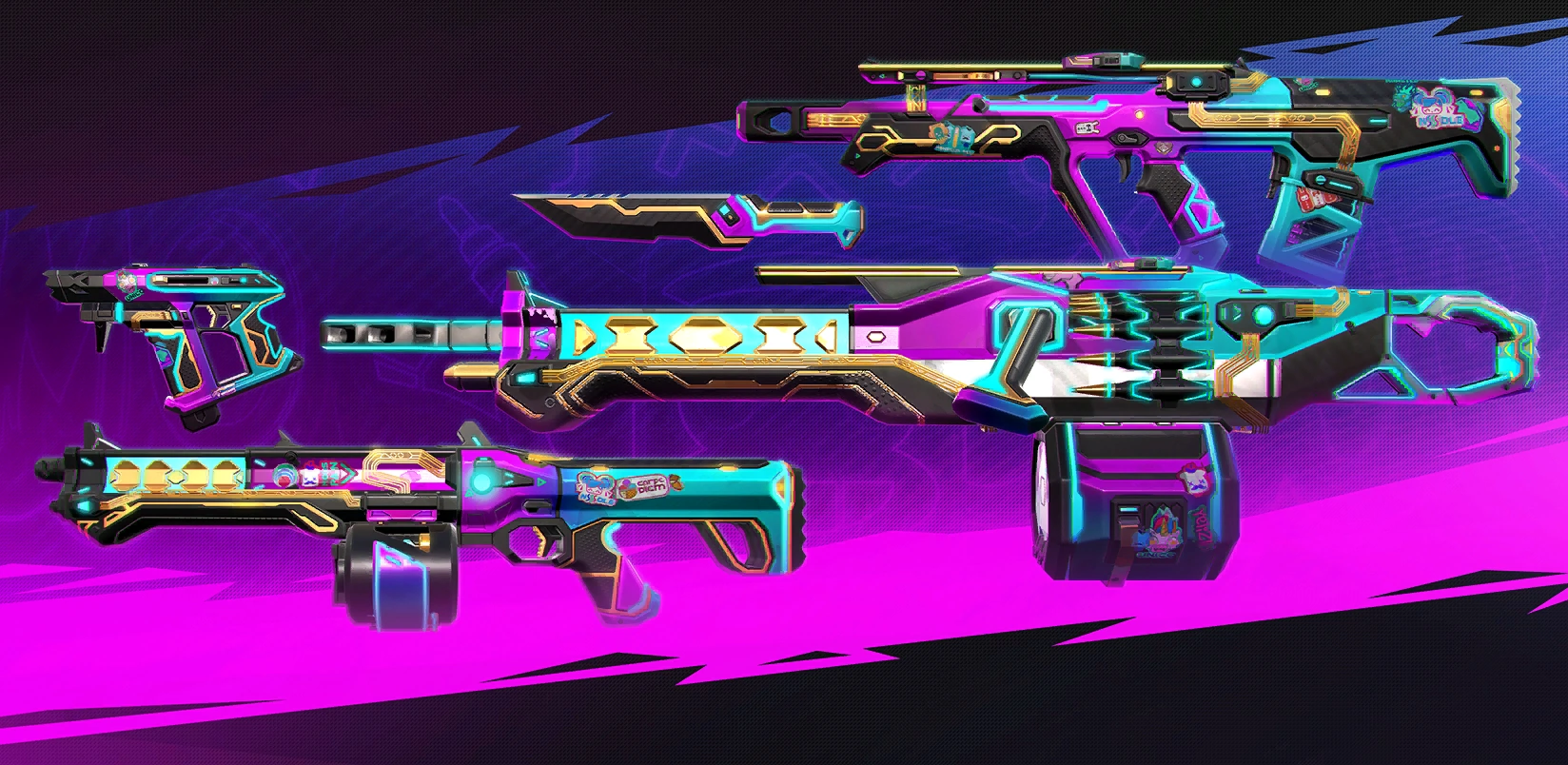 Glitchpop is one of the biggest Valorant bundles featuring 10 weapons. The pieces are very cool, utilizing different patterns and color schemes. As you start upgrading the weapons, they will significantly change their appearance. If you didn't know better, you might think that these new versions are from different sets.
You can apply Glitchpop to:
Axe
Bulldog
Classic
Dagger
Frenzy
Judge
Odin
Operator
Phantom
Vandal
Gravitational Uranium Neuroblaster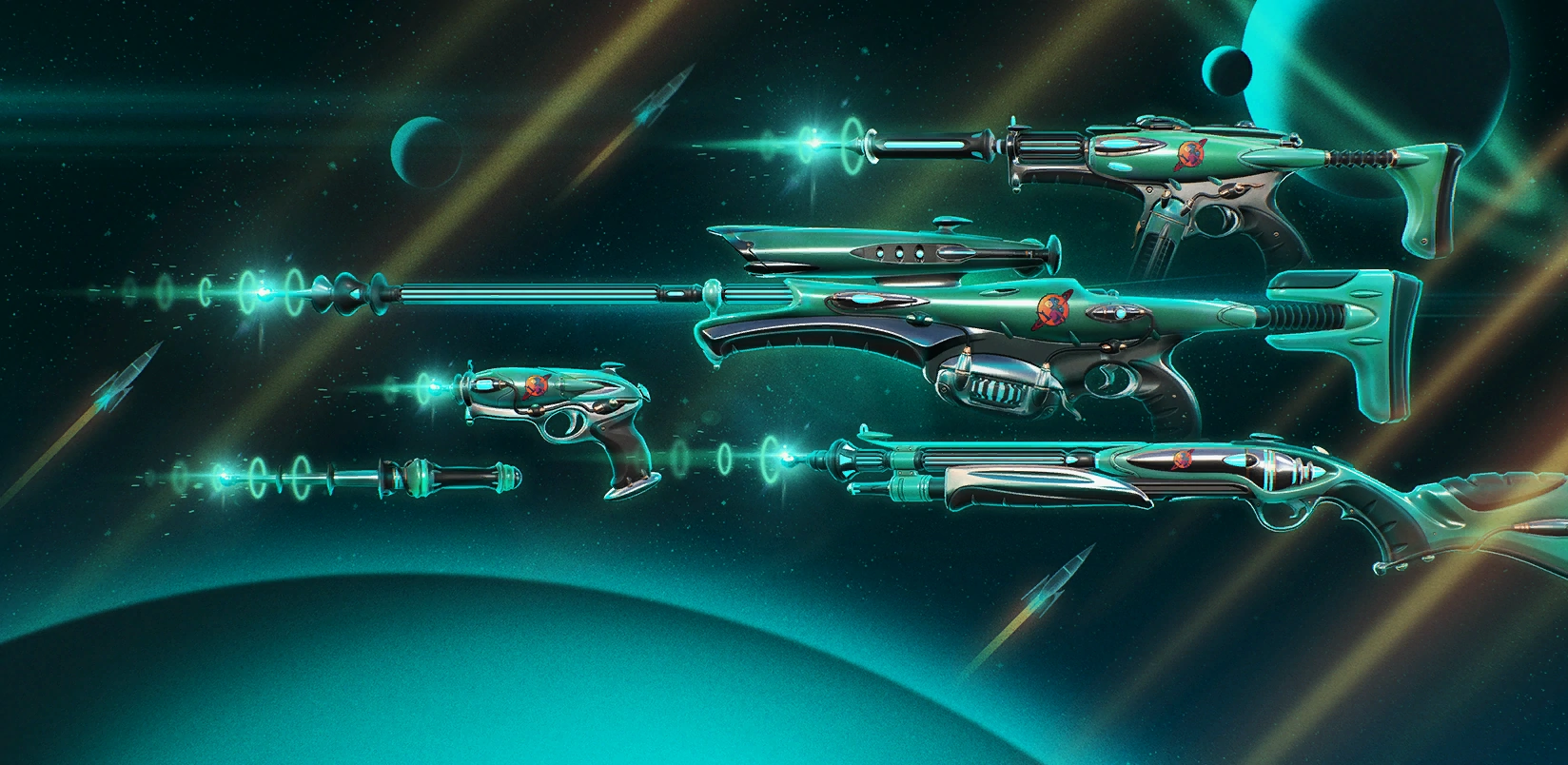 Gravitational Uranium Neuroblaster weapons remind me of Marvin the Martian's gun. Basically, these pieces are very similar to old portrayals of alien weaponry with lots of bulky, plump elements. I simply love this set!
You can apply Vandal to:
Baton
Bucky
Classic
Operator
Spectre
Horizon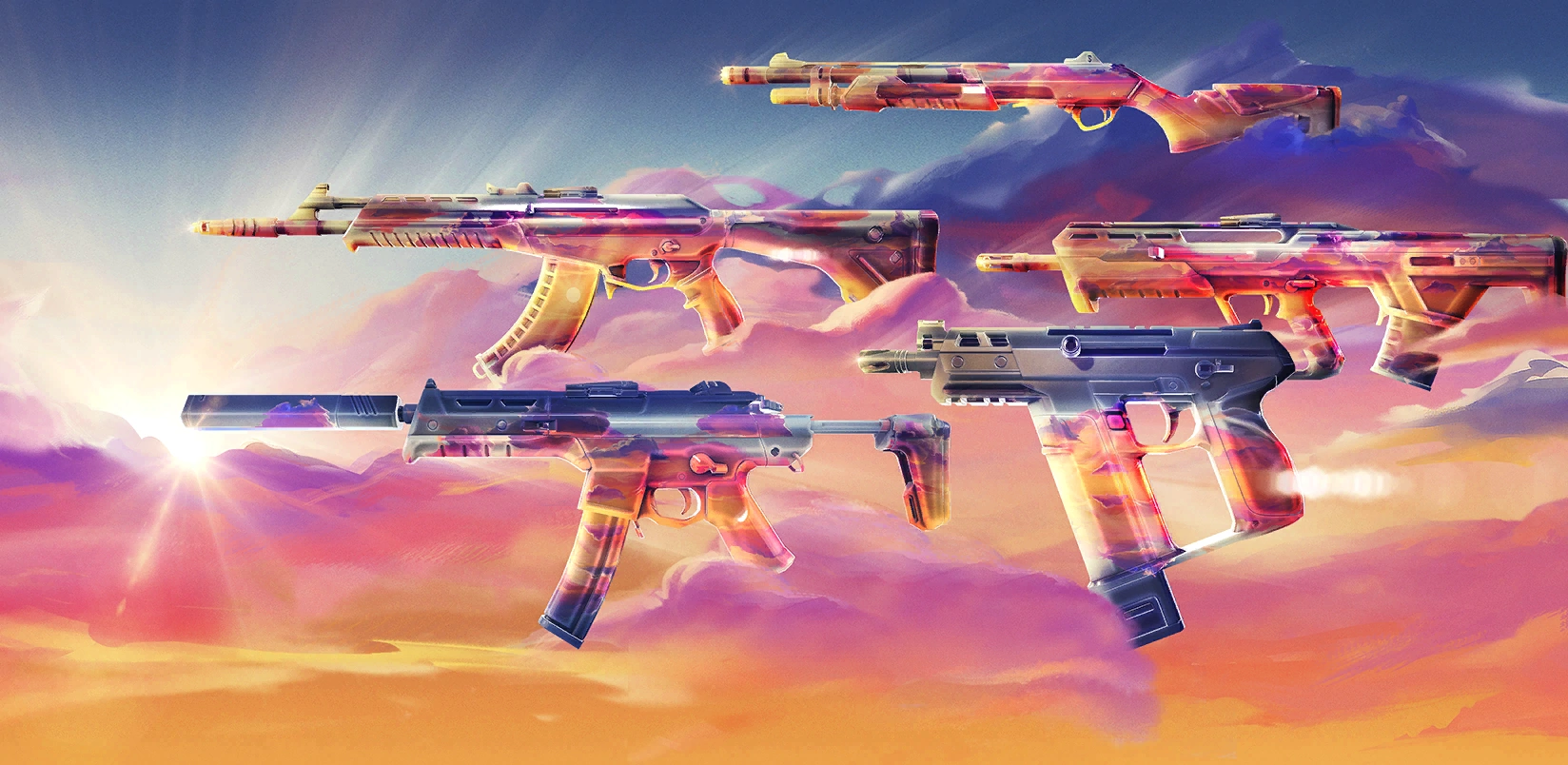 The best way to describe the Horizon set is as soothing. The skins utilize light purple and light orange, resembling the colors of the sunset.
You can apply Horizon to:
Bucky
Bulldog
Frenzy
Spectre
Vandal
Infantry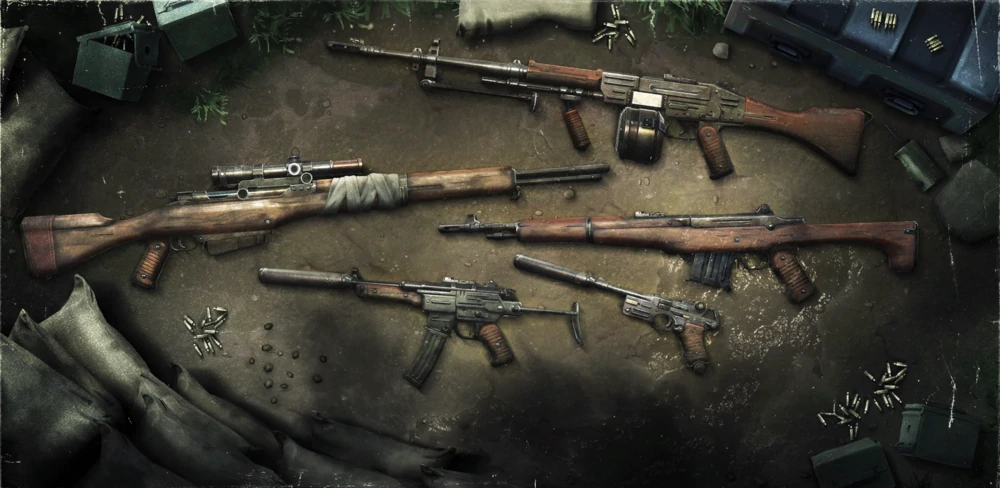 The Infantry set is not the most innovative. The skins look like old World War 2 weapons, with lots of wooden elements. Unless you're a history buff, you probably won't care about this set.
You can apply Infantry to:
Ares
Ghost
Guardian
Operator
Spectre
Ion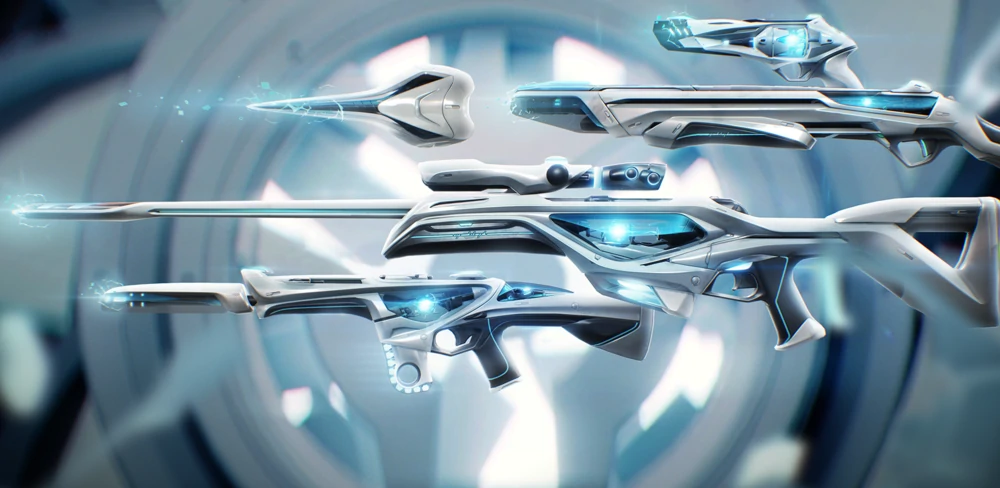 The Ion bundle looks futuristic by relying on silver color and curved lines. Unfortunately, this also makes them feel a bit generic. I do have to mention the new tactical knife that has the shape of an energy sword.
You can apply Ion to:
Bucky
Energy Sword
Operator
Phantom
Sheriff
Luxe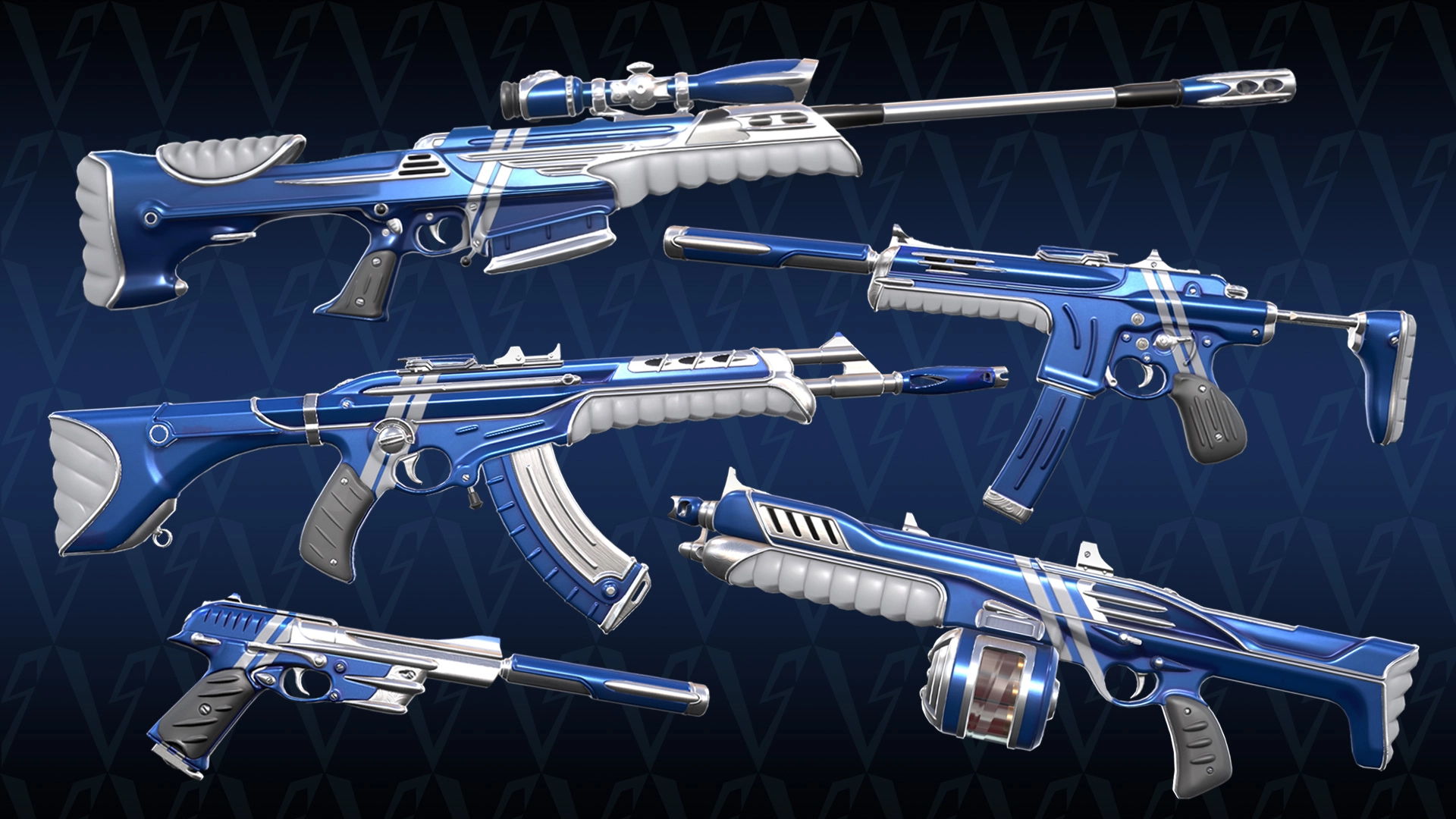 Although this is a simple collection, the colors and design look really nice. In fact, I will say that this is one of the best bundles from the Select category.
You can apply Luxe to:
Ghost
Judge
Knife
Operator
Spectre
Magepunk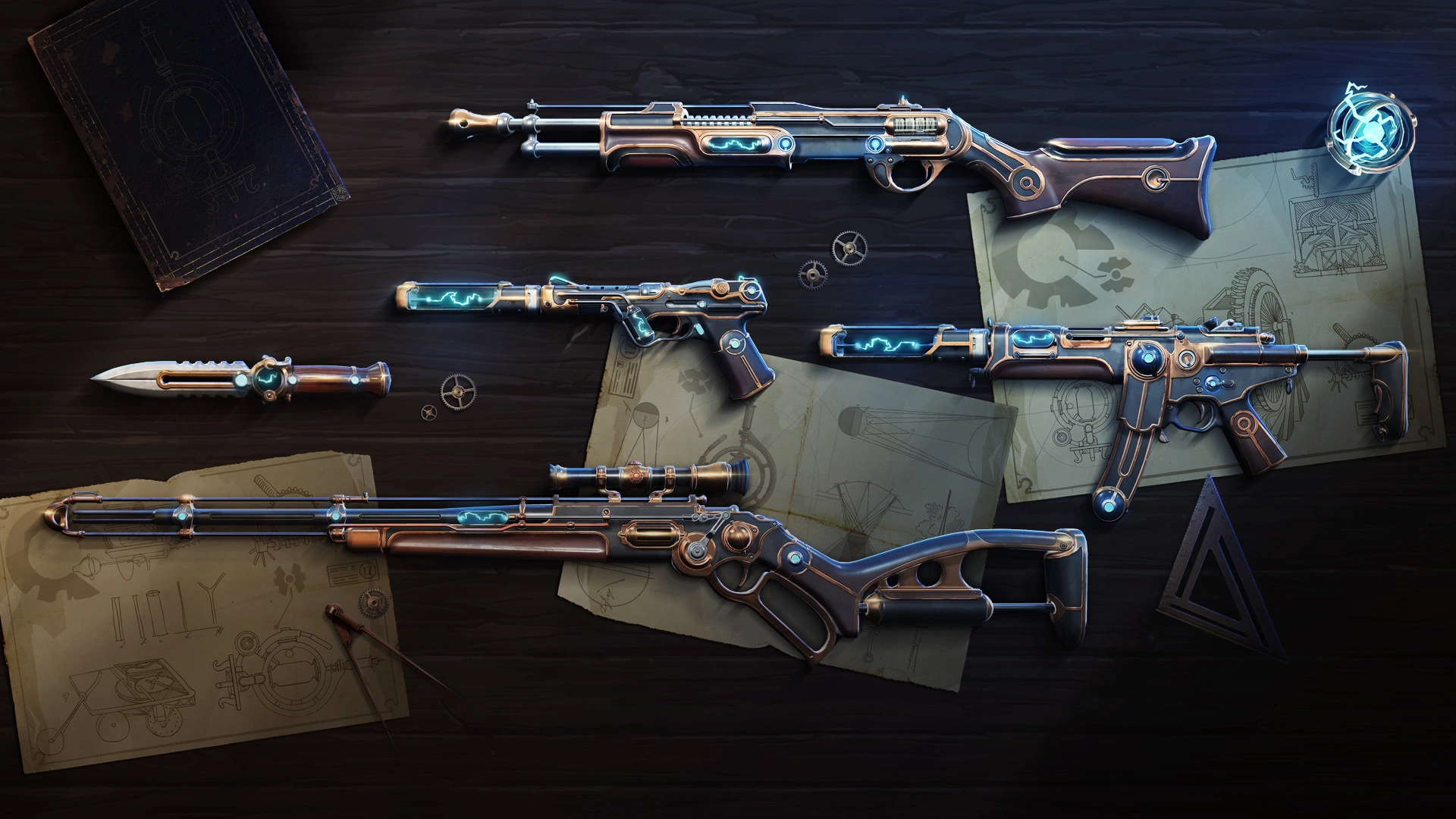 This massive collection utilizes a steampunk design. I especially like how Spectre and Ghost look; it is as if they use electricity to fire bullets. You can also choose between Shock Gauntlet and Electroblade skins for your knife.
You can apply Magepunk to:
Ares
Bucky
Electroblade
Ghost
Guardian
Marshal
Operator
Sheriff
Shock Gauntlet
Spectre
Minima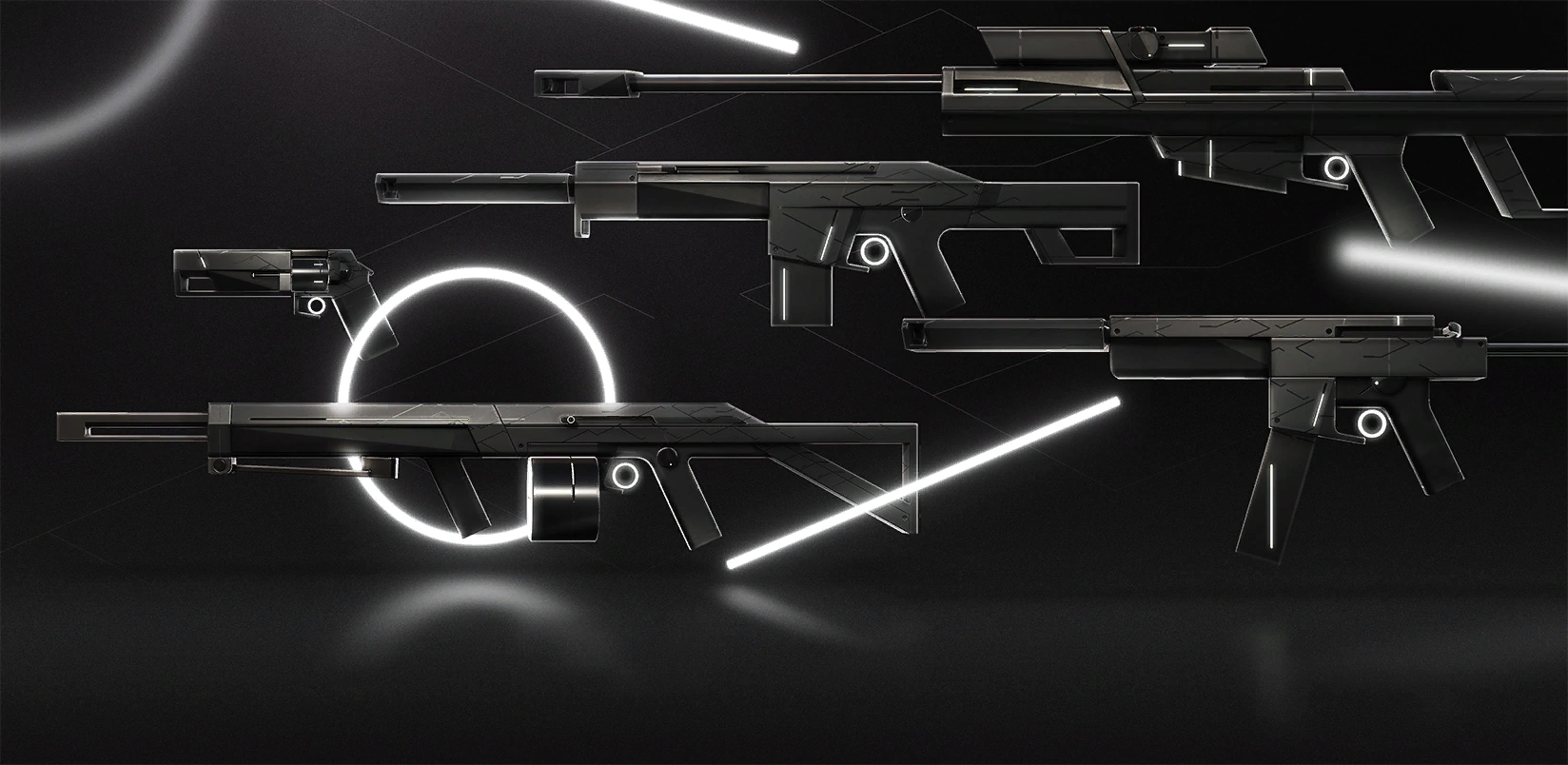 As the name implies, Minima utilizes basic, minimalistic designs for the items. In many ways, they remind me of the old video game weapons that used a much smaller number of pixels. For example, they look like items from GoldenEye 007.
You can apply Minima to:
Ares
Operator
Phantom
Sheriff
Spectre
Nebula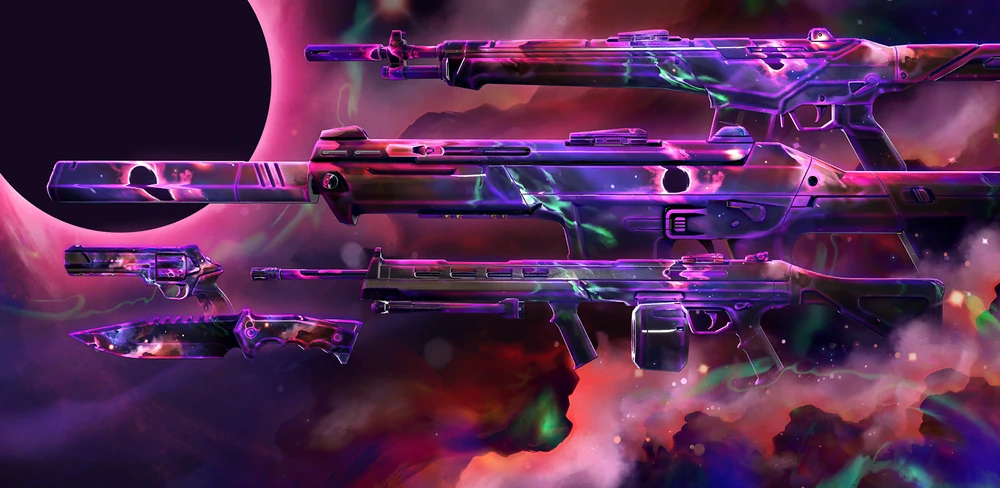 This is a very dope collection with vivid colors. The creators plastered the deep cosmic images all over the weapons showcasing stars, moons, and planets in numerous colors.
You can apply Nebula to:
Ares
Guardian
Knife
Sheriff
Phantom
Neptune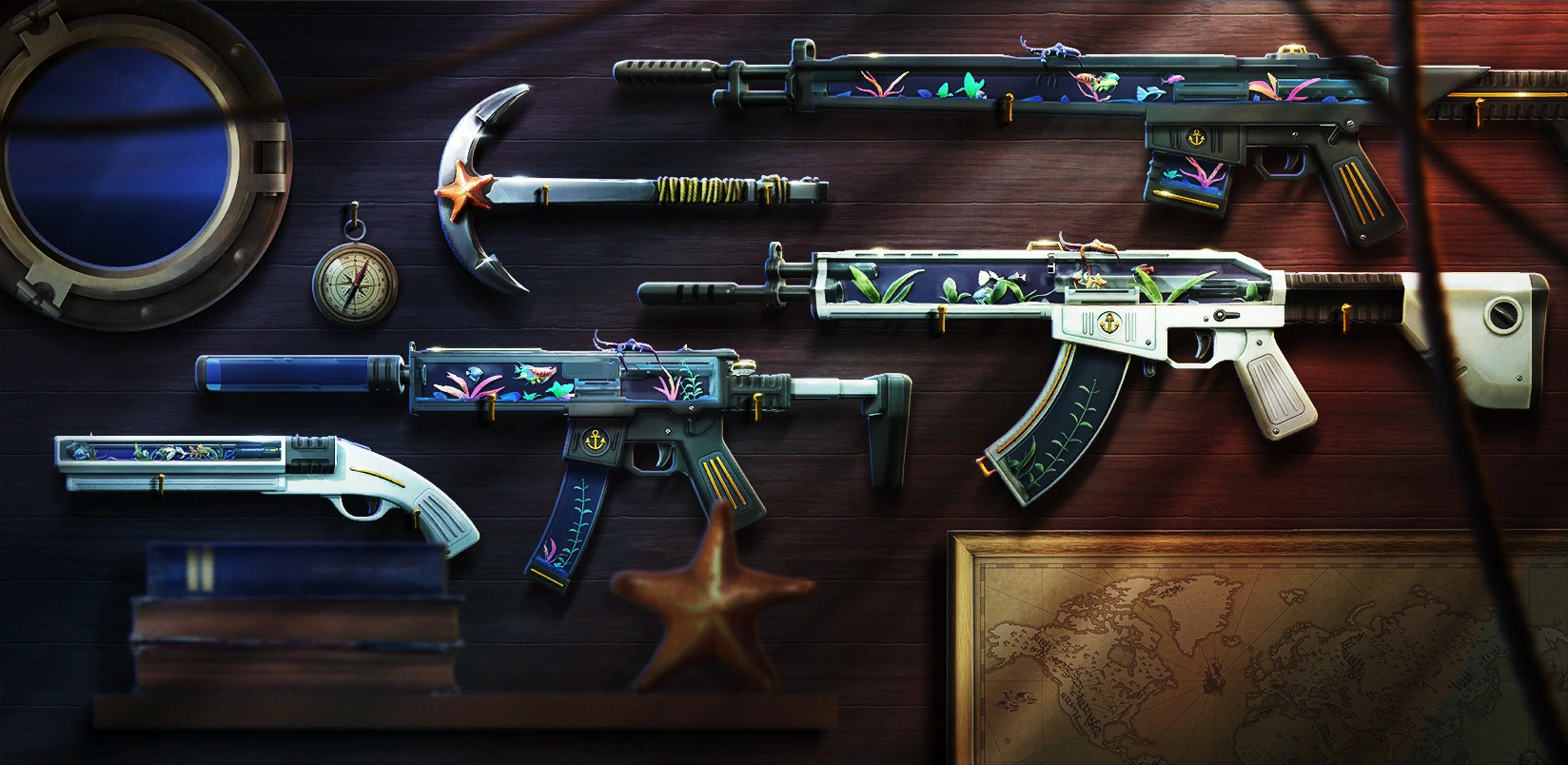 The looks can be deceiving, and this bundle is the best example of that. The basic guns look very simplistic, utilizing white and black colors with minimal surface patterns. However, the magic happens as you start upgrading them. Suddenly, water chambers with aquatic life start appearing within the weapons, giving them a completely different feel.
You can apply Neptune to:
Anchor
Guardian
Shorty
Spectre
Vandal
Nunca Olvidados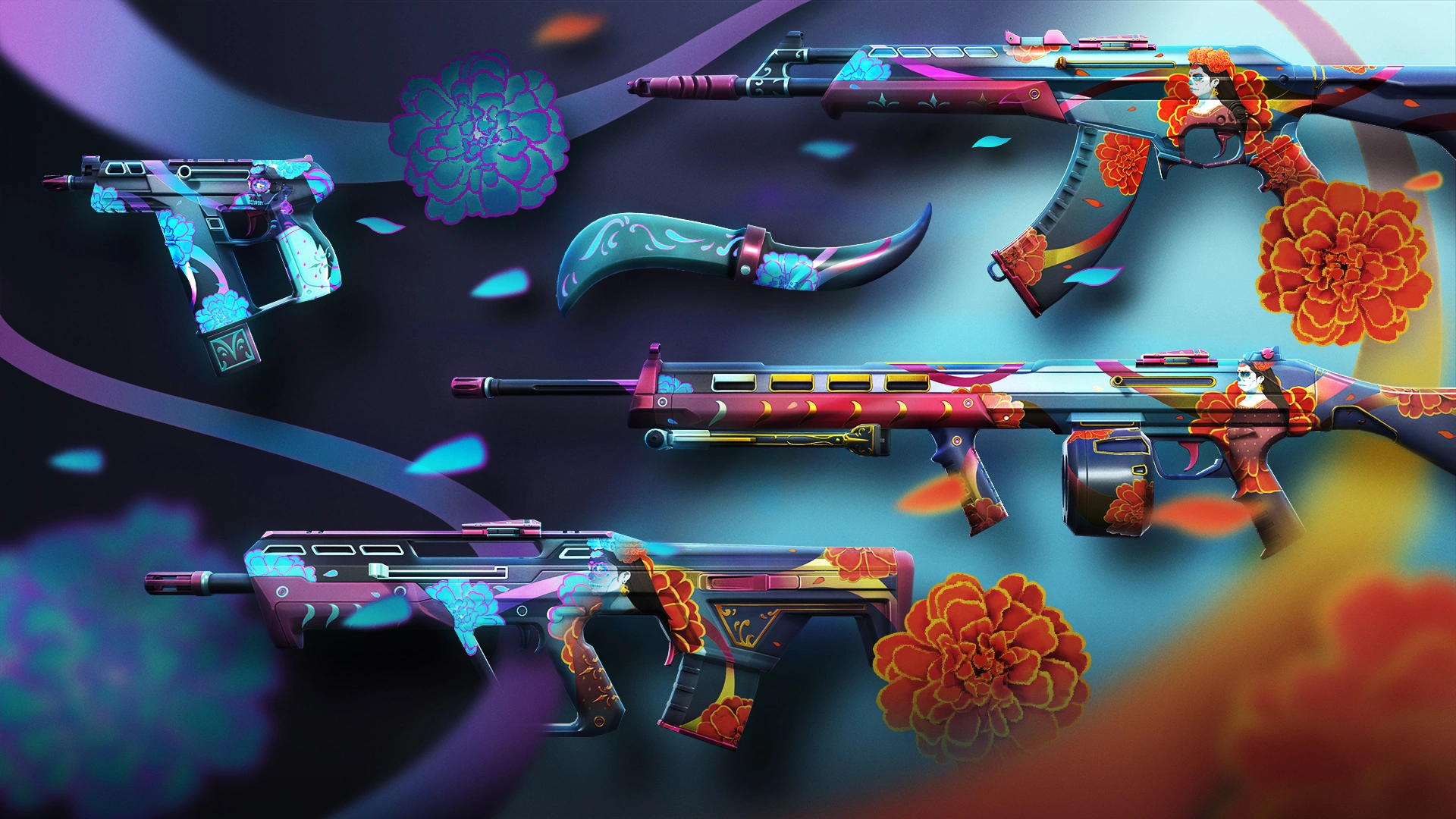 Nunca Olvidados has one of the most remarkable features. The set pays homage to the Mexican Day of the Dead. The colors on the guns are very vivid, similar to the colors used during this holiday. But the thing that makes it stand out is the fact that every weapon has two themes: a light theme (known as Living) and a dark theme (referred to as Eternal). The themes change as you go from the light section of the map to the dark and vice versa.
You can apply Nunca Olvidados to:
Ares
Bulldog
Catrina
Frenzy
Vandal
Oni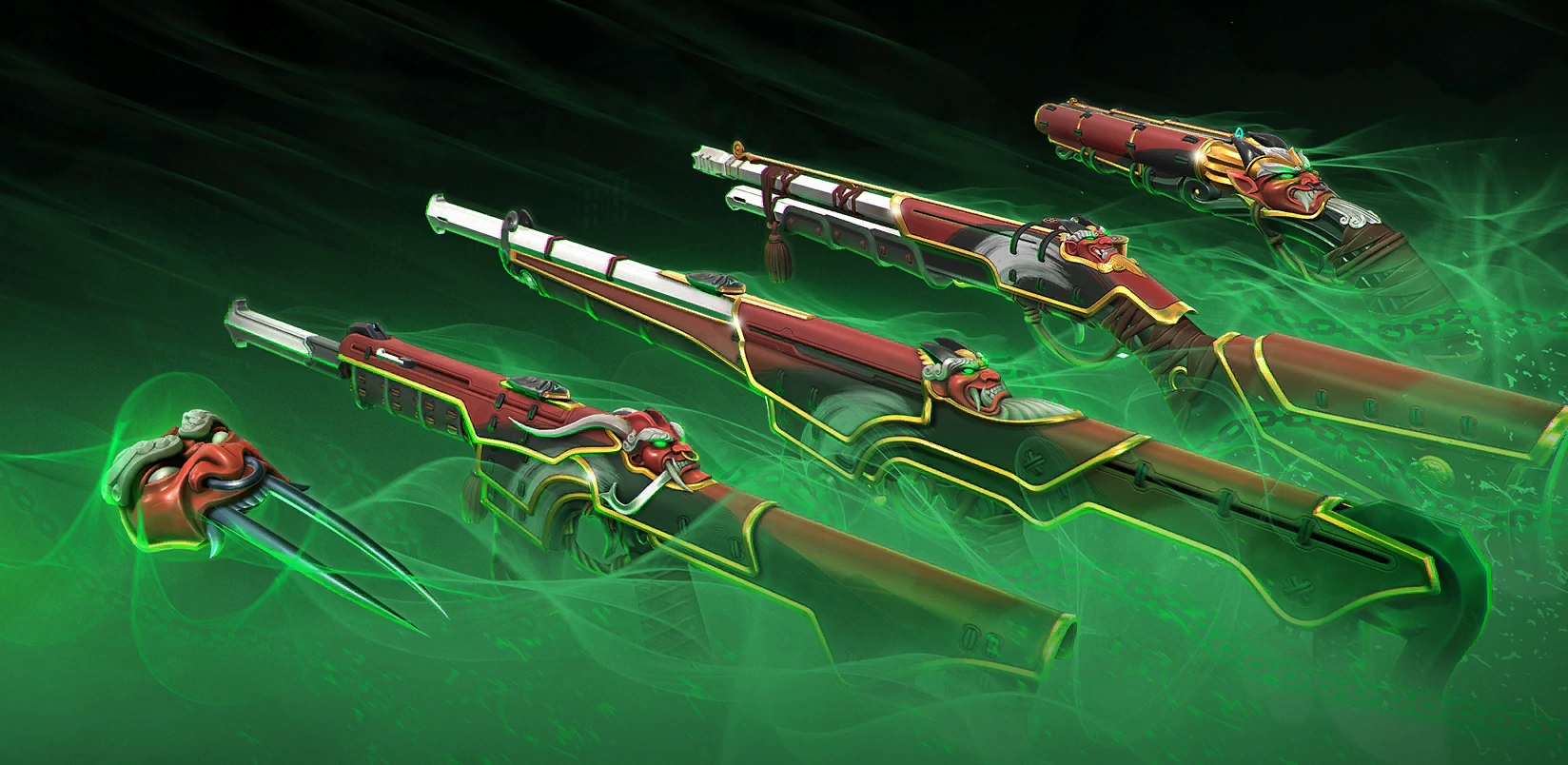 Oni refers to a type of demon from Japanese mythology. If you take a closer look at these weapons, you can notice small demon heads on each one of them. Instead of the knife, you now get a claw that looks like a massive demon head with long spikes instead of teeth.
You can apply Oni to:
Bucky
Claw
Guardian
Shorty
Phantom
Origin
While I can't call this set a bad one, I don't particularly like it. The bundle has a generic sci-fi vibe, with numerous circular sections.
You can apply Origin to:
Bucky
Crescent Blade
Frenzy
Operator
Vandal
Prelude to Chaos
Prelude to Chaos has a slick design that reminds me of weapons from Deux Ex. You can upgrade these weapons with kills to gain access to new color patterns. Unfortunately, the bundle is, for the most part, forgettable.
You can apply Prelude to Chaos to:
Blade of Chaos
Shorty
Stinger
Operator
Vandal
Prime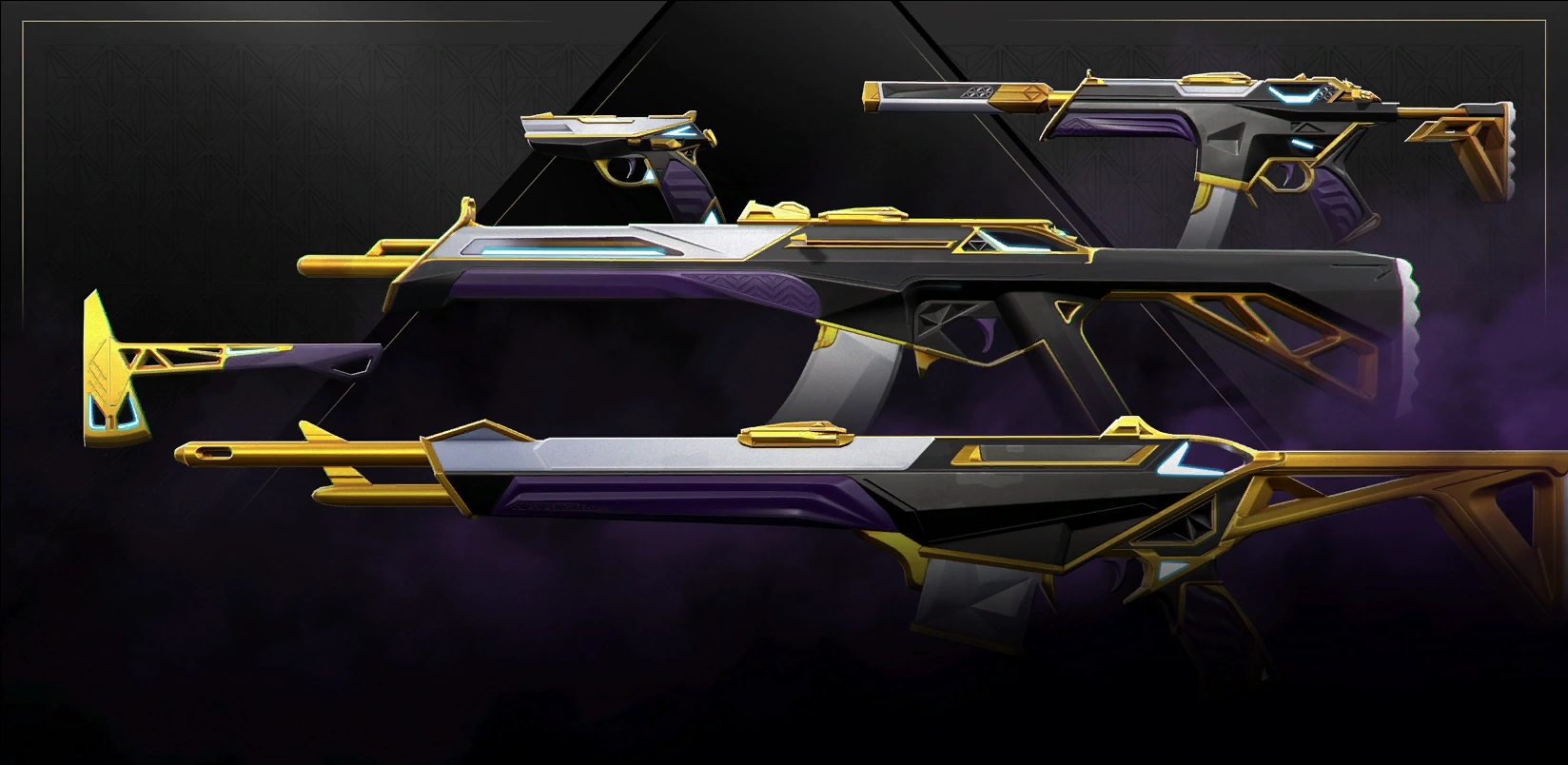 The Prime collection utilizes gold, purple, silver, and black colors. Overall, it is a well-polished set that, unfortunately, doesn't have a backstory. I especially like how the axe looks as it reminds me of dwarven weaponry.
You can apply Prime to:
Axe
Classic
Guardian
Spectre
Vandal
Prime//2.0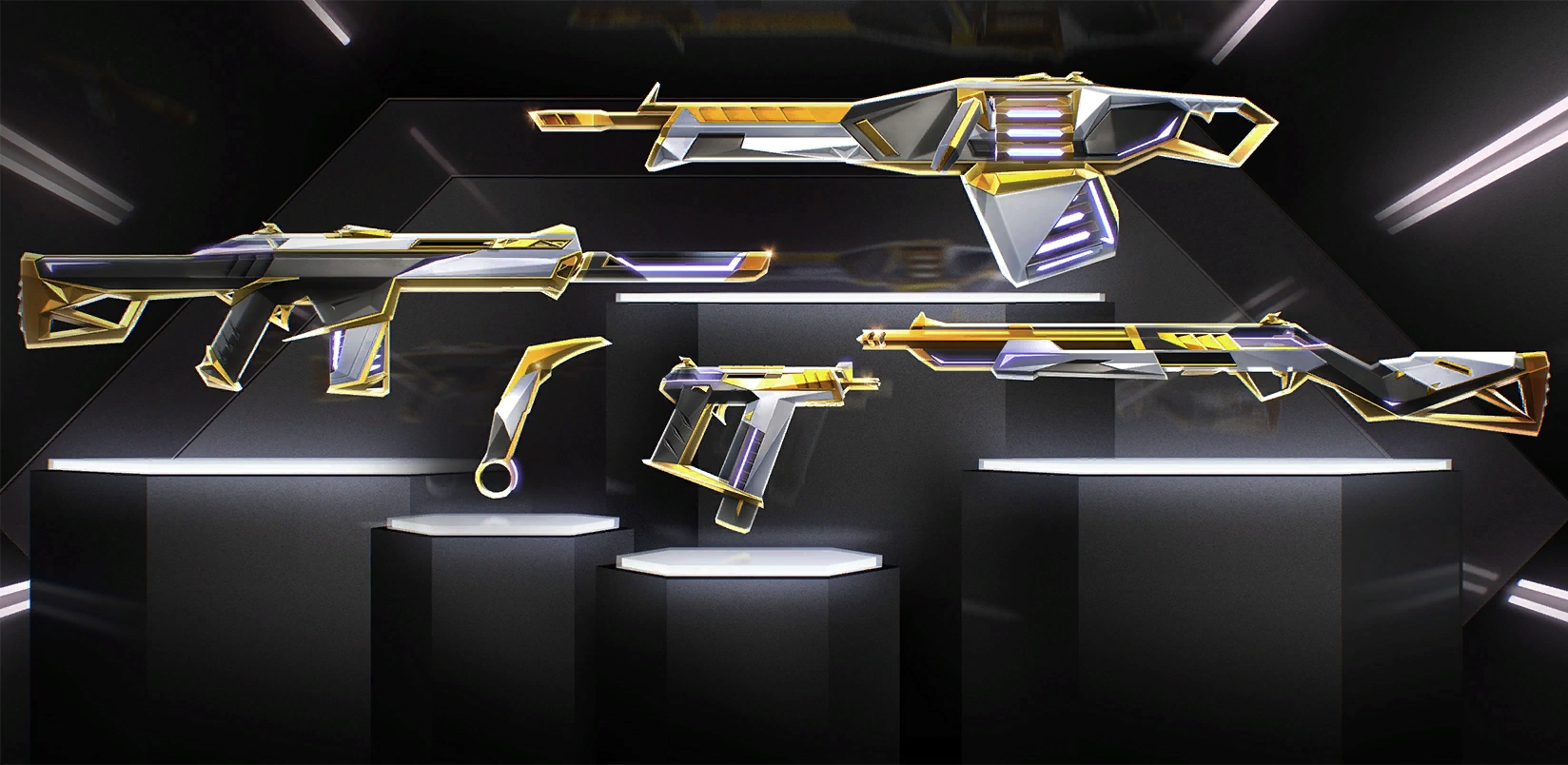 This is a variation of Prime with much more emphasized edges and without purple color. I am not sure what to think about this one; it is definitely funky and looks apart.
You can apply Prime//2.0 to:
Bucky
Frenzy
Karambit
Odin
Phantom
Prism
Prism is your basic Deluxe kit. It combines dark blue and black and doesn't have too many details on it. All in all, I think it is a bit overpriced for such a basic, uninspiring set.
You can apply Prism to:
Ares
Ghost
Knife
Operator
Phantom
Spectre
Prism II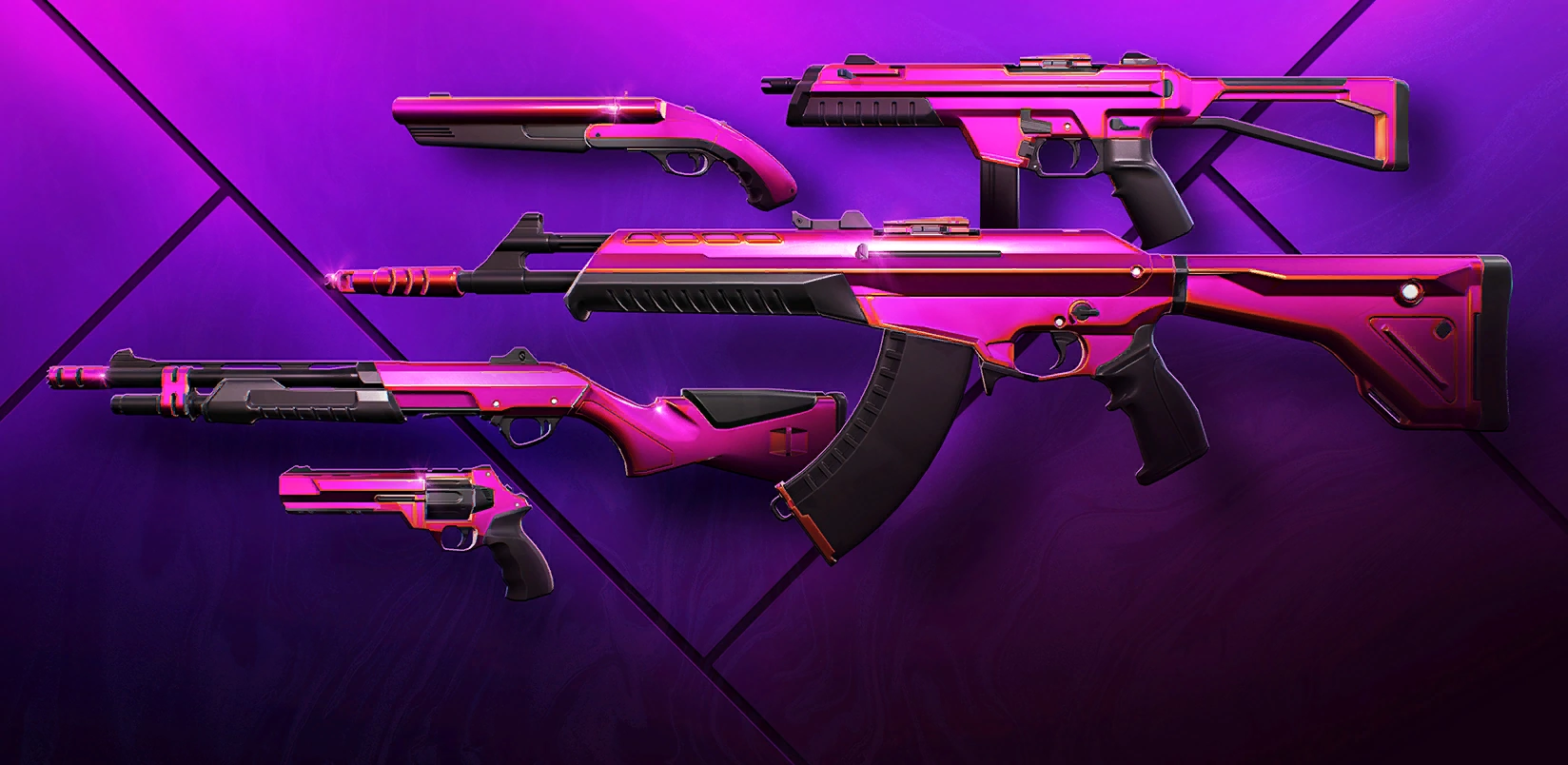 Although a tier below its predecessor, Prism, this bundle has much prettier colors. Furthermore, the lighting looks much cooler. Instead of dark blue, the creators used magenta.
You can apply Prism II to:
Bucky
Sheriff
Shorty
Stinger
Vandal
Protocol 781-A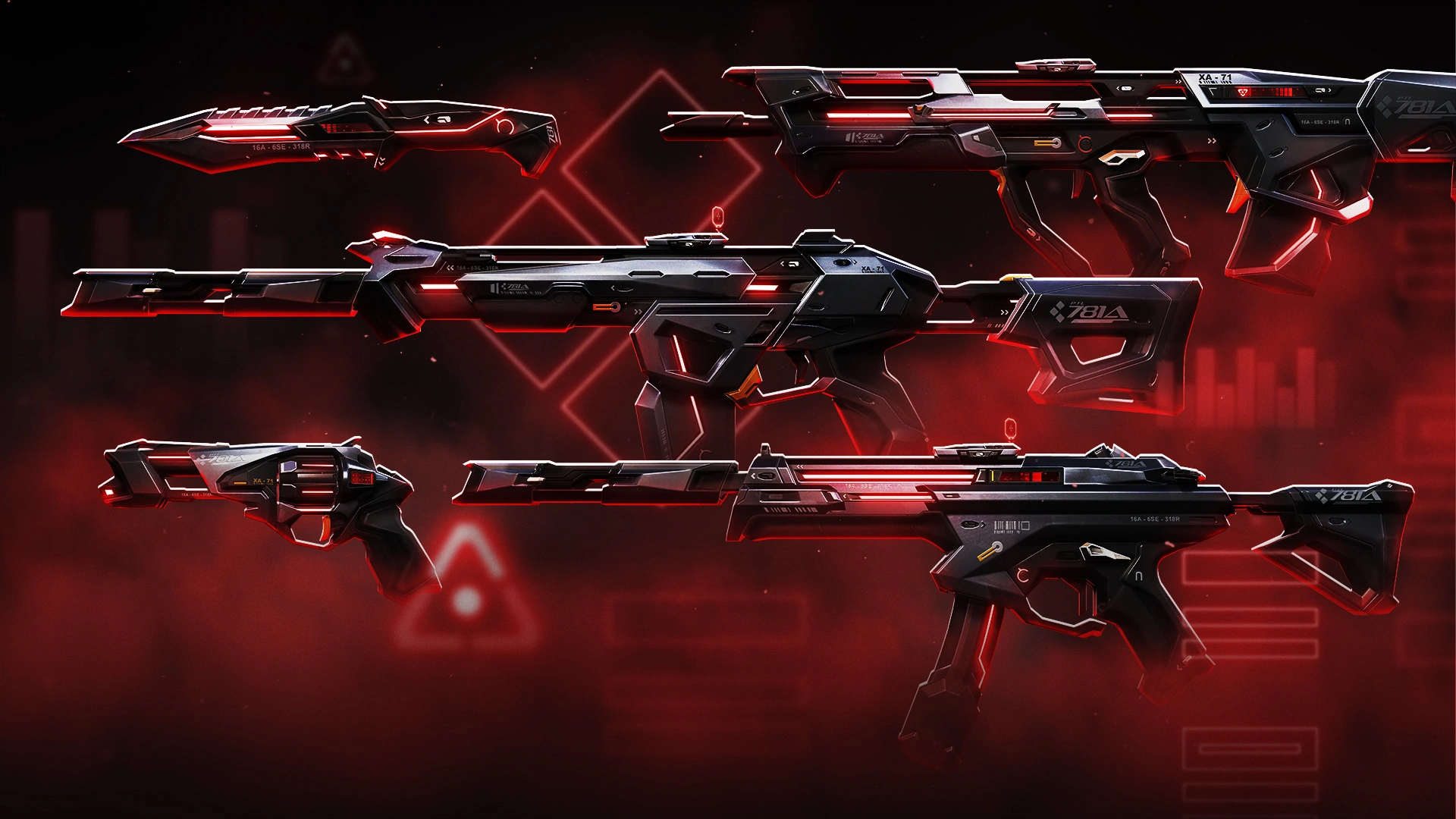 The bundle combines darker shades and yellow. I am really impressed with how the creators utilized the yellow color. It provides emphasis on some of the main weapon parts without being too intrusive.
You can apply Protocol 781-A to:
Bulldog
Personal Administrative Melee Unit
Phantom
Sheriff
Spectre
Radiant Crisis 001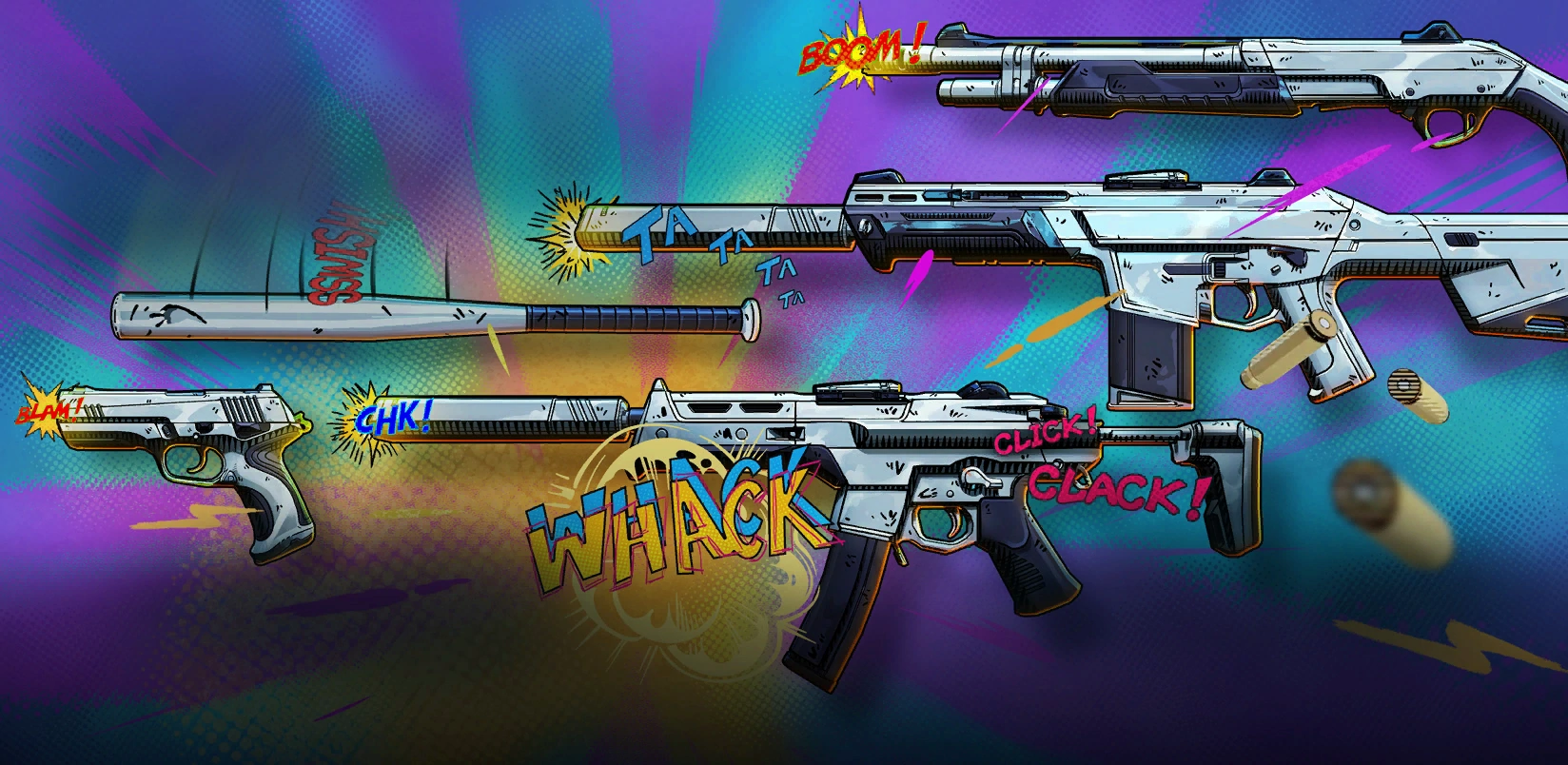 After a few lackluster sets, we finally have a winner. Radiant Crisis 001 skins look like something from comic books. It reminds me of the art style used for The Walking Dead video game, made by Telltale Games.
You can apply Radiant Crisis 001 to:
Baseball Bat
Bucky
Classic
Phantom
Spectre
Reaver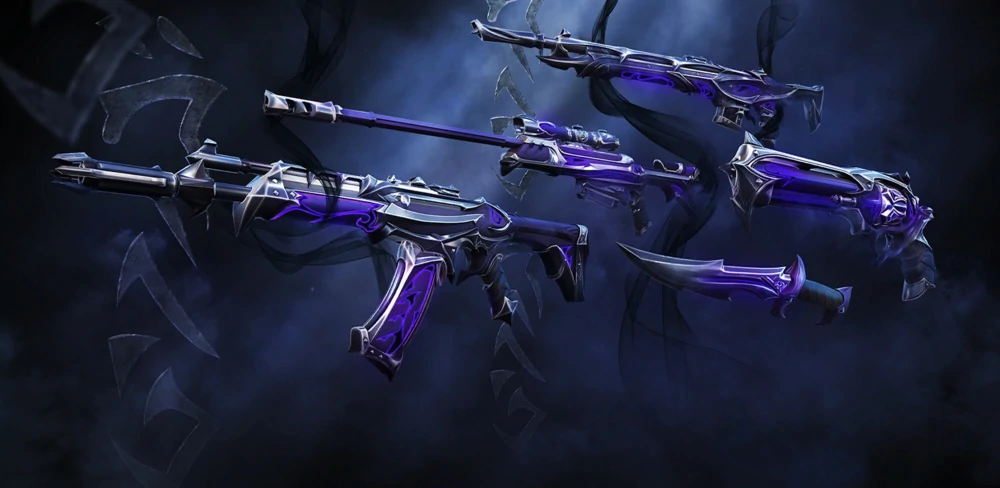 The Reaver set is really funky. The purple color combined with silver is spot on; each piece has numerous fantastic details that add to its intricacy.
You can apply Reaver to:
Guardian
Knife
Operator
Sheriff
Vandal
Recon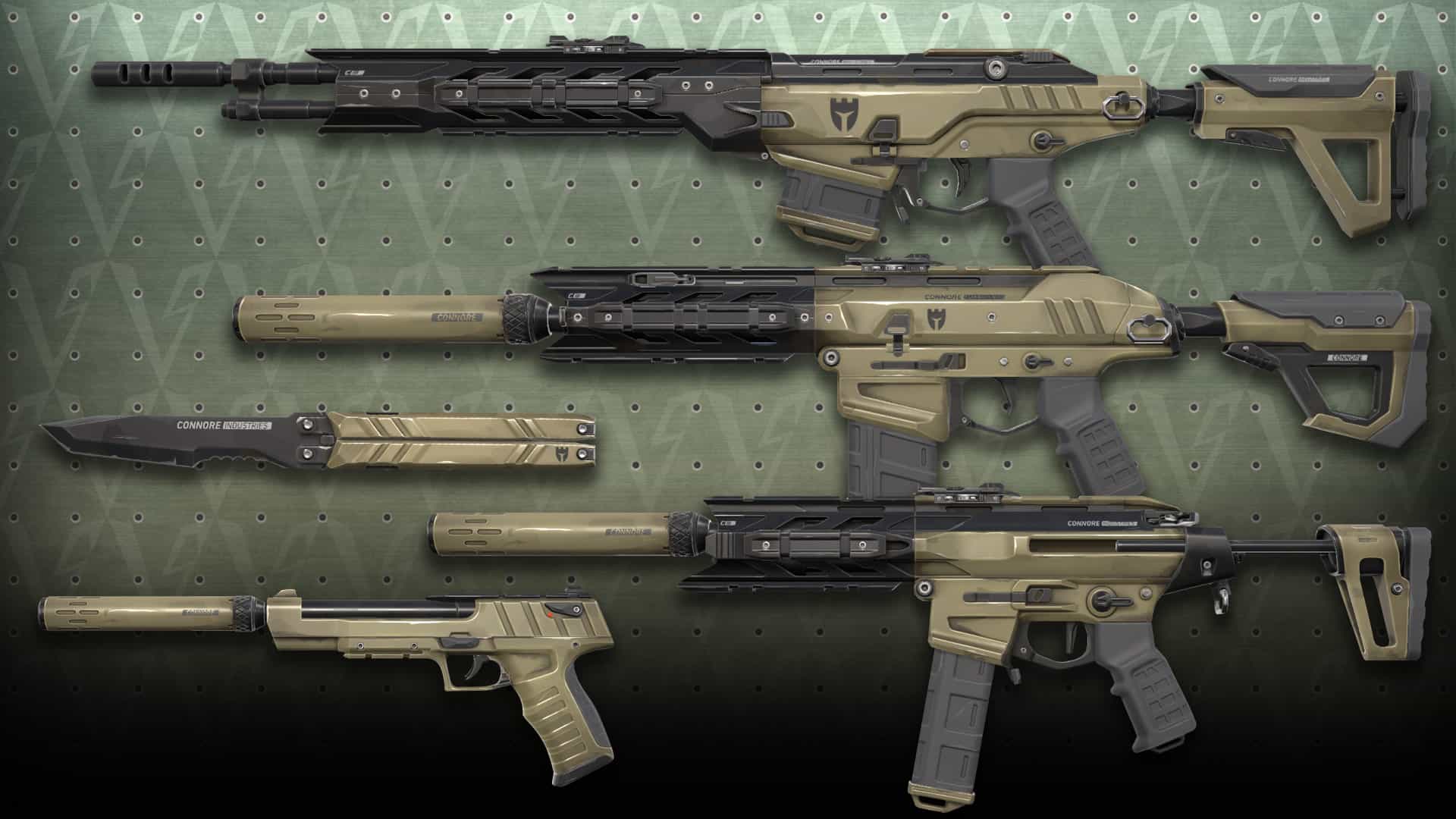 The bundle gives your weapons a cameo appearance. The items look very generic, although you have several upgrades at your disposal. Each weapon has a symbol on it that reminds me of the Transformers logo.
You can apply Recon to:
Balisong
Ghost
Guardian
Phantom
Spectre
RGX 11z Pro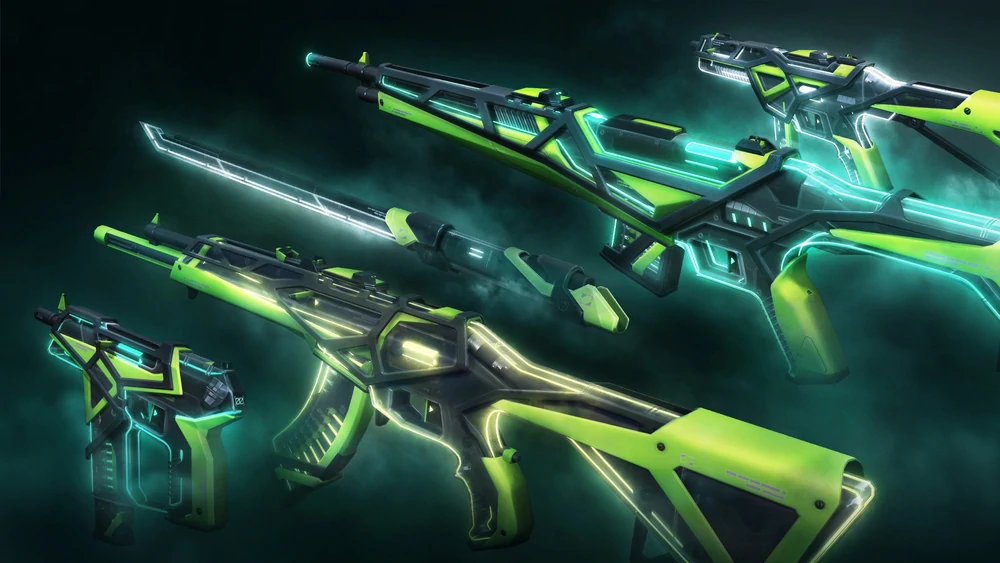 The cool thing about this set is that it makes your weapon transparent. The guns look as if they have plastic covers, and you can see everything inside, including bullets and other small parts. The design and colors are also nice.
You can apply RGX 11z Pro to:
Blade
Classic
Firefly
Frenzy
Guardian
Operator
Phantom
Spectre
Stinger
Vandal
Ruination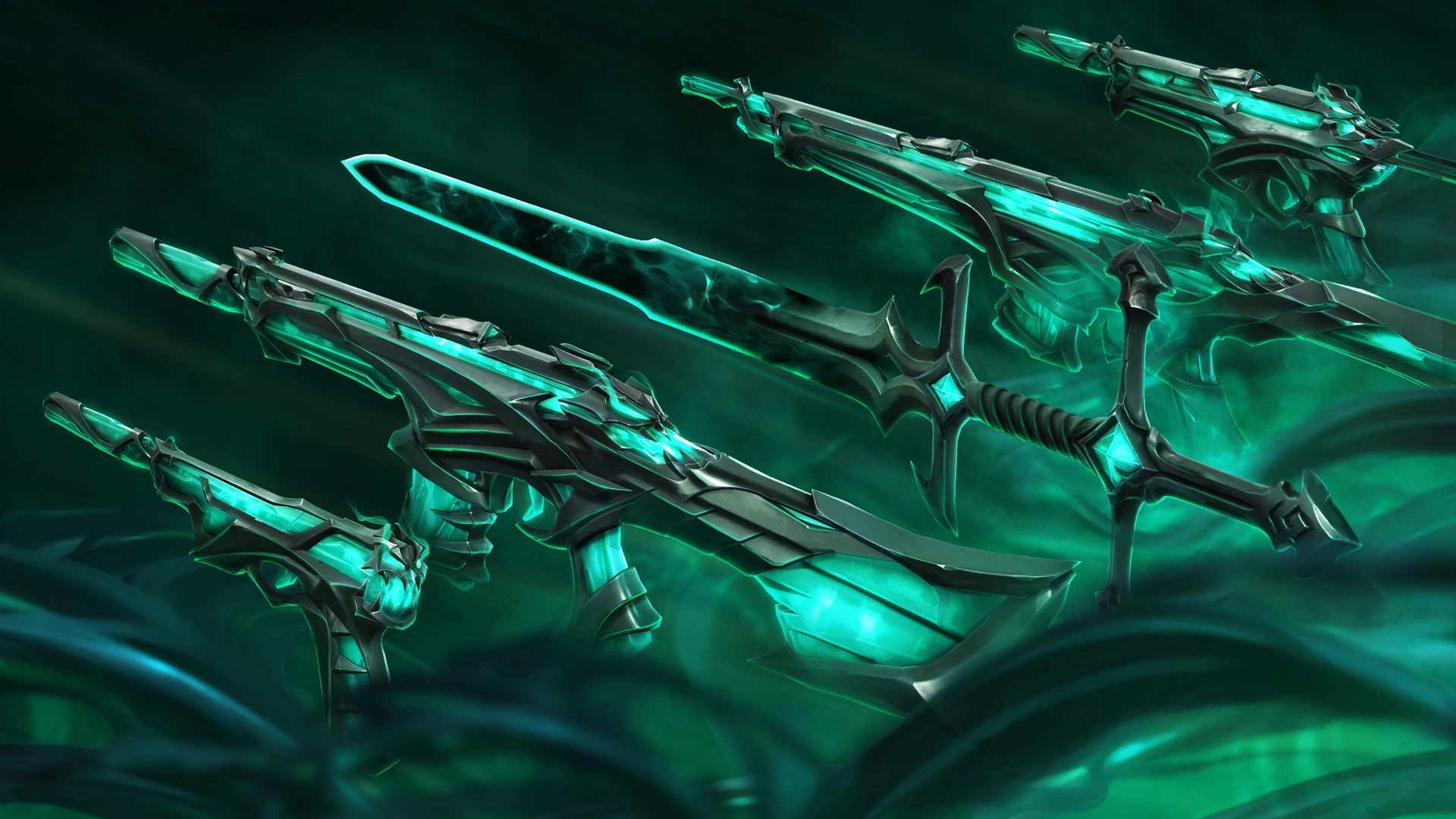 The ruination bundle has an interesting backstory. Upgraded SFX utilizes sound effects from League of Legends champions. For example, Ghost recycled Gwen's audio effects, while Spectre utilizes Karma's files.
You can apply Ruination to:
Broken Blade Of The Ruined King
Ghost
Guardian
Phantom
Spectre
Rush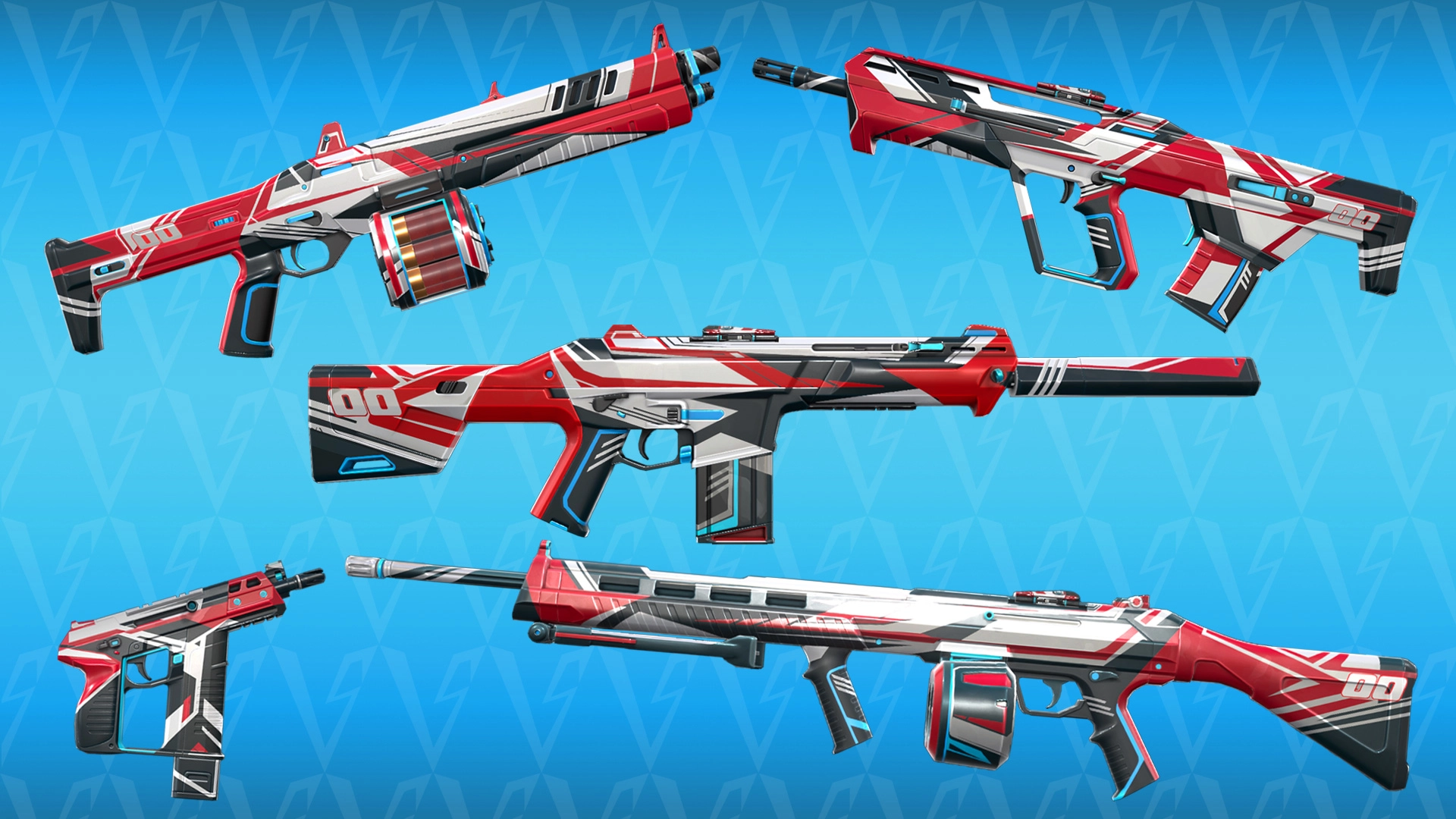 Although a low-tier set, Rush looks much more expensive than it actually is. The bundle uses a combination of white, red, black, and light blue and has numerous small details.
You can apply Rush to:
Ares
Bulldog
Frenzy
Judge
Phantom
Sakura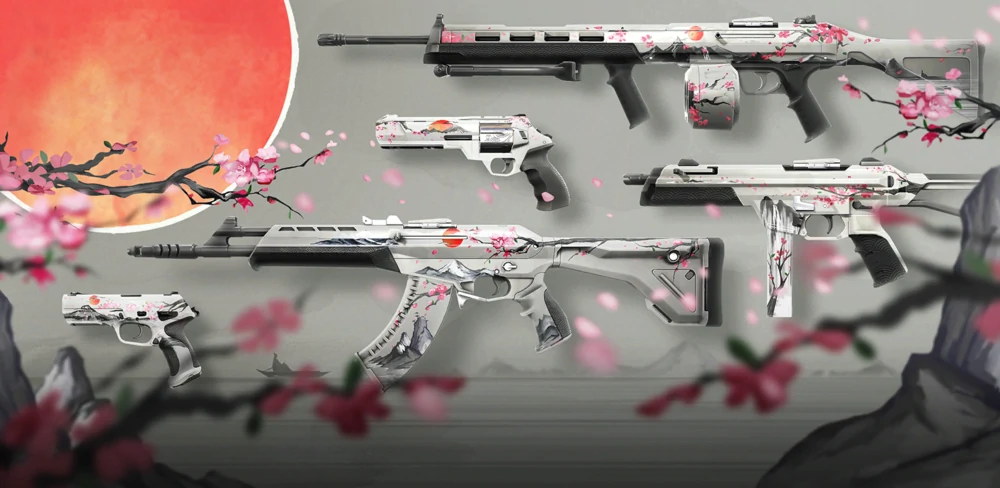 Sakura is a visually-appealing bundle that features motifs from Japan. Aside from sakura flowers and trees, you can also notice a red sun and mountains on the white background.
You can apply Sakura to:
Ares
Classic
Sheriff
Stinger
Vandal
Sarmad
Translated from Arabic, Sarmad means everlasting or eternal. These weapons remind me of some majestic bird, and if you take a closer look, you might notice a staring eye on each one of them. You might notice other cool, bird-related details, such as the feathers on Phantom.
You can apply Sarmad to:
Broken Blade Of The Ruined King
Ghost
Guardian
Phantom
Spectre
Sensation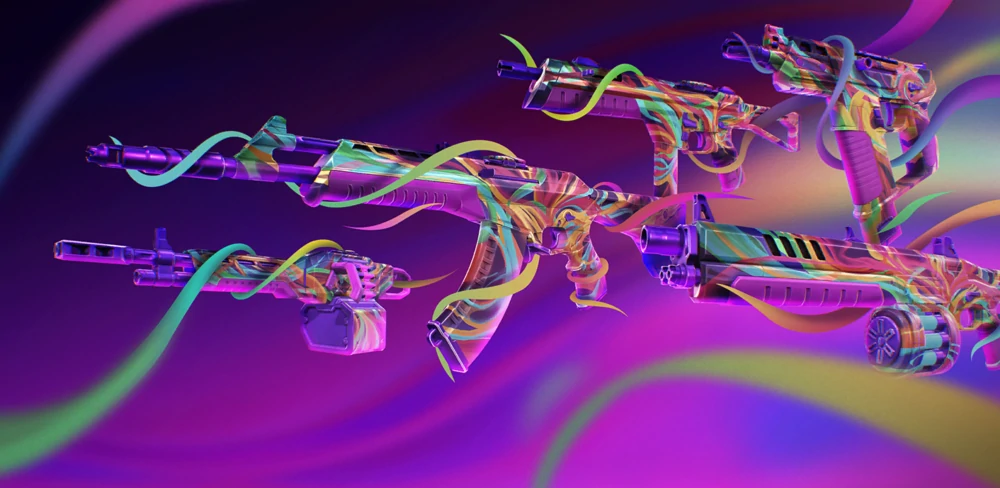 Sensation pieces look like an embodiment of a rave party. This set is amazing, especially if we consider that it is classified as a Select-tier bundle. No matter what, your enemies will definitely notice your skin.
You can apply Sensation to:
Frenzy
Judge
Odin
Stinger
Vandal
Sentinels of Light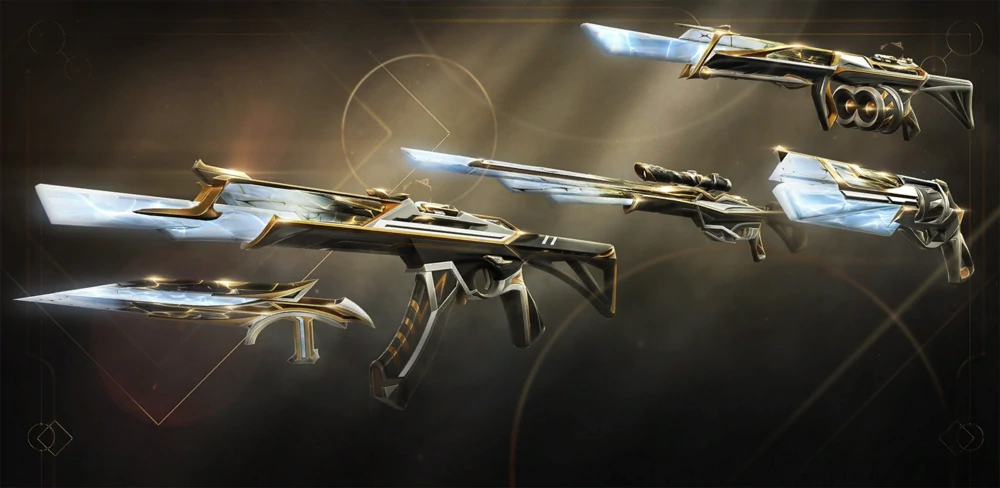 Here is another set that utilizes audio files from League of Legends champions. To be exact, it utilizes audio from characters that were featured during the Sentinels of Light event. I need to give a special shoutout to the Relic of the Sentinel piece that replaces the standard knife.
You can apply Sentinels of Light to:
Ares
Operator
Relic of the Sentinel
Sheriff
Vandal
Silvanus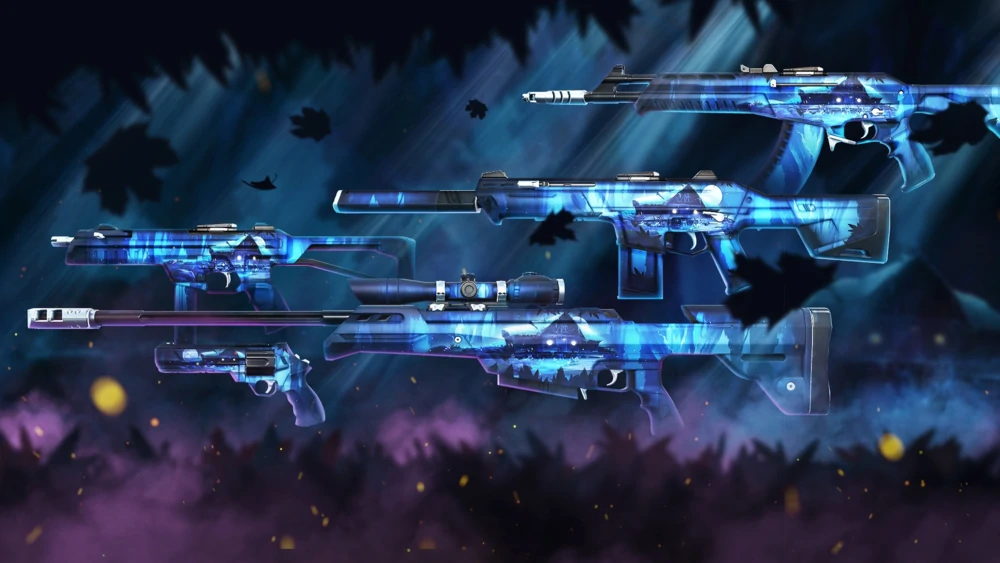 The skins from this bundle are basically the same. You can notice a small woodland cottage, a large full moon behind it, all of which is placed on dark blue background.
You can apply Silvanus to:
Operator
Phantom
Sheriff
Stinger
Vandal
Singularity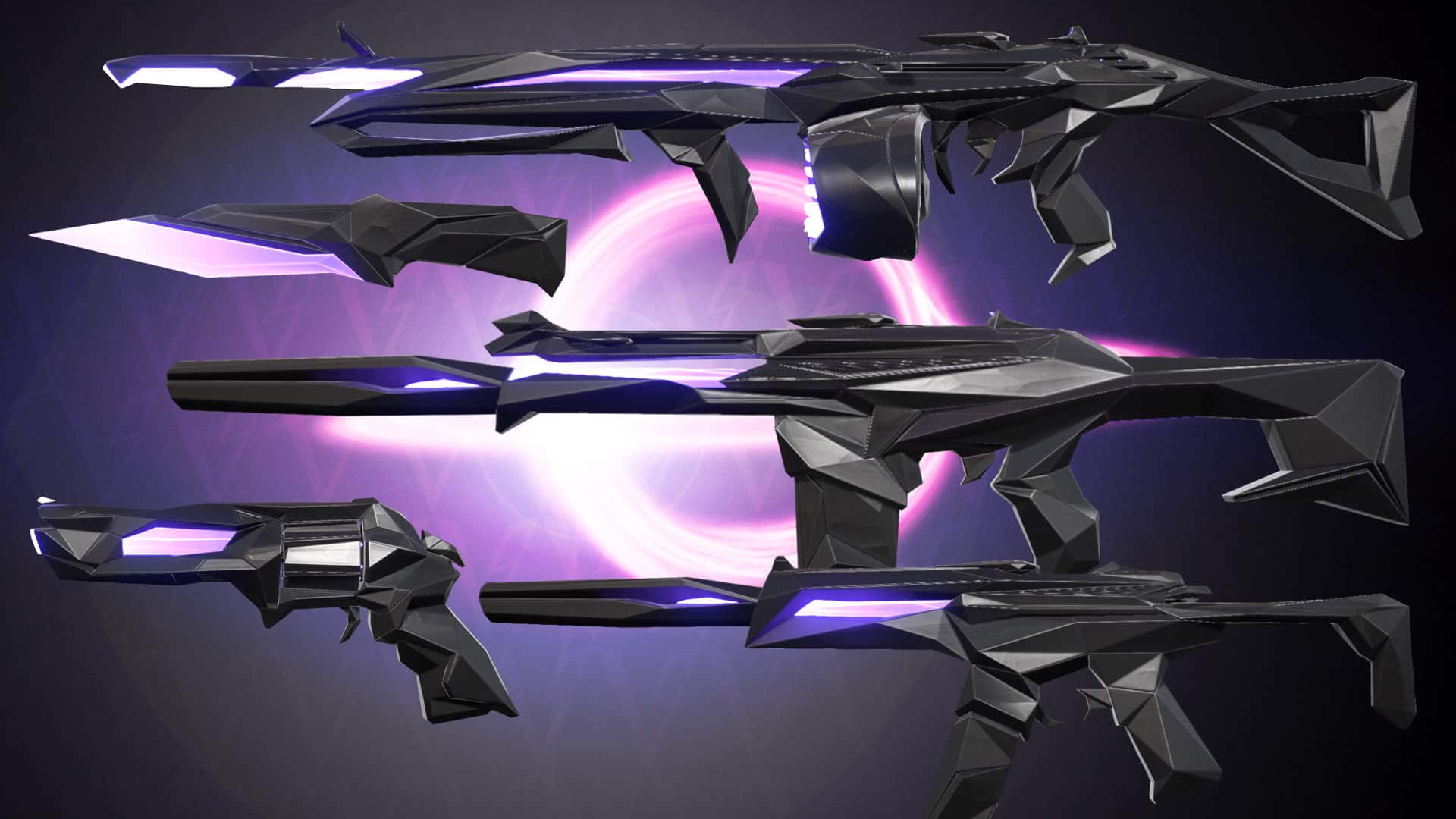 Singularity skins have uneven black textures that make them look a bit extraterrestrial. Each weapon has a small light purple section running through it as if they're shooting lasers instead of bullets.
You can apply Singularity to:
Ares
Knife
Phantom
Sheriff
Spectre
Smite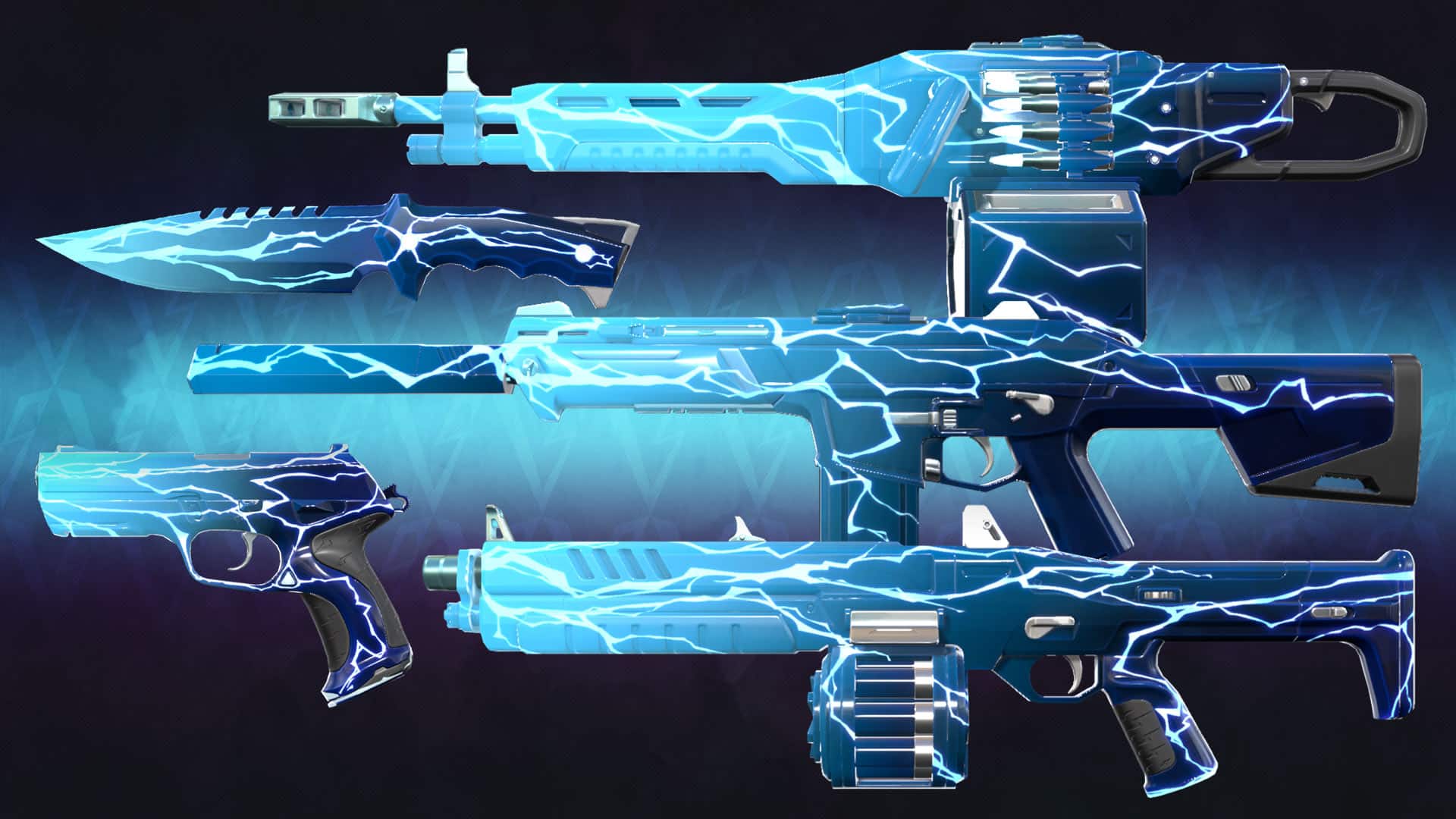 Smite items use a dark blue/light blue theme. There is lightning coursing through each of these pieces, with their muzzles being light blue, turning darker and darker toward the stocks.
You can apply Smite to:
Classic
Judge
Knife
Odin
Phantom
Snowfall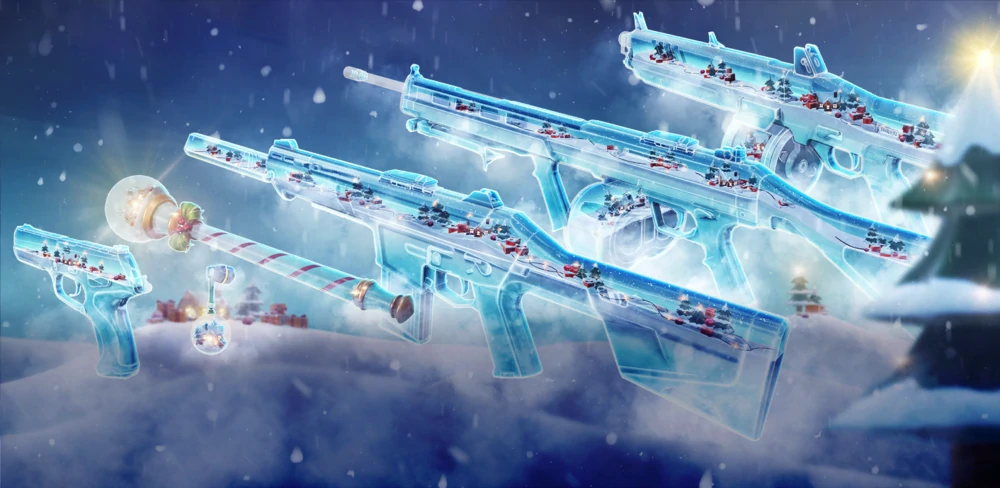 If you're looking for something cute and jovial for the holidays, you can't go wrong with Snowfall. Each one of these items shows houses decorated for Christmas and covered in snow. The new knife is simply amazing; it is now a mace with a snow globe at the top.
You can apply Snowfall to:
Ares
Classic
Judge
Phantom
Wand
Sovereign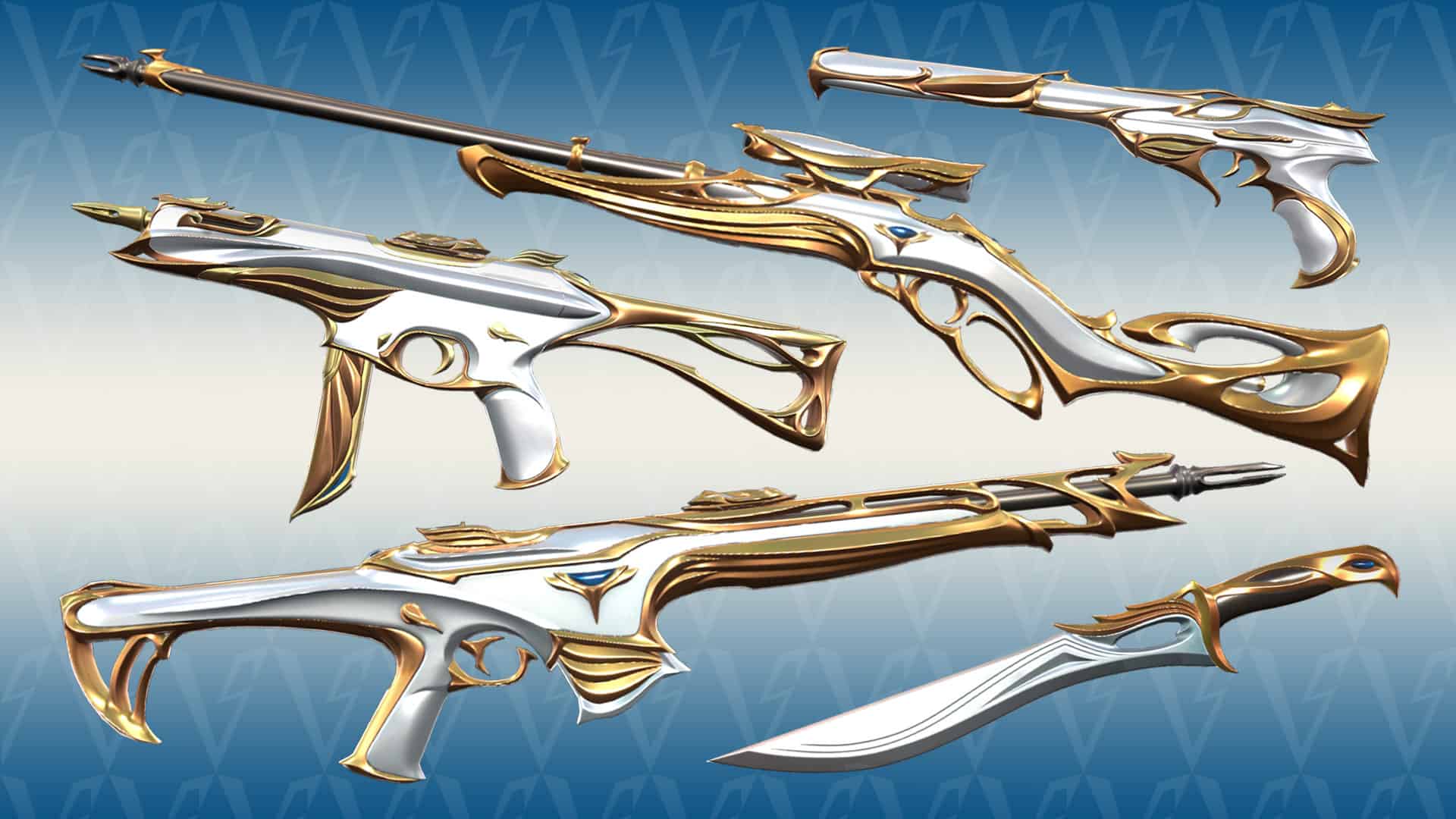 Sovereign is another bird-like set. It is very fancy combining white and gold colors. Some of the pieces have light blue ovals that remind me of bird eyes.
You can apply Sovereign to:
Ghost
Guardian
Marshal
Stinger
Sword
Spectrum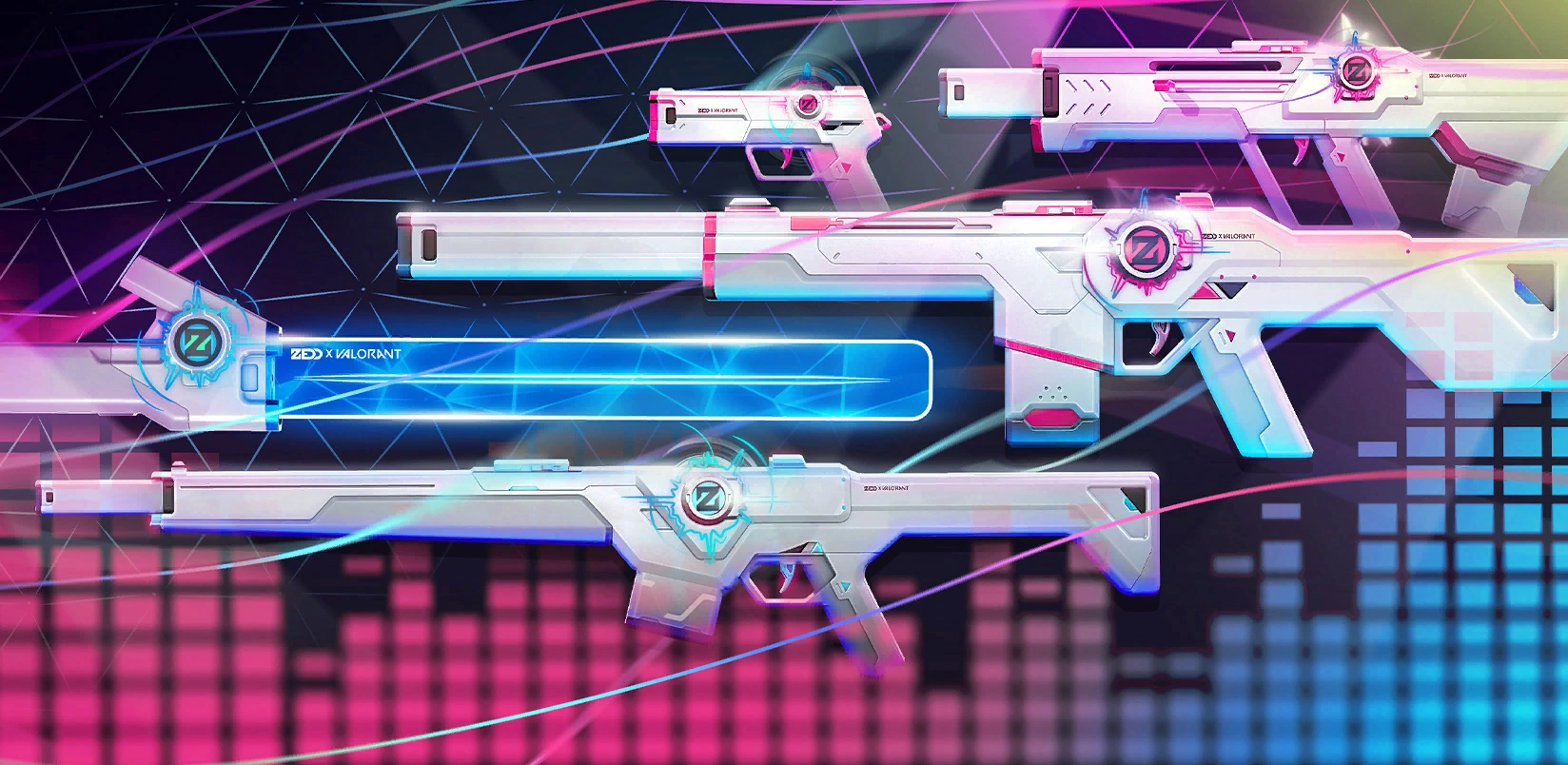 This is the most expensive bundle in Valorant. The set was made in collaboration with DJ Zedd, which is written on all of the weapons. Although the base skin doesn't look anything special, relying on white color with a few red elements, the set has new, unique sound effects, thus paying homage to Zedd.
You can apply Spectrum to:
Classic
Guardian
Phantom
Waveform
Spline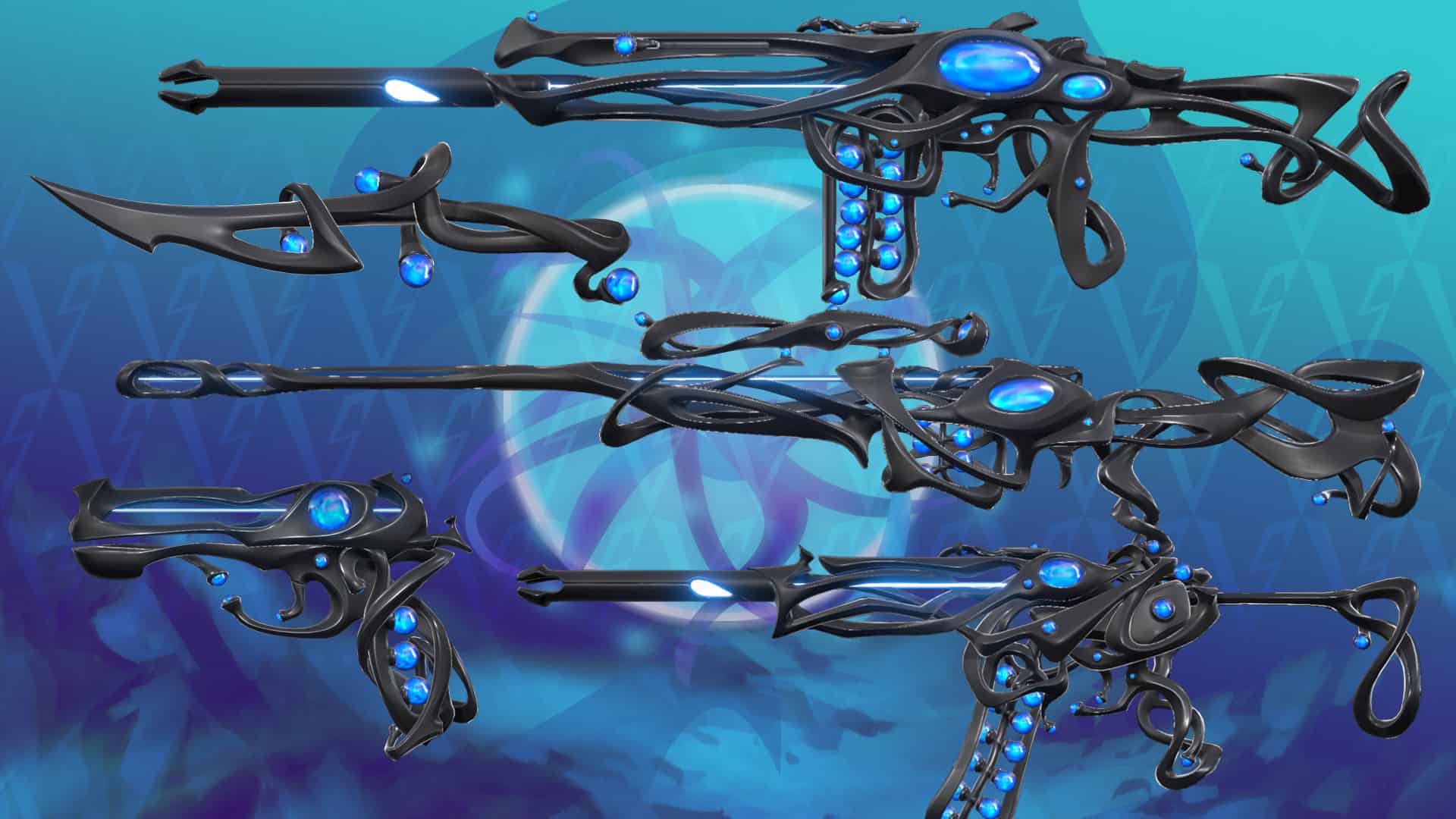 The bundle makes your guns look like alien weaponry. A unique feature of this set is blue bulbs embedded into pieces. The gun's design is erratic, with lots of intertwined spiral elements.
You can apply Spline to:
Classic
Dagger
Operator
Phantom
Spectre
Team Ace
I like this bundle a lot. It showcases Raze, Reyna, Jett, Phoenix, and Yoru, each one a different weapon. As if that wasn't enough, every gun has a unique design ranging from orange flames to purple mist.
You can apply Team Ace to:
Frenzy
Judge
Operator
Phantom
Vandal
Tethered Realms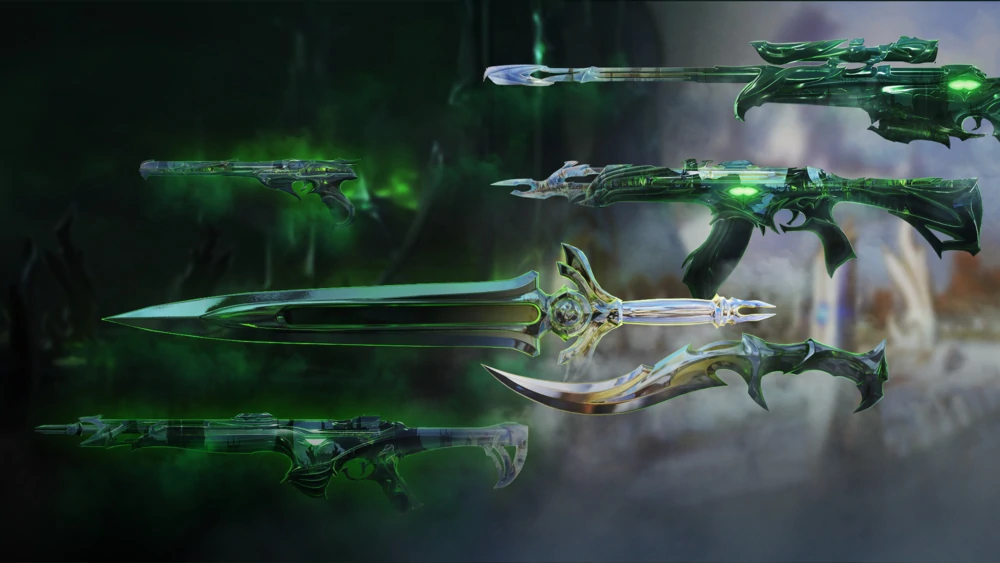 A unique thing about this bundle is that it combines elements from Forsaken and Sovereign sets. The background will switch as you walk from the light area of the map to the dark and vice versa.
You can apply Tethered Realms to:
Ghost
Guardian
Operator
Prosperity
Vandal
Tigris
Although Tigris is a low-tier Deluxe, it looks pretty awesome. The set combines black, dark red, and golden egg colors. Each piece has a small tiger head on it.
You can apply Tigris to:
Hu Else
Operator
Phantom
Shorty
Spectre
Titanmail
Speaking of League of Legends, Titanmail looks like a set that Mordekaiser would wear if he could have a gun. These guns have spikes protruding from them, looking like brambles. The set definitely looks apart, and I especially like the spiked mace that replaces the knife.
You can apply Titanmail to:
Ares
Bucky
Frenzy
Mace
Vandal
Undercity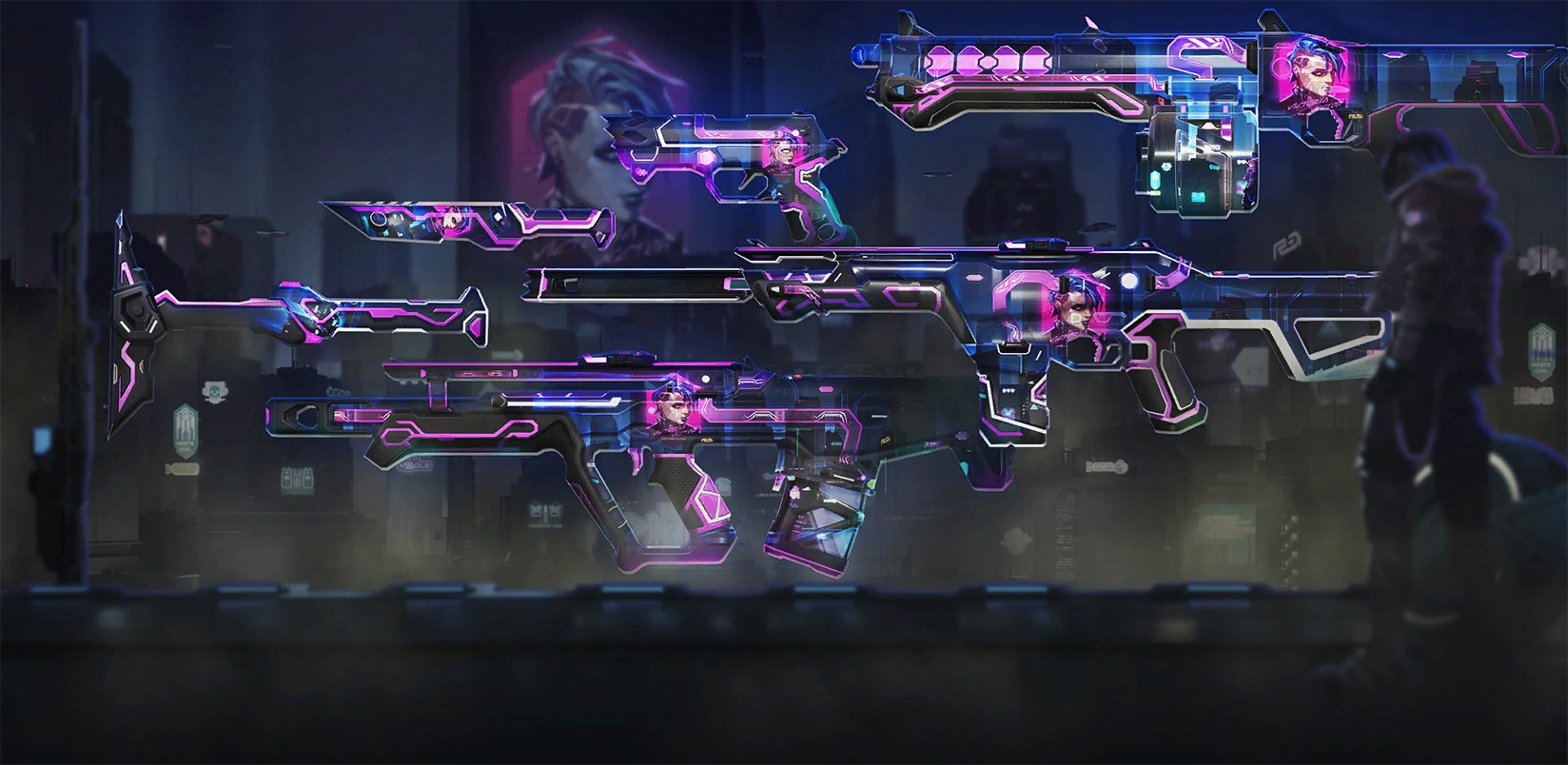 Undercity bundle showcases a mysterious character from Jett's latest video. Riot repurposed parts of Glitchpop skin for this set. The bundle looks awesome, depicting a dark city skyline with pink neon lights.
You can apply Undercity to:
Bulldog
Classic
Hack
Judge
Phantom
VALORANT Go! Vol. 1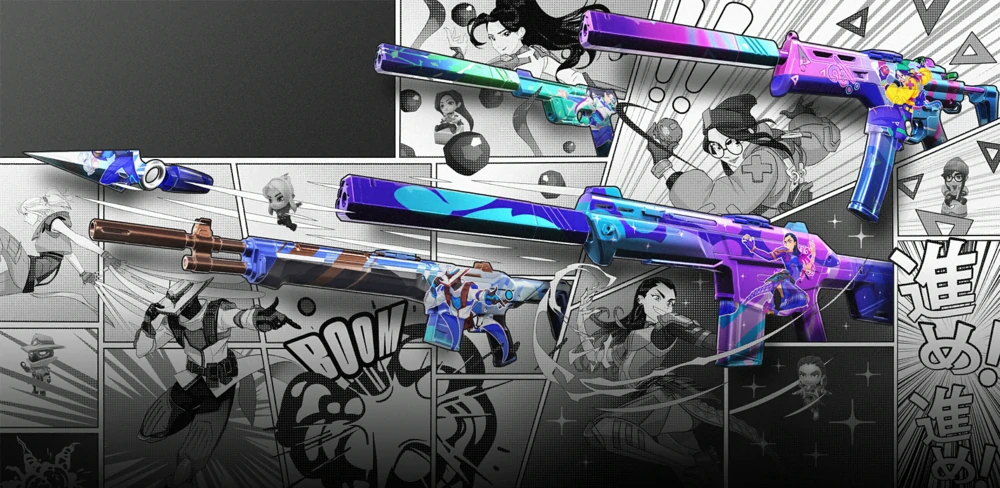 This bundle uses a different agent for each of its weapons. Sage is shown on teal Ghost background, Killjoy is on a blue Spectre, and you get Cypher Guardian, Reyna Phantom, and Jett Knife.
You can apply VALORANT Go! Vol. 1 to:
Ghost
Guardian
Knife
Phantom
Spectre
VALORANT Go! Vol. 2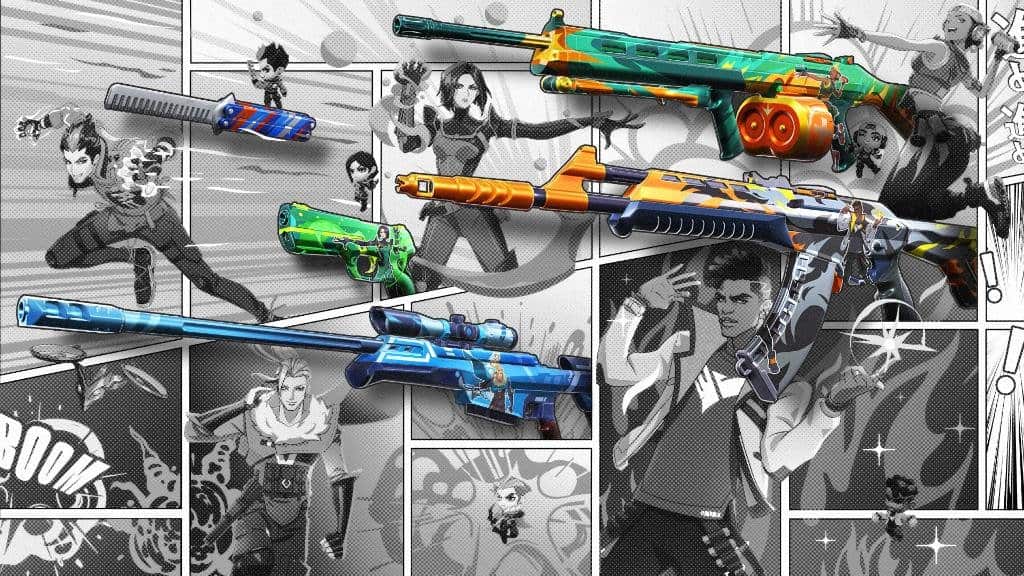 The second Valorant collection is similar to the first one in the sense that it features 5 different agents. You get green Viper Classic, orange Phoenix Vandal, yellow/green Raze Ares, Yoru's butterfly knife, and blue Sova Operator.
You can apply VALORANT Go! Vol. 2 to:
Ares
Classic
Operator
Yoru's Stylish Butterfly Comb
Vandal
Wasteland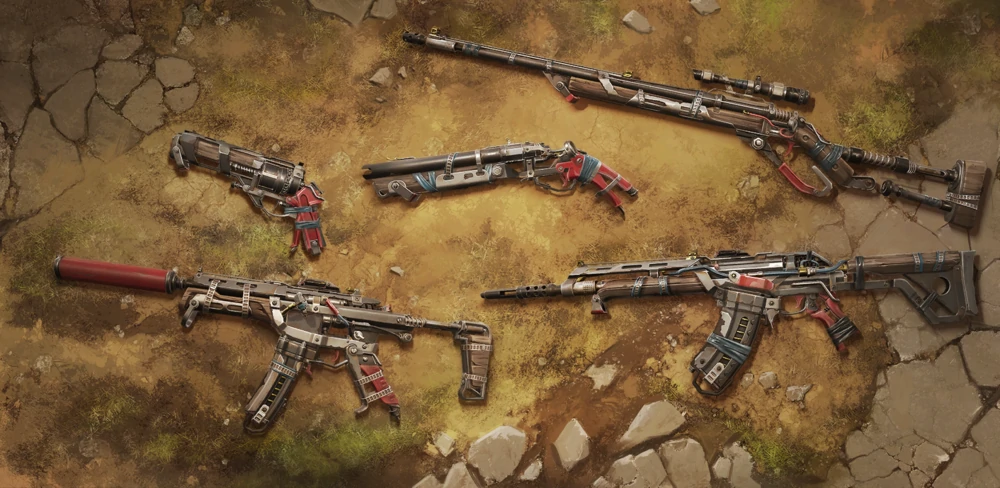 Wasteland is one of the better sets in Valorant. All of the weapons within the set are makeshift; there are lots of wooden parts being held by duct tape. Although these pieces might look a bit flimsy to some people, we cannot deny their genius appearance.
You can apply Wasteland to:
Marshal
Sheriff
Shorty
Spectre
Vandal
Winderwunderland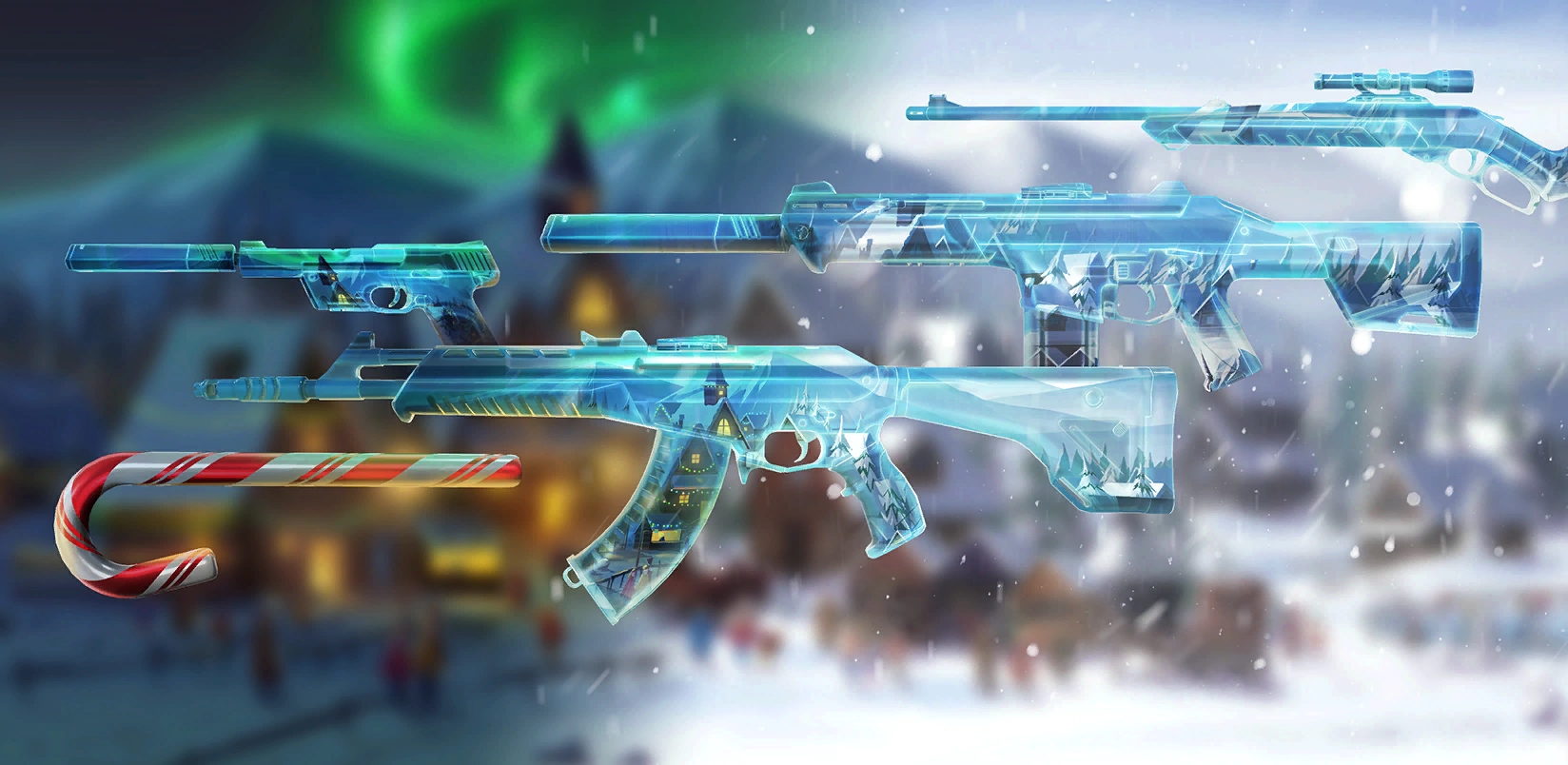 Winderwunderland showcases an ideal mountain village covered in snow. The wooden houses are typical for central and northern Europe, for countries such as Germany, Austria, and Switzerland. The best thing yet is that you get a massive candy cane instead of the knife.
You can apply Winderwunderland to:
Candy Cane
Ghost
Marshal
Phantom
Vandal
Xenohunter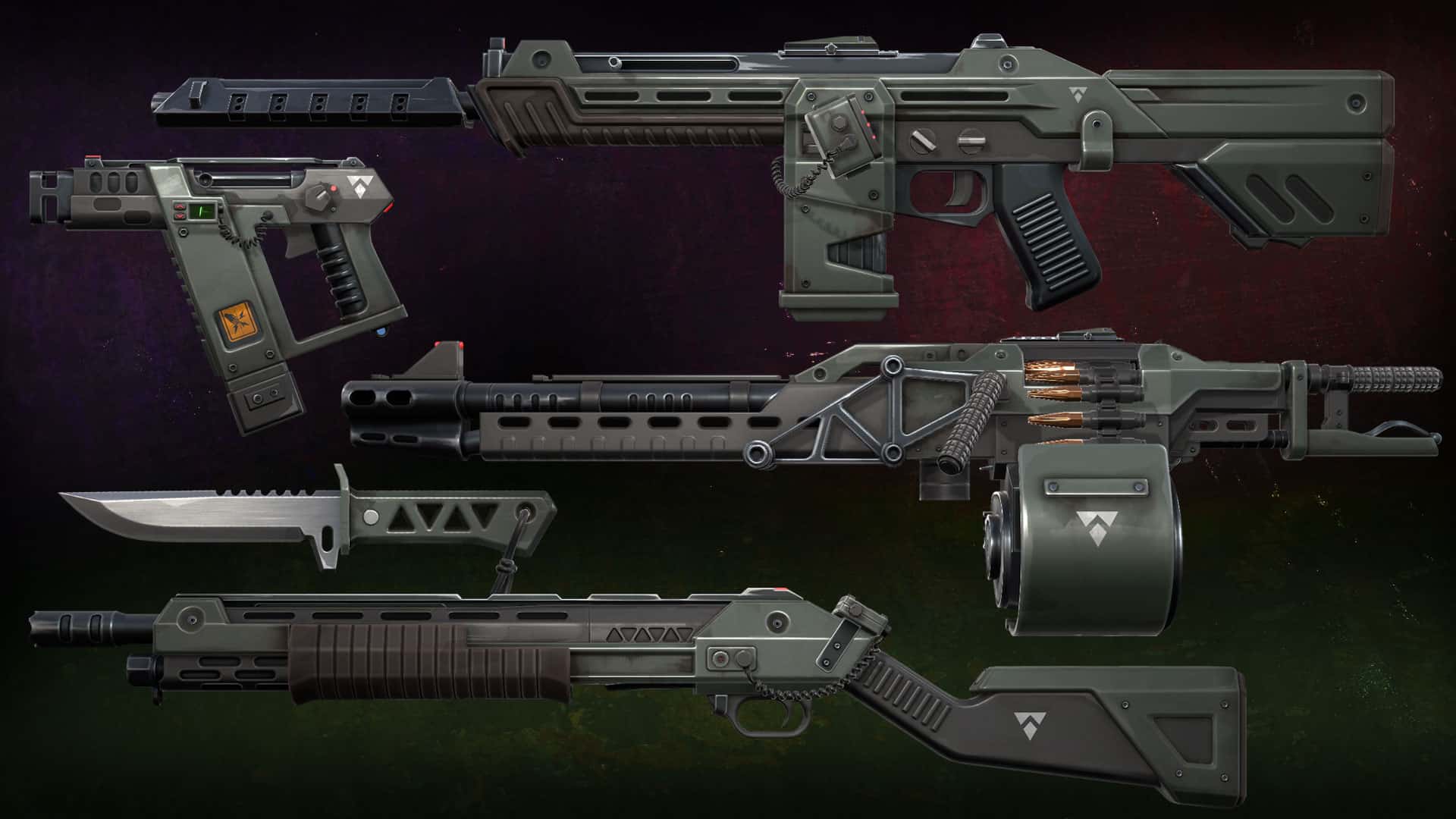 Xenohunter is not that inspiring. The weapons in this set have dark colors and look like something from the Alien movie. All in all, there are much better choices on the market.
You can apply Xenohunter to:
Bucky
Frenzy
Knife
Odin
Phantom
My Best Purchasing Tips
If you decide to buy some of these sets, you need to consider a few things:
Watch a video or two featuring the particular weapon. That way, you can get a better feel for what it looks like in the game.
Make sure that a gun is popular/good enough to warrant a purchase.
There are lots of similar weapons on the market. Check all of them before making a decision.
Check all the upgrades. Some of them might be way better than the original skin making it worthwhile to purchase an item (a good example would be Doodle Buds, which become incredible as you upgrade a weapon).
If you're buying a weapon for a friend, make sure they actually use that particular piece.
Product Recommendations
Given how many cool cosmetics there are on the market, it is really hard to choose one particular skin. So, I made a list of the 5 best bundles:
Nunca Olvidados
Snowfall
Gaia's Vengeance
Doodle Buds
Glitchpop
I've put these 5 sets on top not only for their external appearance but for other features as well. For example, Doodle Buds is awesome as you upgrade a weapon, while Spectrum has cool sound effects. I would also like to share a few sets that you probably shouldn't buy:
Xenohunter
Recon
Minima
Singularity
Ion
Some of these are simply ugly, while others are overpriced. Furthermore, you can easily replace most of these sets with something cheaper or cooler.
FAQs
Question: What is the rarest skin in Valorant?
Answer: The three rarest skins in the game are Arcane Sheriff, Wavefinder Shorty, and Champion's bundle. Each one of these has an interesting backstory. For example, Arcane Sheriff was released to celebrate the "Arcane" series, it was present in the shop for a short while, and it won't be returning anymore. So, those who bought it in time can now resell it for an incredible price.
Question: Is it worth buying skins in Valorant?
Answer: It is all up to you whether purchasing these skins will be worth it. Gamers who play a lot of Valorant often buy skins to support Riot. Also, if you're already investing that much time in the game, it is nice when you can change your basic cosmetic skins for something cooler.
Question: Can you get free skins in Valorant?
Answer: There are a few ways you can get free skins in the game. First, you can get lots of them by simply completing contracts. Alternatively, you can get them by following the free path within the battle pass. However, if you want to get some of the top-tier cosmetics, you will have to pay for them.
Valorant Skins Guide: Conclusion
Like many other modern games, Valorant relies on weapon skins and other shop purchases to make money. During its short life span, Riot has produced numerous cosmetics for their guns; some of them are incredible and are definitely worth purchasing.
My favorite bundle is Glitchpop, but I also need to mention Doodle Buds and Nunca Olvidados.
Read More: