Latest posts by Stefan Stevanovic
(see all)
I've never met a MOBA player who doesn't want to exploit the system. From picking overpowered heroes and team composition to using straight-up hacks, there is little players won't do to increase their MMR. Like everyone else, I'm guilty of this sin. During my best League of Legends/Dota 2 days, I would constantly spam characters just so I could increase my placement by a few points.
Like any other game from this genre, there are always certain Overwatch 2 heroes and compositions that perform better than the rest. They might be more suitable for a current meta, or they simply exploit a specific mechanic.
Based on what I've seen as of late, compositions featuring Sojourn and Genji tend to perform better than the rest. So, I would suggest creating some amalgamation that utilizes their best abilities. If you're looking for a specific strategy that's working right now, I would recommend dive lineups that rush straight toward the enemy's supports.
What Were the Selection Criteria?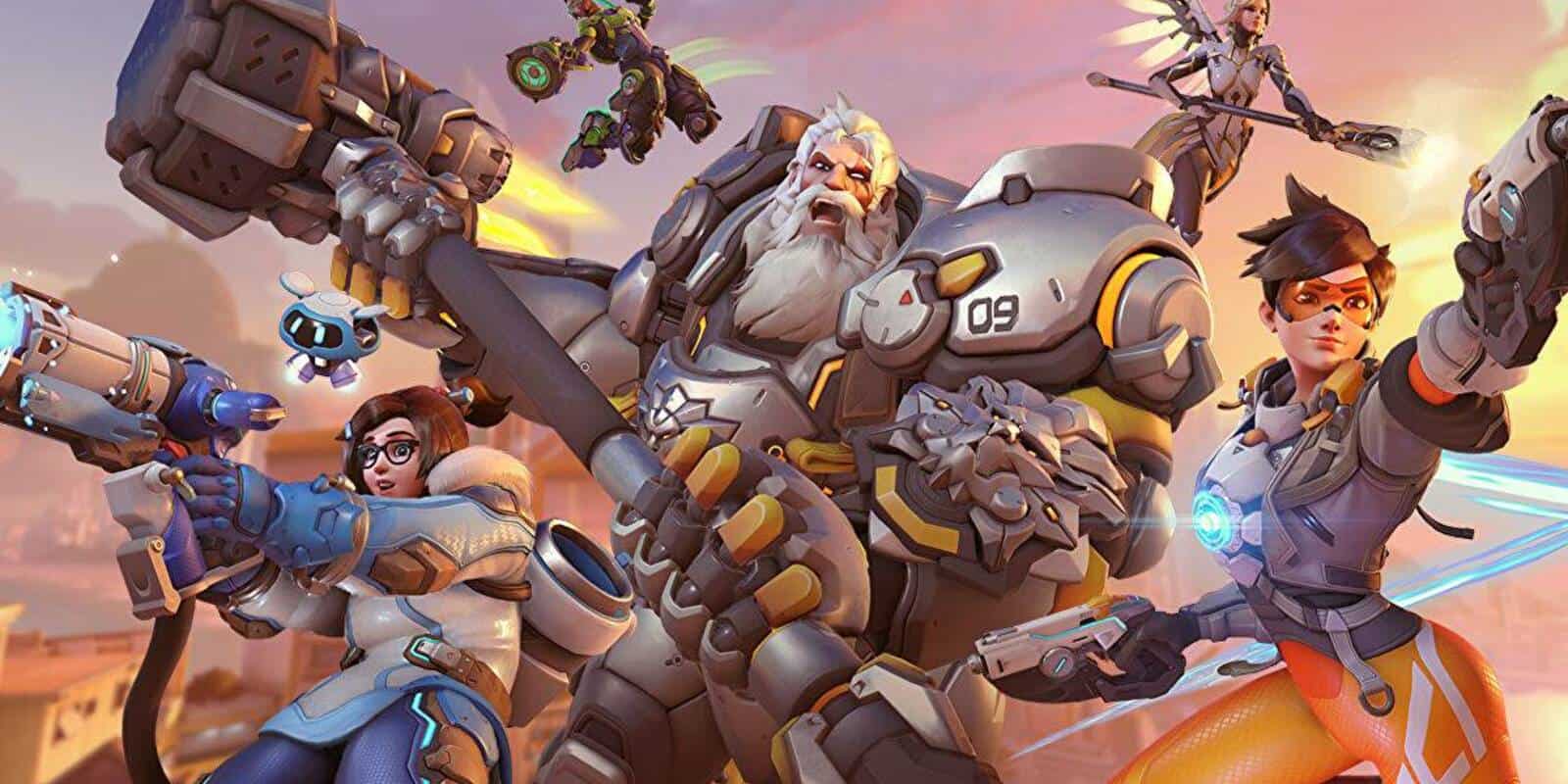 The great thing about creating team compositions in MOBAs is that there's so much room for experimenting. Even if you think you have the most overpowered lineup ever, there is a chance opponent can assemble something even stronger.
The particular article was written considering the current meta heroes and team trends. So, even though some of these suggestions might seem incredible right now, they can become obsolete in just a few months. I also considered the fun factor, as I wanted to suggest certain comps you can try with friends.
Here are the selection criteria I used:
Strength of individual heroes
Synergy between heroes
Strategies that exploit a specific mechanic
Ease of execution
Fun factor
Keep in mind you can easily replace one or two characters in each of these lineups without losing a beat. The overpowered comps focus on two or three specific characters and their interactions, with the rest of the team acting as supporting cast.
Best Team Comps
Aggressive Comp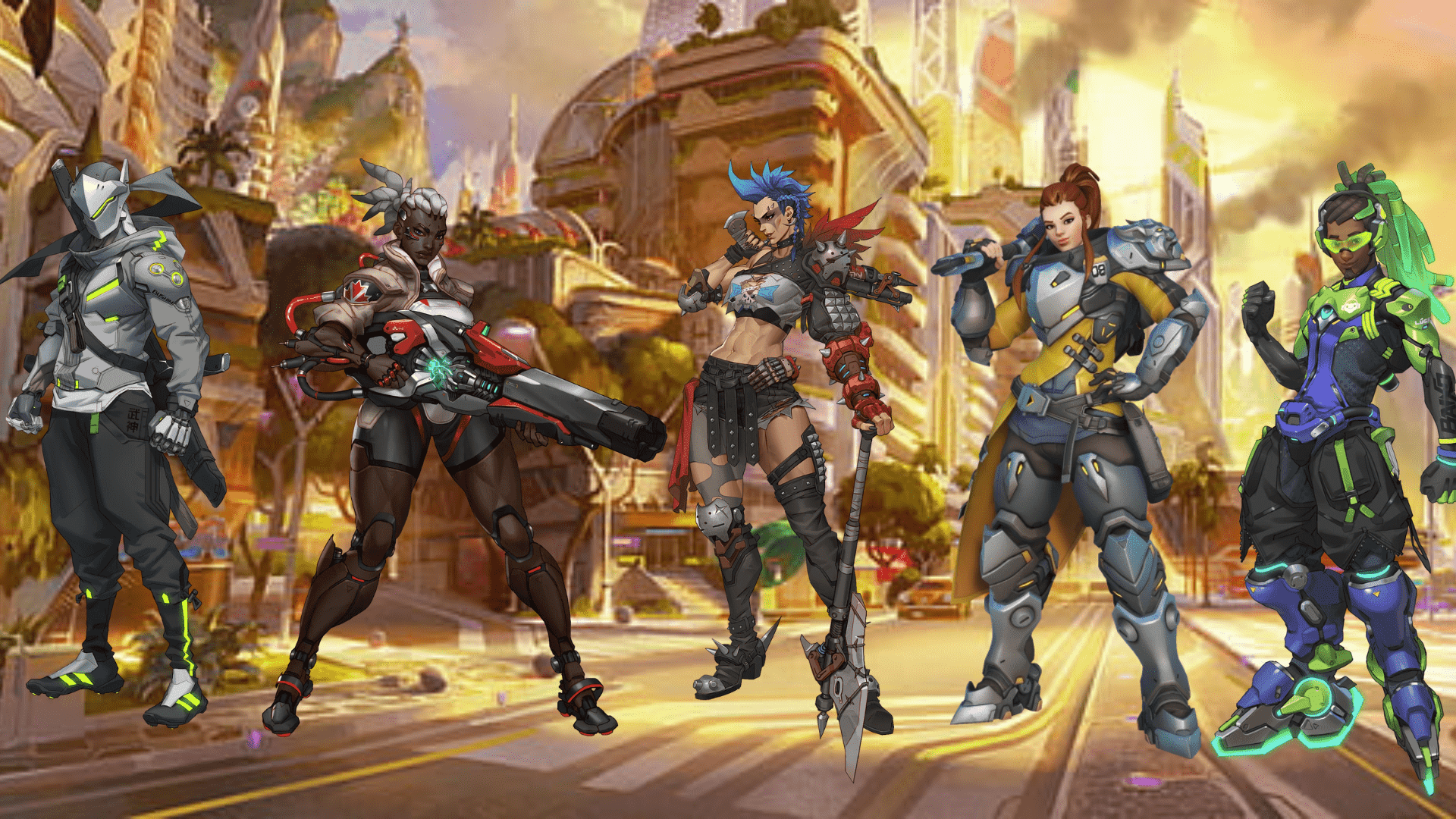 DPS: Genji
DPS: Sojourn
Tank: Junker Queen
Support: Brigitte
Support: Lucio
This particular lineup combines enhanced movement speed and life-stealing through combat. Lucio, Junker Queen, and Brigitte all have abilities that increase allies' mobility. If you also consider all the passive life-stealing and extra heals, it makes sense to play ultra-aggressively with this composition.
Even worse, some of these characters are extremely elusive. Genji and Lucio have wall-climbing abilities, and Sojourn can dash and jump onto higher places. Brigitte and Junker Queen are usually most exposed in this comp, but given all the protections, extra movement speed, and healing, they're hard to take down.
Overall, this is an incredibly fun lineup to play with. Even if you don't win, it's a fantastic experience.
Glass Cannon Comp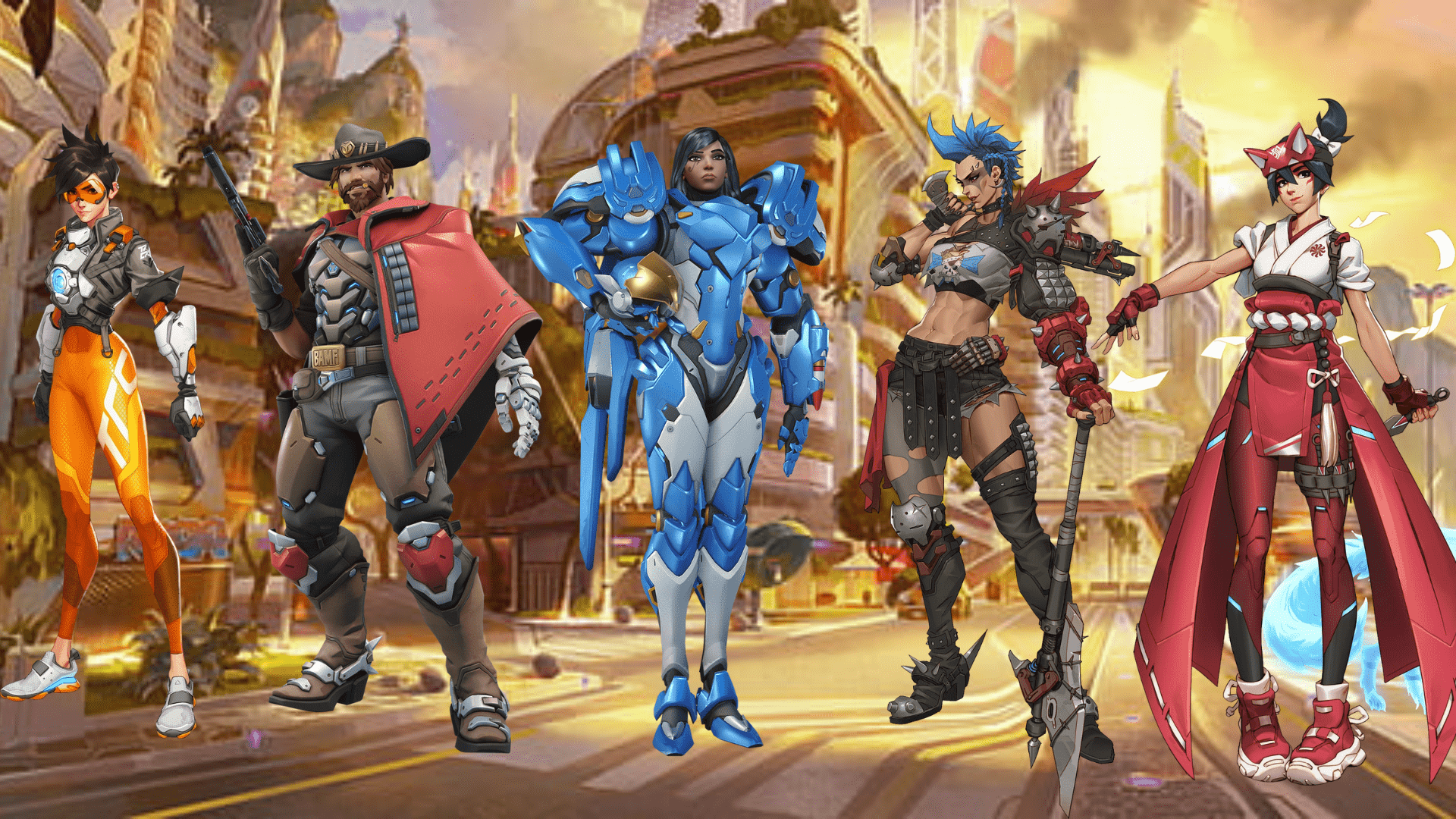 DPS: Tracer
DPS: Cassidy
DPS: Pharah
Tank: Junker Queen
Support: Kiriko
Here's another lineup that features Junker Queen. Once again, the name of the game is mobility. But this time around, the team deals much more damage and has significantly less health and sustain.
All DPS team members have great skills for closing the distance. Cassidy works great rolling into the opponents and shooting two barrages of bullets one after another. Tracer can blink in and blink out, to engage opponents, and Pharah is highly dependent on flying.
Pulling off this strategy without casualties is extremely hard. However, if you prefer fast-paced action instead of camping, this is definitely the optimal approach for you.
Dive Comp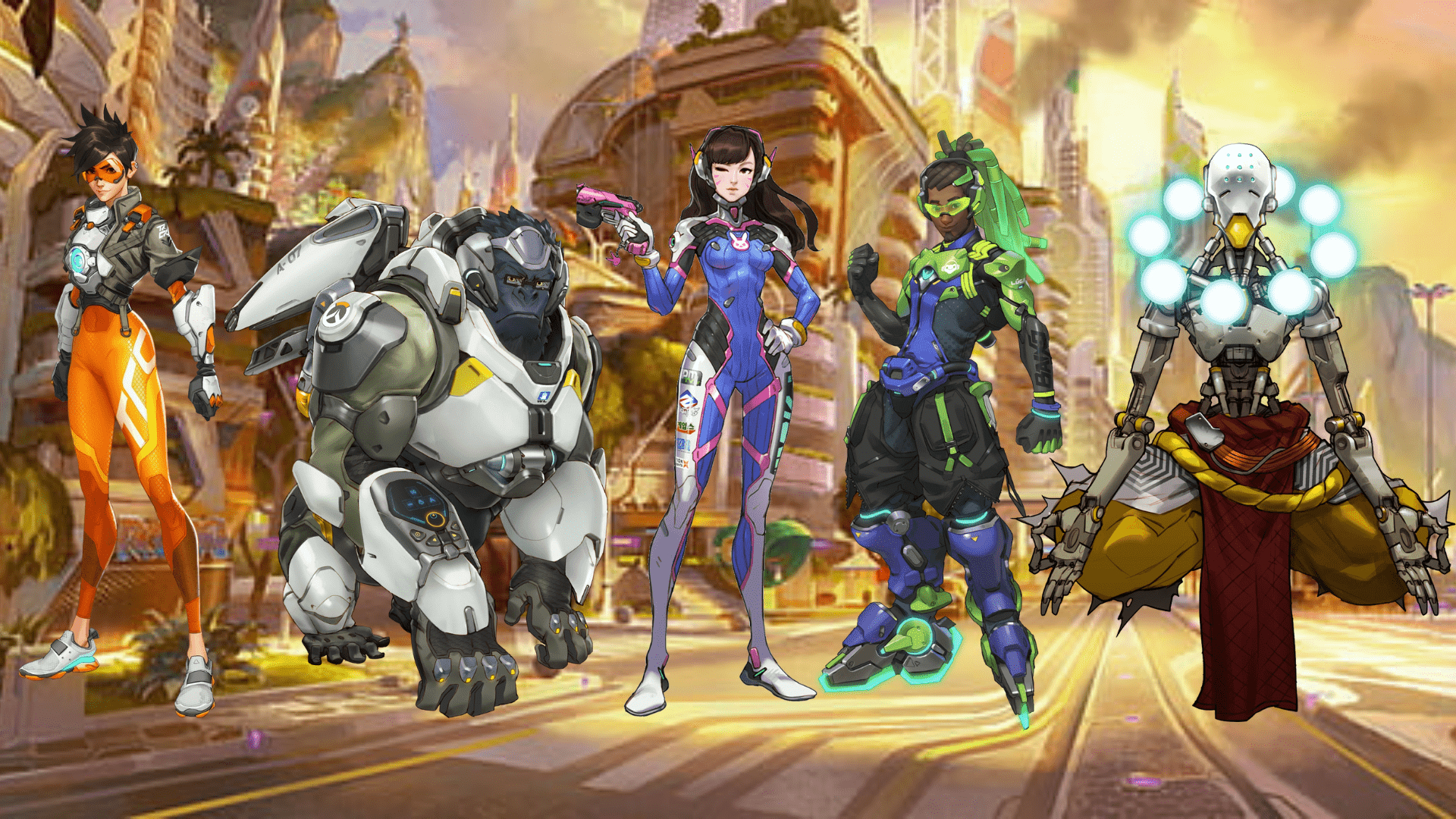 DPS: Tracer
Tank: Winston
Tank: D.Va
Support: Lucio
Support: Zenyatta
When it comes to dive comps, it doesn't get much better than this. The main goal of this lineup is to jump straight onto squishy enemy supports and quickly take them out.
All your frontliners have the ability to reduce the distance between teams. Winston and D.Va can literally jump on their heads and start the engagements. It's recommended that Tracer sticks close behind them by using Blink. However, due to her low health pool, she will be extremely susceptible to attacks between sequences.
Lucio is an excellent pick, as his movement speed buff helps the initiation. Once you clash with the opponents, you can use heal for restoration or speed burst when you need to disengage. Zenyatta is the odd man out and can easily be replaced by another support. However, I decided to add him to the mix because of Transcendence.
Long-range Comp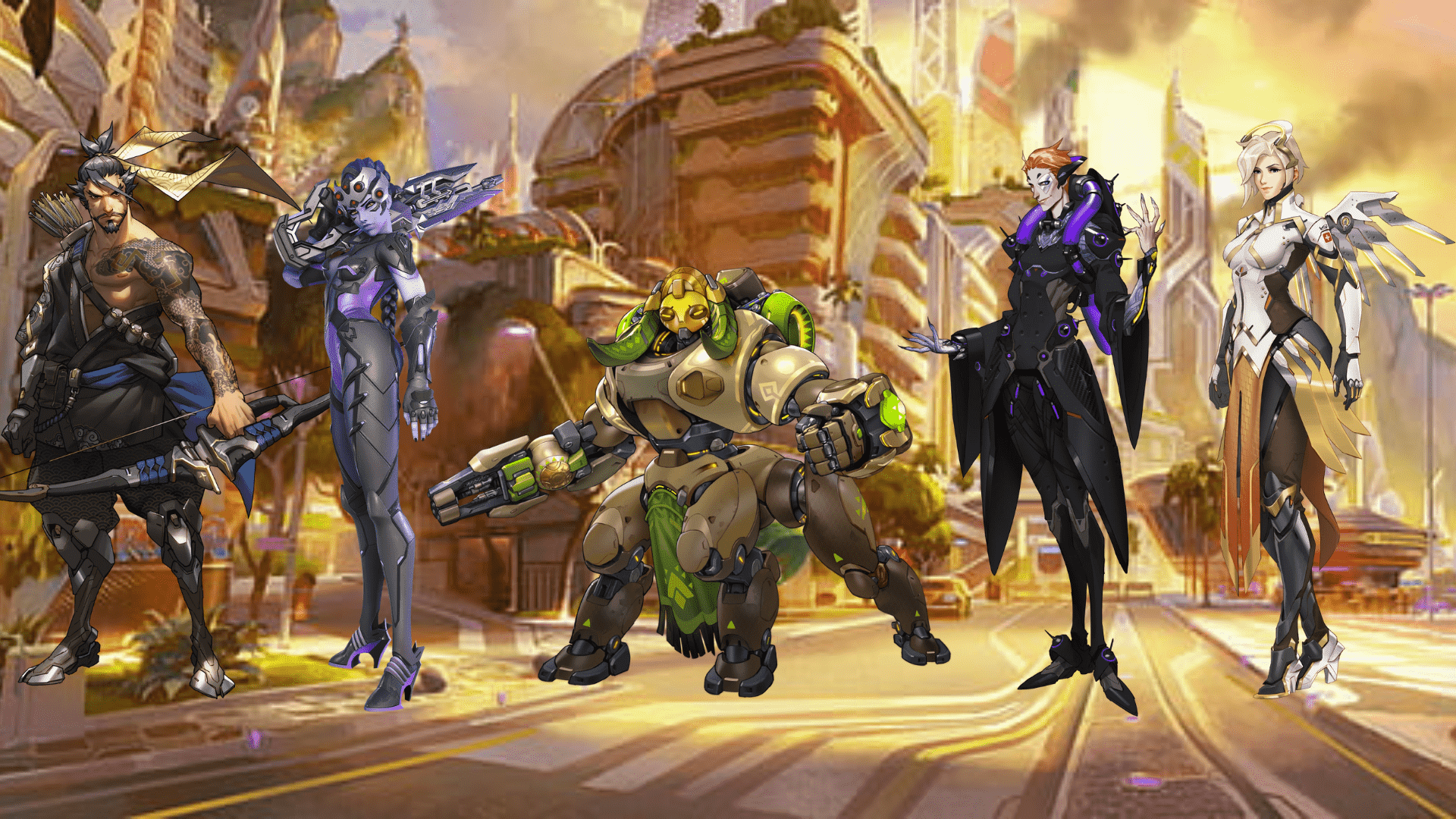 DPS: Hanzo
DPS: Widowmaker
Tank: Orisa
Support: Moira
Support: Mercy
This is the most basic sniper lineup that allows you to pick off enemies from afar.
Orisa works as a fantastic frontliner pushing enemies with her spear abilities. She can also buy time for other members to dish damage. You could use just about any tank for this role, but I placed Orisa because she's pretty overpowered right now.
As you can presume, I used Hanzo and Widowmaker as the snipping pair. You also have Moira and Mercy working as defensive options. If you want to go crazy with this lineup, you can replace one of them with an offensive character.
Overpowered Comp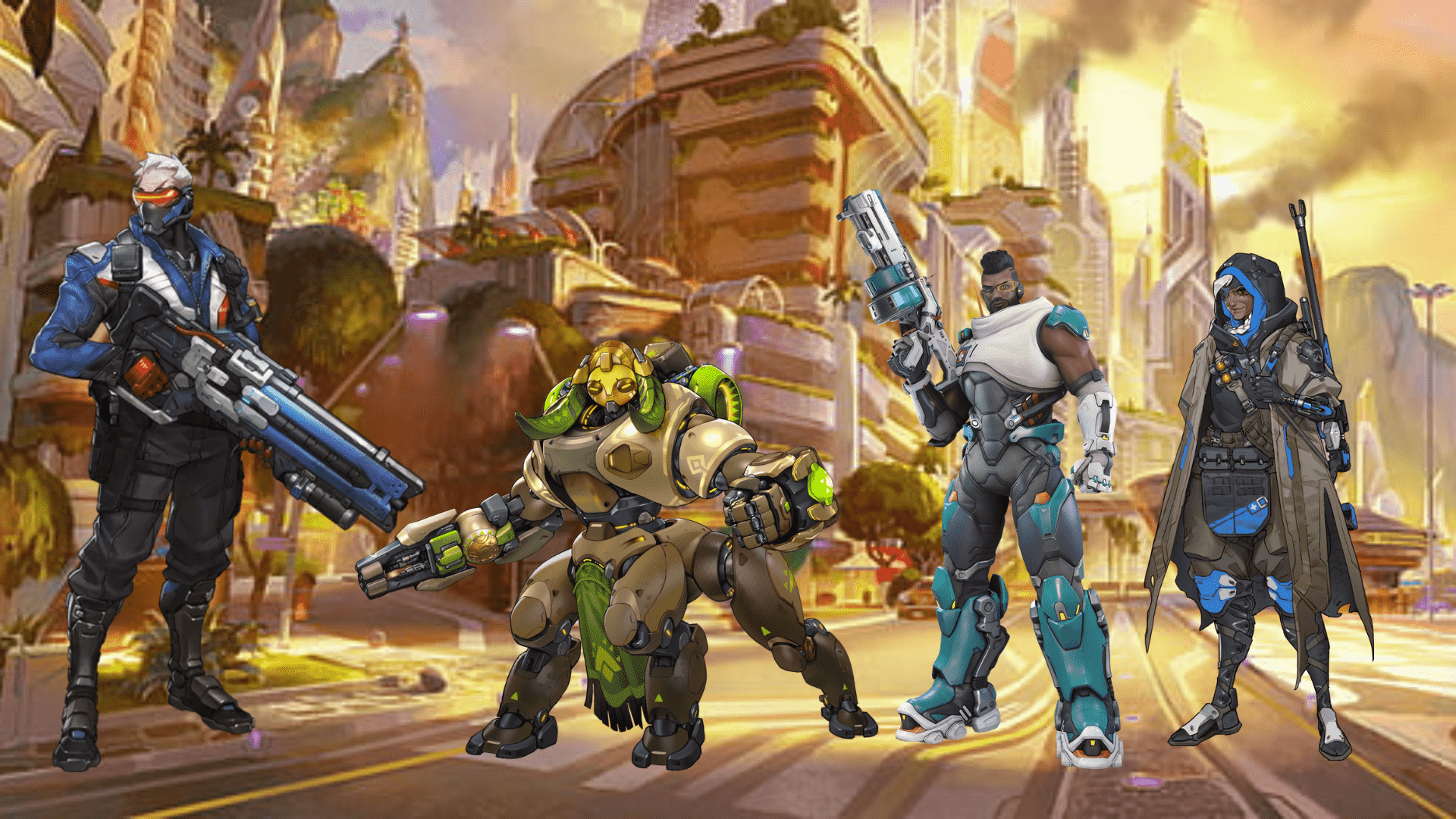 DPS: Soldier 76
Tank: Orisa
Support: Baptiste
Support: Ana
Support: Lucio
As it usually goes, there's always that one strategy that feels superior. Out of all the options on the list, this might be the strongest available comp.
For the most part, the strategy revolves around Orisa and making sure she can hold the line for as long as possible. Ana is the best hero to match her up with. By throwing Biotic Granade on the tank character, you can continue spamming heals with other supports.
It's really good to add a supplemental DPS for some extra offense. A balanced character who can heal himself is a fantastic choice, which is why I decided to add Soldier 76. Baptiste is probably the most replaceable character in this lineup, and you can swap him with another tank.
Static Defense Comp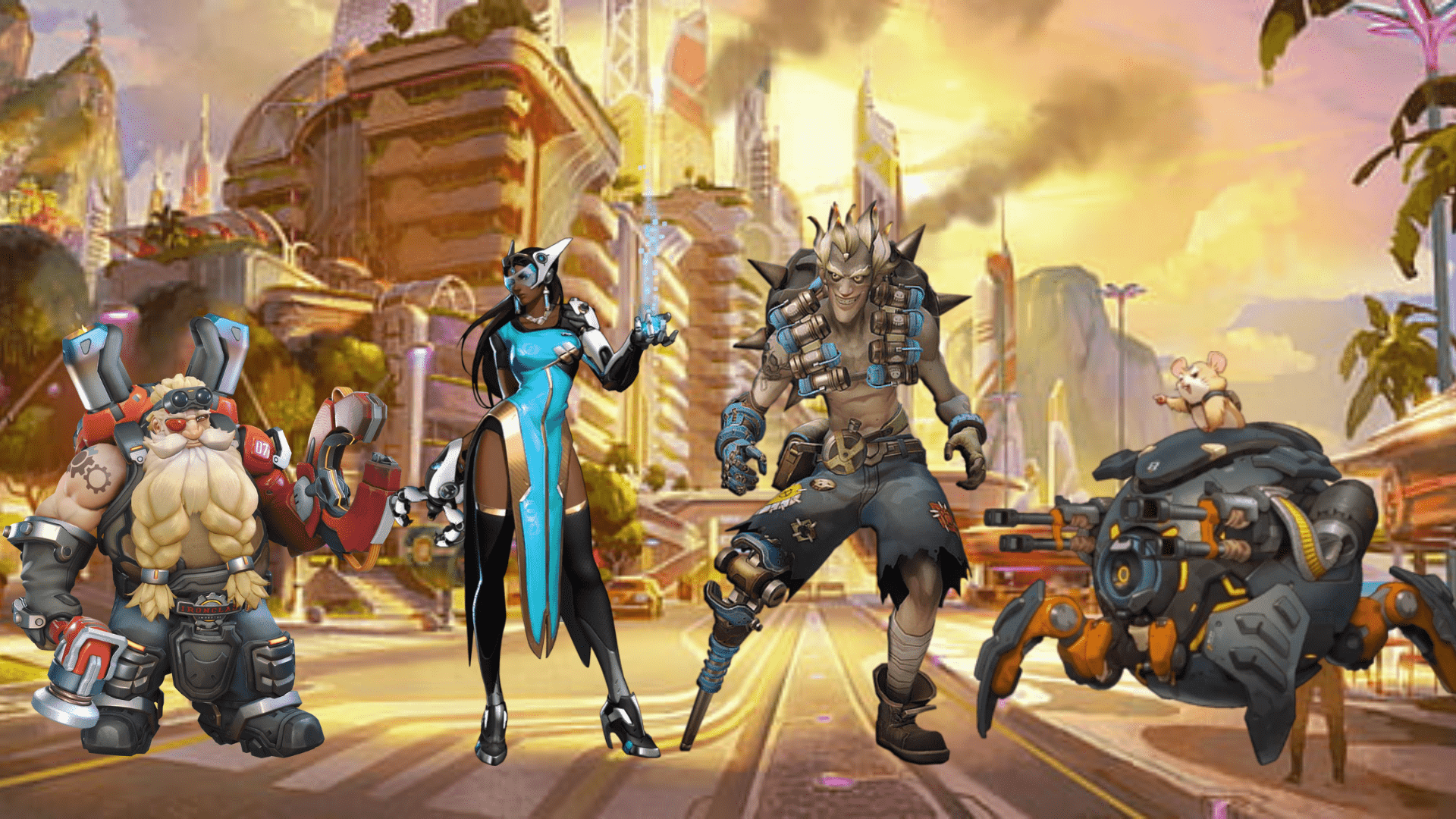 DPS: Torbjorn
DPS: Symmetra
DPS: Junkrat
Tank: Wrecking Ball
Support: Baptiste
If you're looking for something incredibly annoying, it doesn't get better than the static defense lineup.
Basically, your team should occupy a fortified position and wait for the enemies to come. For this lineup to work (if it even works), you need Torbjorn and Junkrat. Use Deploy Turret at the entry point and wait for the opponents to come. Use Junkrat's mines to spot their advancement.
Like Torbjorn, Symmetra also has a turret ability. I also like her Teleporter, as it allows the allies to change their position when the enemies penetrate their defense. In my opinion, the best support for this team is Baptiste, as he provides area boons. Amplification Matrix can also increase the team's overall damage against incoming enemies.
The only issue with this team? There's not enough sustain.
Central Pull Comp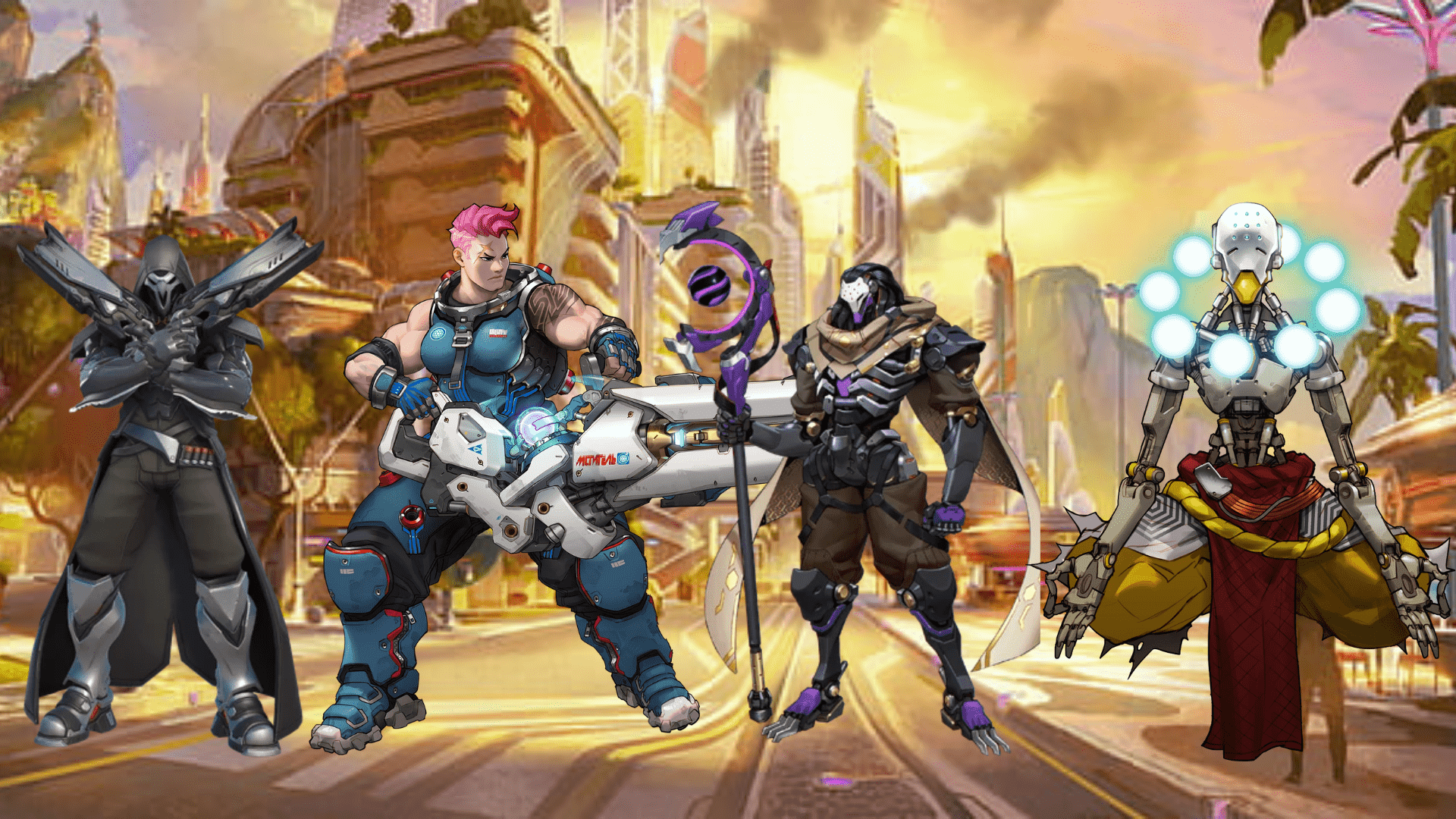 DPS: Reaper
Tank: Zarya
Tank: Ramattra
Tank: Orisa
Support: Zenyatta
If you have ever played Dota or League of Legends, you know how powerful pulling mechanics can be. So, I tried to create something similar in Overwatch 2.
Zarya's Graviton Surge or Orisa's Terra Surge are great for starting an engagement. Once the enemies are close to each other, you can further reduce their movement speed with Ramattra and then annihilate them with Reaper's Death Blossom. I used Zenyatta as a safety, but you can also experiment with some other supports.
The main problem with central pull is that you need excellent coordination to "pull" it off. What's worse, a lot of these abilities are ultimates, which can be a problem if you don't capitalize.
Line-up Comp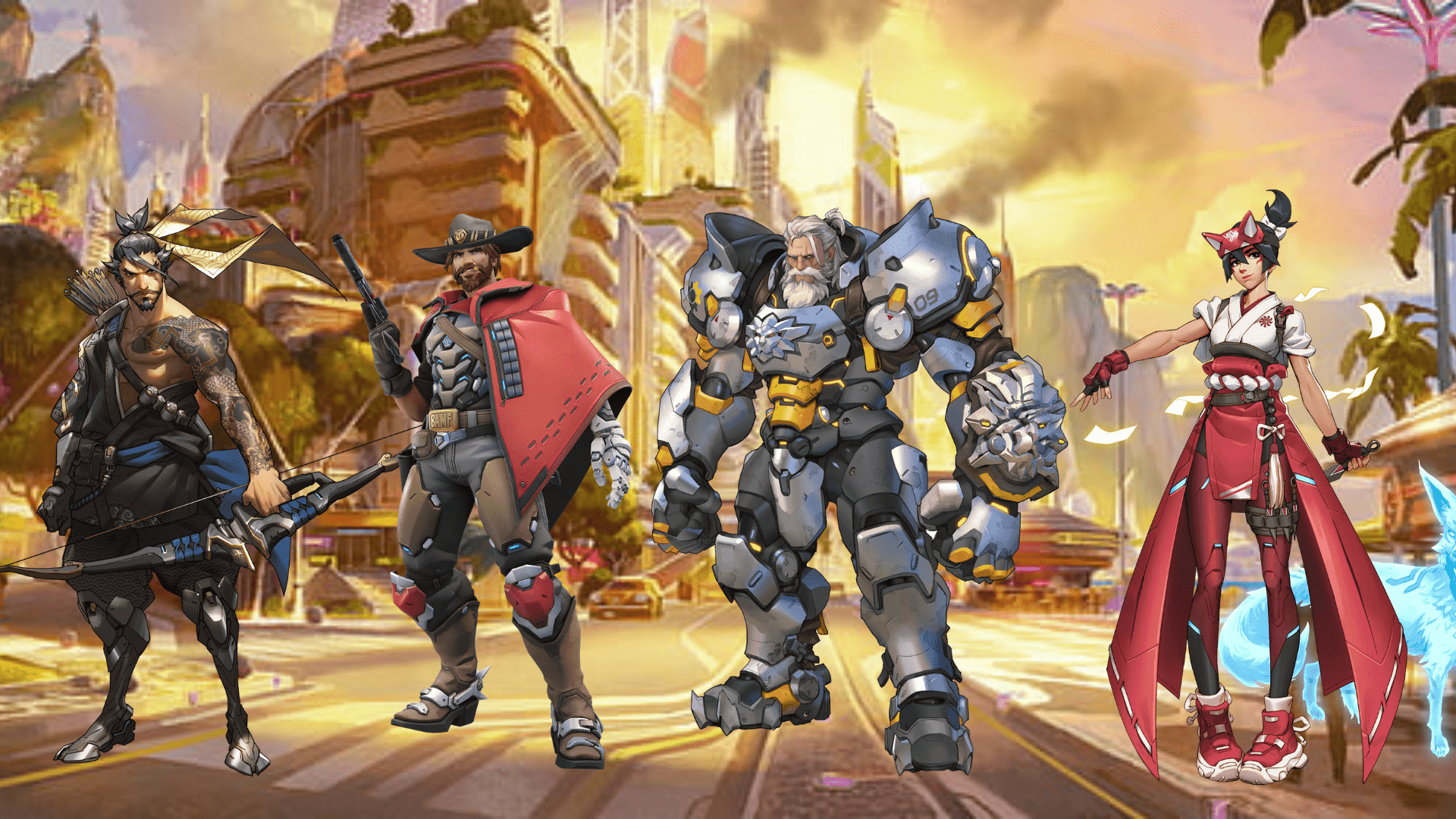 DPS: Hanzo
DPS: Cassidy
Tank: Reinhardt
Support: Kiriko
Support: Moira
With this particular comp, you're trying to run your team in a line, in a certain order. It's different from rush setups, as you need to have a specific formation for maximum impact. Kiriko is the focal point of this strategy, providing movement speed, attack speed, and faster recharge of abilities.
Reinhardt always goes in first. His task is to charge the enemy defense and keep them occupied. If the team stumbles upon fortified opponents, they can use his barrier to press forward. I like how Cassidy works with this comp, as he can follow behind Reinhard and dish lots of damage with his buff-amplified roll.
Although Hanzo might seem an odd choice for such an aggressive comp, he can help you reveal enemies and has an ability that goes well with the theme. Just make sure he's in the back. Moira should be the last one, using Biotic Orb for healing and Coalescence for offense and defense.
Barrier Comp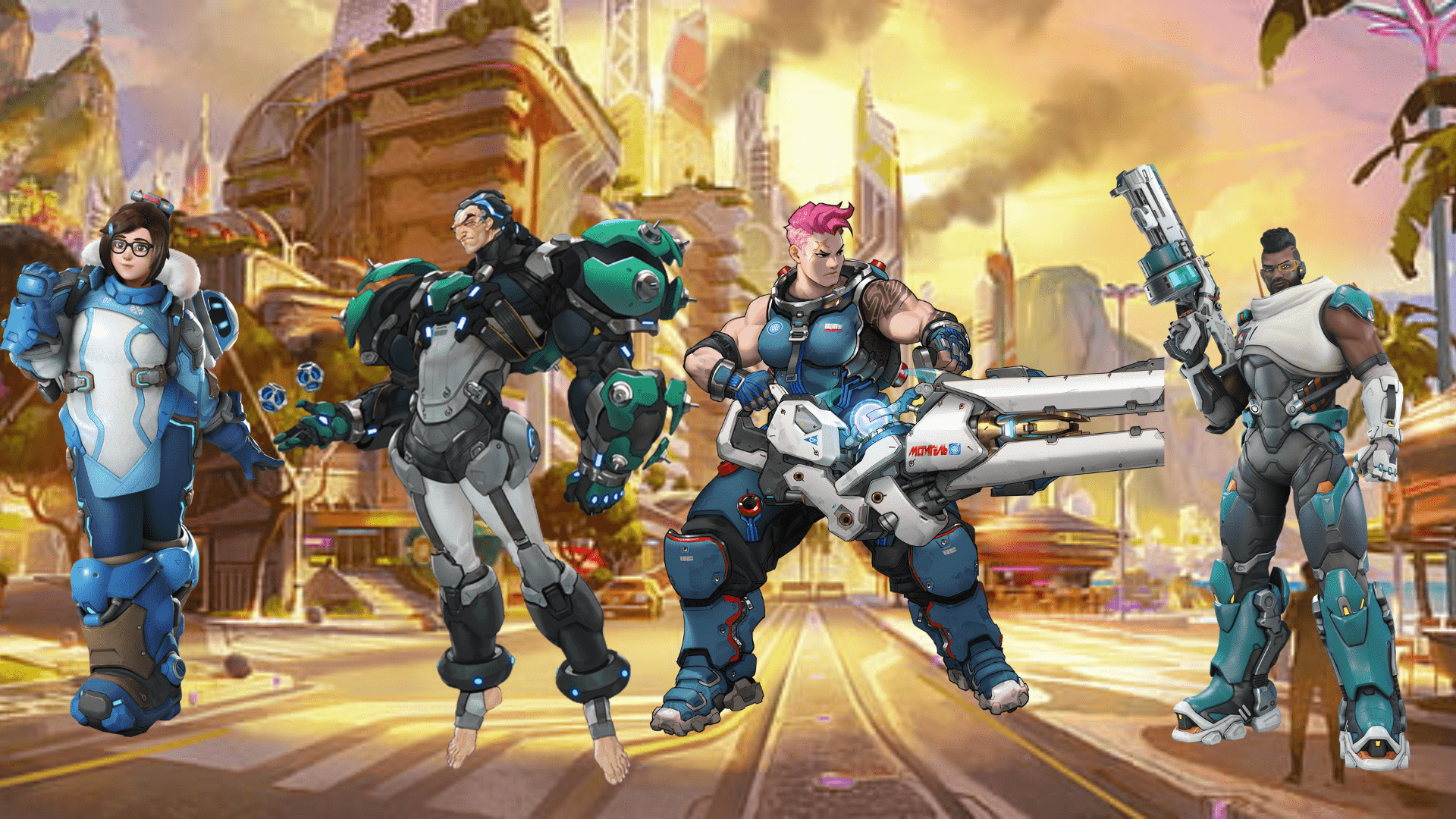 DPS: Mei
Tank: Sigma
Tank: Zarya
Tank: Winston
Support: Baptiste
This is another extremely annoying lineup that opponents will hate playing against. Although it's not particularly powerful in terms of healing, enemies will be frustrated by the fact they can't damage you.
Zarya is extremely powerful in this lineup providing continuous protection for herself and her allies. Winston also can create a bubble to eliminate incoming damage. Sigma's barrier, although slightly different, serves the same purpose.
Baptiste can serve as a safety, and you also have Mei to dish damage and isolate/block enemies with her Ice Wall. Although this strategy quickly gets dull, I suggest that you try it at least once when playing with friends.
Scout Comp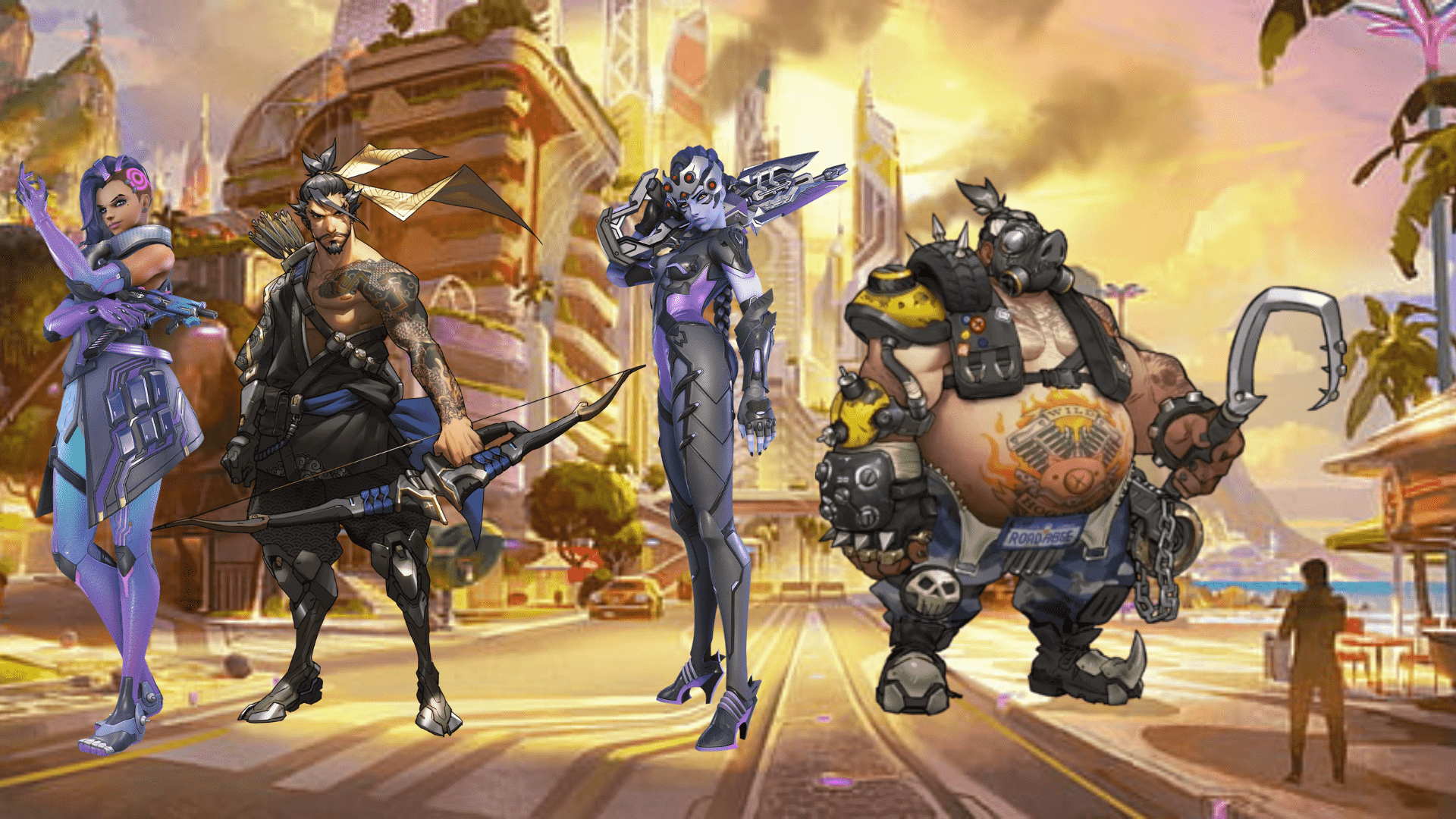 DPS: Sombra
DPS: Hanzo
DPS: Widowmaker
Tank: Roadhog
Support: Ana
The scout team consists of members that have various tracking skills.
The focal points of this strategy are Hanzo, Sombra, and Widowmaker, with the other members being interchangeable. I went with Roadhog as my frontline tank, being supported by Ana. The rest of the team should stay in the back and pick off the incoming forces. I especially like Sombra here, as she can stave off slow pushes by destroying barriers.
In theory, this can be a very powerful lineup as it allows you to track enemies' movement. However, to get the most out of it, you should play as a team and have a good understating of when to attack and when to pull out.
Wall Pushing Comp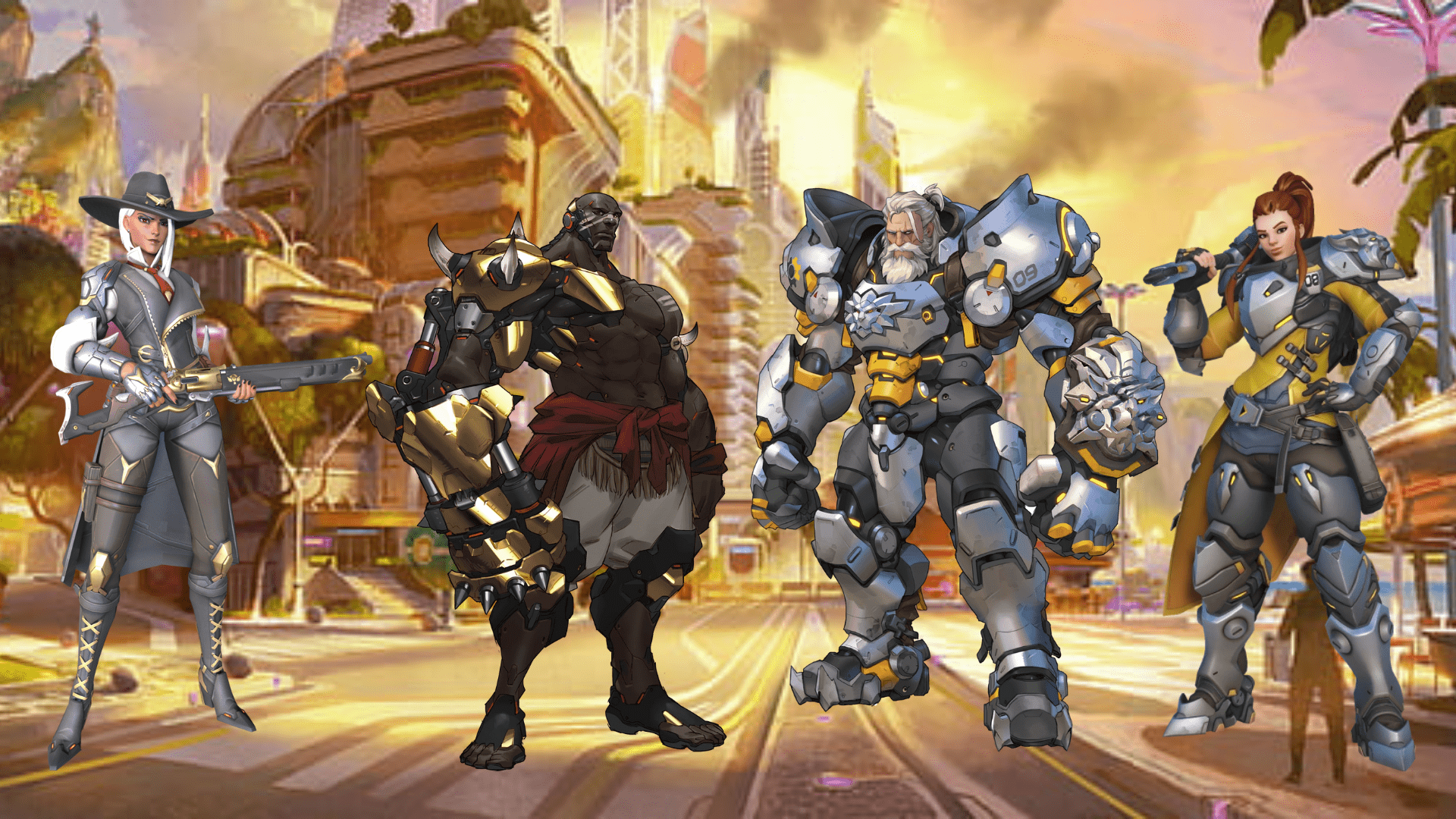 DPS: Ashe
Tank: Doomfist
Tank: Reinhardt
Tank: Orisa
Support: Brigitte
Wall pushing comp can be really fun. The synergy of this lineup comes from their ability to push back enemies and potentially ram them into the walls. Its success is mostly predicated on the map or area of the map where you're fighting.
The great thing about this comp is that it's extremely bulky. With three tanks in front, you can easily push back enemy lines. Doomfist, Reinhard, and Orisa can deal lots of damage with their knockback abilities based on your positioning.  
Brigitte goes well with this lineup. Aside from having knockback abilities herself, she also provides a mobility buff to teammates allowing them to close the distance. Although Ashe's Coach Gun doesn't cause additional damage to enemies when they hit the wall, the character feels nice with this comp.
Snare Team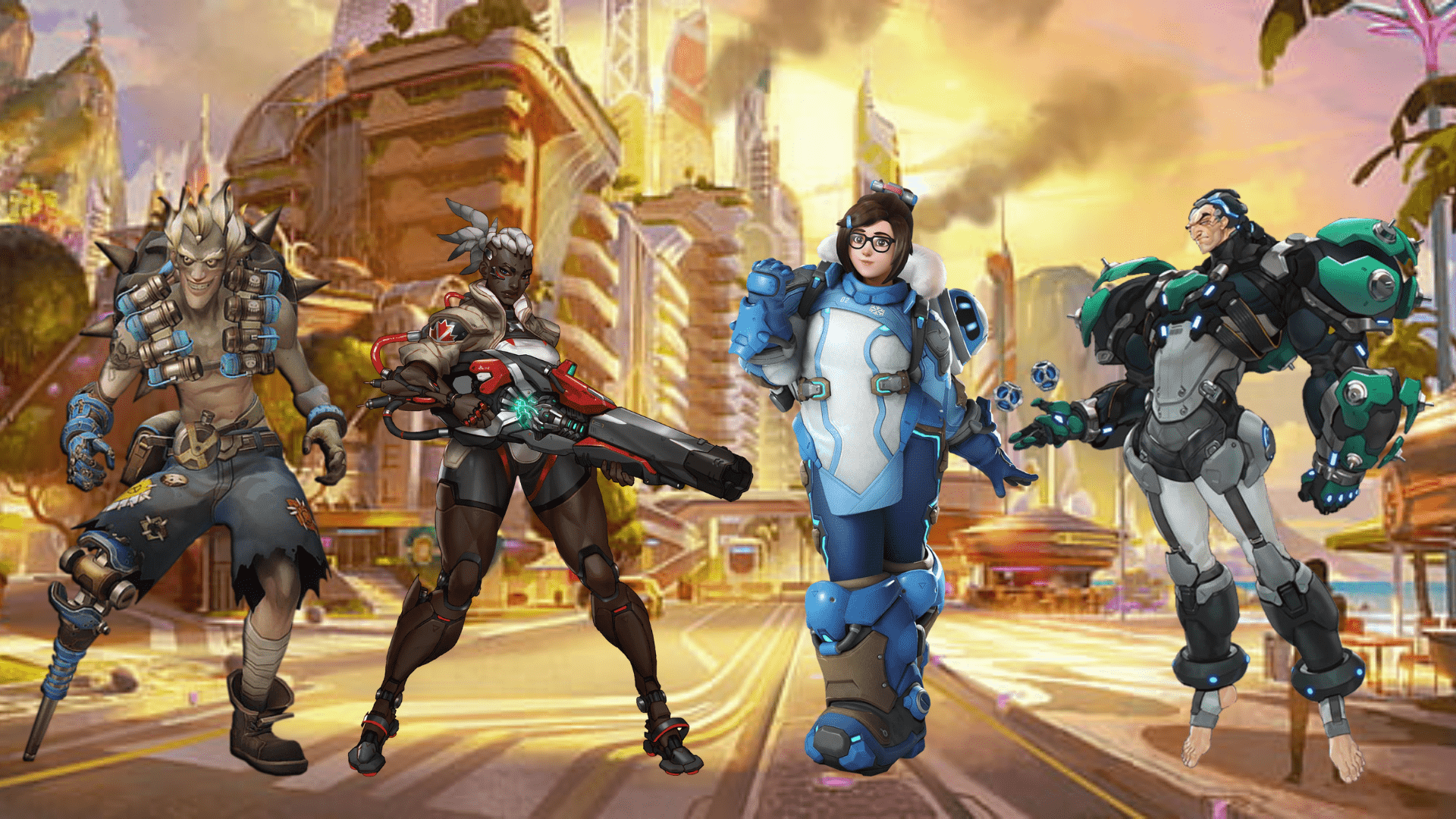 DPS: Junkrat
DPS: Sojourn
DPS: Mei
Tank: Sigma
Support: Ana
The goal of this composition is to keep the enemies as far away as possible and take them out at the medium and long range. This is why Junkrat is so crucial for this strategy, given that Concussion Mine and Steel Trap are fantastic for creating separation.
Sojourn's Disruptor Shot is also incredible in this particular case. Sigma has Accretion and Gravitic Flux for controlling the area. Mei is another nice addition, allowing your team to block enemy movement or slow them down in a wide radius. Lastly, we have Ana's Sleep Dart, which briefly incapacitates opponents.
Although this might not be the most potent lineup, going against this many reliable snares and disables will make life terrible for the enemies.
FAQs
Question: Who is the best character in Overwatch 2?
Answer: Historically speaking, Tracer was the best and most popular character in the game. Pro players have won many tournaments relying on this hero. Mercy can also be placed in this category. Although Pharah isn't that popular, she has the highest win rate at the Grandmaster level.
Question: What is the meta team comp in Overwatch?
Answer: The most common compositions in this patch consists of two damage heroes, one tank hero, and two supports. However, the optimal team can vary based on players, your strategy, meta heroes, and a few other factors.
Question: Who is the most op DPS in Overwatch?
Answer: In the current patch, Genji and Sojourn are considered the most overpowered damage dealers. They are closely followed by Tracer, Reaper, Soldier 76, Ashe, and Sombra. Symmetra is almost unanimously considered the worst character in this category.
Best Overwatch 2 Team Comps: Conclusion
The "best team composition" can mean different things to different people. Most players think about optimal lineups that would help them climb the rankings. However, the term can also refer to fun, interesting compositions where heroes synergize well with each other.
Most of the team types I've mentioned in this article are good for getting to higher echelons of competition. Some of them can be interesting when playing with friends. No matter what, I suggest that you experiment with these comps and find the ones that provide the best Overwatch 2 experience.