Latest posts by Stefan Stevanovic
(see all)
Following the success of Your Shop, the League of Legends online store, Rio decided to implement something similar for Valorant. The company created Night Market, which serves the same purpose as its LoL counterpart. In other words, it is a periodic store that features random, discounted cosmetics.
Each time Night Market starts, a player can purchase six different discounted weapon cosmetics. Interestingly enough, skins are randomized for every player. Every person might get a completely different set of cosmetics, which makes the whole event exhilarating.
If you're as much a fan of cosmetics as I am, you will love the Night Market. It gives you the opportunity to buy some new, cool skins at a reasonable price. Unfortunately, it can also be a bit infuriating. For example, you might be waiting for a certain discounted item for several months to no avail.
In this Valorant Night Market Guide, I will talk about the store event and how you can benefit from it.
Key Info Up Front
Valorant Night Market is similar to League of Legends' Your Shop. It is a periodic store event that allows players to buy discounted weapon skins. Every player gets a unique offer of six items, so there is a chance you'll want to buy all six cosmetics or none of them.
Occasionally, the company puts up teasers advertising the upcoming shop event. Although the items are randomized, there are a few rules. For example, two out of six weapon skins will be for knives or guns. Even if you're not a big fan of skins, you will be compelled to buy some of these bad boys because of the nice discounts.
Background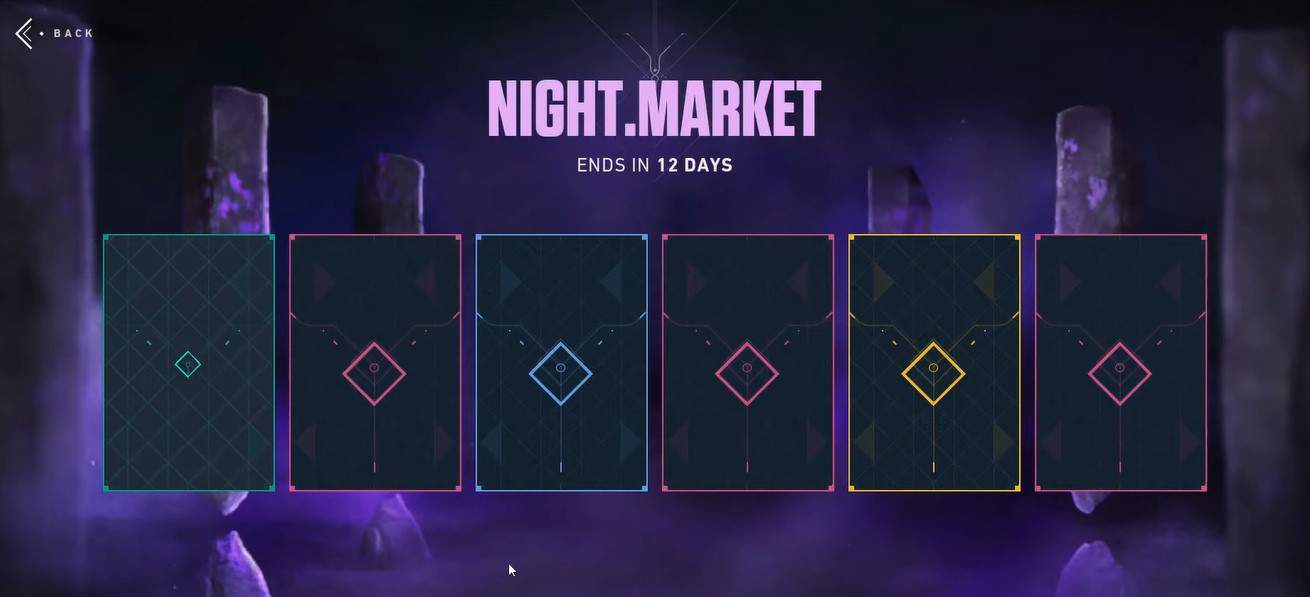 The first Valorant Night Market started on the 10th of December 2020 and lasted until the 11th of January 2021. It was introduced during Episode 1, Act 3. At that moment, Valorant was a relatively new game, being in patch 1.14.
The expression Night Market refers to street markets that are common in East and Southeast Asia and Chinatowns. Also called night bazaars, these open shops work during the night, mainly selling food and other treats.
They are ideal for walking and leisure because the weather is much cooler in these sections of the world during the night.
The name and concept of Night Market work well for the Valorant environment. It makes it feel as if you're buying weapon skins on some shady, secluded black market. If we also consider that the cosmetics are randomized, it gives the whole store a mysterious aura.
Valorant Night Market Features
When starting a new Night Market, a player can only receive cosmetics that belong to the Select, Deluxe, or Premium tier. Furthermore, each of these skins should be previously released in the shop and should exist for more than two acts. This prevents players from getting discounts on the latest cosmetics.
Here are all the other restrictions:
You can't receive cosmetics from Battle Pass or Agent Contracts.
You can't receive gun cosmetics categorized as Ultra or Exclusive tier.
You can't receive knife cosmetics that are a part of the Ultra Edition or Exclusive tier set.
As previously mentioned, at least two cosmetics will be either knives or Premium tier gun skins.
You can't get three or more skins for the same type of weapon.
Generally speaking, Riot doesn't want to discount hot commodities or top-tier items. Everything else is available. They added a few interesting protections, such as the one that prevents players from getting three or more skins for the same weapon.
Like all other skins in the game, you can purchase Night Market cosmetics by using Valorant Points (VP).
Weapons Featured During the Last Night Market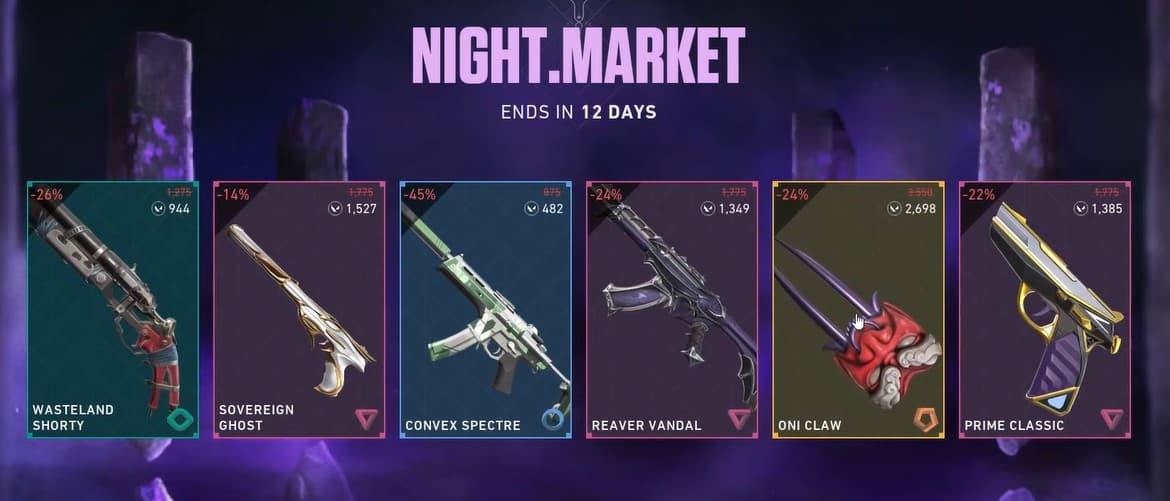 The last Night Market was during Episode 5, Act 1. It ran from the 20th of July, 2022, to the 2nd of August, 2022. According to the rules of the market, the latest offer was also the biggest as it featured some of the previously unavailable sets.
Select weapons (Rush, Smite, Infantry, Convex, Endeavor, Luxe, Sensation, Prism II, Galleria)
Deluxe weapons (Minima, Horizon, Aristocrat, Avalanche, Prism, Nunca Olvidados, Silvanus, Snowfall, Sakura, Tigris, Team Ace, Wasteland, Titanmail, Winterwunderland).
Premium weapons (VALORANT Go! Vol. 1 and Vol. 2, Gravitational Uranium Neuroblaster, Ion, Forsaken, Gaia's Vengeance, Prime and Prime 2.0, Nebula, Magepunk, Neptune, Ego, Celestial, Doodle Buds, Spline, Sovereign, Recon, Oni, Origin, Undercity, Xenohunter, Radiant Crisis 001, Tethered Realms, Reaver (only weapons from Episode 1 are available).
In the next Night Market, we will also have access to Sarmad weapons and Reaver cosmetics from Episode 5.
Previously Held Night Markets
There were 11 Night Markets in total dating back to the 10th of December and Episode 1, Act 3. There is one such event for each act, and they become progressively more complex. On average, they last between 13 to 14 days, giving players ample opportunity to buy their favorite sets.
I think that the company wanted to introduce Night Market from the get-go, but they didn't want to give new cosmetics for cheap. According to their own rule, Riot waited for two acts to allow players to buy discounted items introduced during Episode 1, Act 1.
Here is the full list of all Night Markets so far:
Episode 1, Act 3 – From the 10th of December, 2020, to the 11th of January, 2021 (patch 1.14)
Episode 2, Act 1 – From the 11th of February, 2021, to the 23rd of February, 2021 (patch 2.02)
Episode 2, Act 2 – From the 8th of April, 2021, to the 20th of April, 2021 (patch 2.06)
Episode 2, Act 3 – From the 2nd of June, 2021, to the 15th of June, 2021 (patch 2.09)
Episode 3, Act 1 – From the 28th of July, 2021, to the 10th of August, 2021 (patch 3.02)
Episode 3, Act 2 – From the 29th of September, 2021, to the 12th of October, 2021 (patch 3.06)
Episode 3, Act 3 – From the 9th of December, 2021, to the 21st of December, 2021 (patch 3.12)
Episode 4, Act 1 – From the 9th of February, 2022, to the 22nd of February, 2022 (patch 4.02)
Episode 4, Act 2 – From the 6th of April, 2022, to the 19th of April, 2022 (patch 4.05)
Episode 4, Act 3 – From the 18th of May, 2022, to the 31st of May, 2022 (patch 4.09)
Episode 5, Act 1 – From the 20th of July, 2022, to the 2nd of August, 2022 (patch 5.01)
The next Night Market will probably be sometime in September.
How to Access Night Market?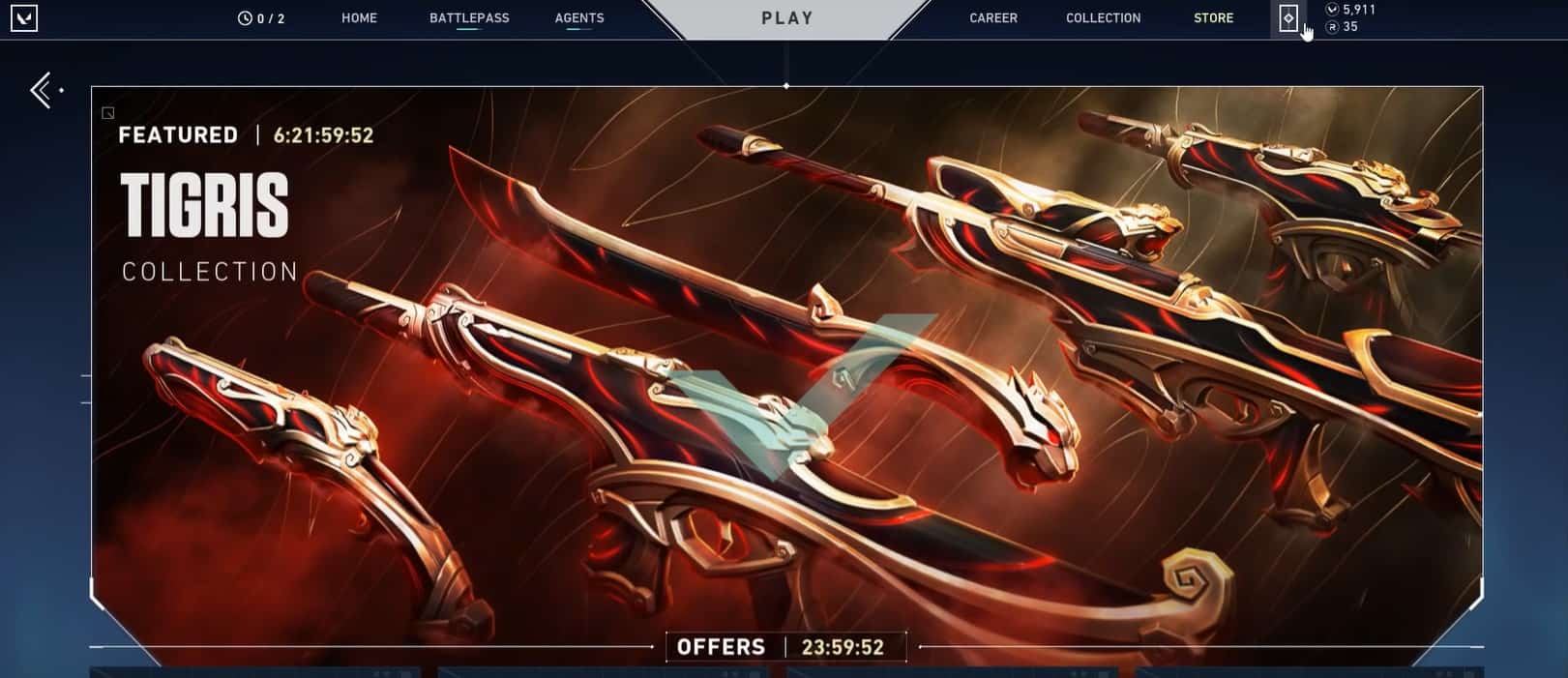 I love Night Market for its unpredictability and the fact that you don't have to purchase anything. Like everything else that Riot does, it gives players full monetary control.
To access the store, you should go to the Valorant home screen. You will see the shop's logo on the top side, which looks like a door with a vertical line going from top to bottom. There is also a diamond mark in the center. Riot also added a sparkling effect to the logo, so it is easier to find.
Once you click on the icon, a set of six cards will appear on the screen. Each one of them has specific colors for outer lines indicating the rarity of a skin (Select, Deluxe, Premium, etc.) Once you click on a card, it flips, showing the available cosmetic.
Aside from the weapon's name and appearance, you can also notice the previous price and the new price. The system also calculates the percentage discount. Like the skins offered, the price reductions are also randomized, and you can get up to 50% off on the original price.
Criticism of Valorant Night Market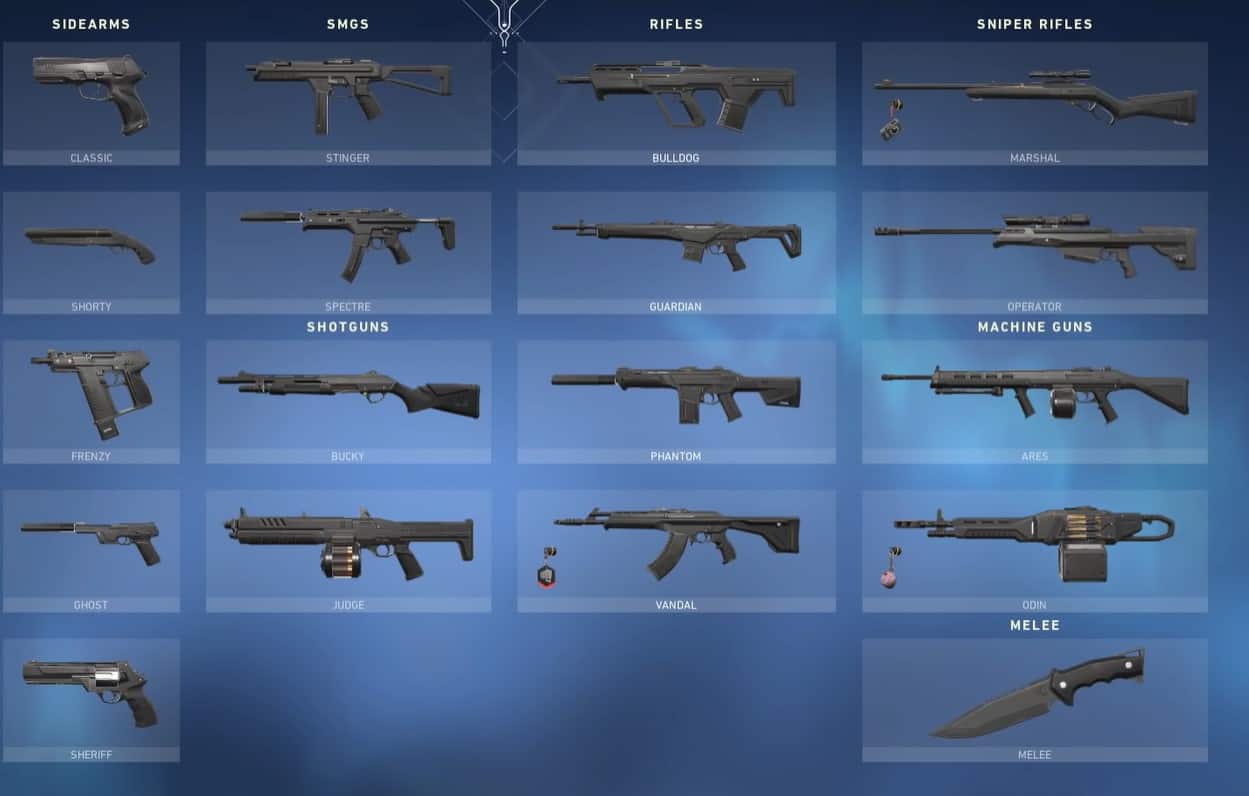 The Night Market system uses several randomizations, which was a cause of major controversy back in the day. Although the algorithm can provide some major discounts, it can also cause you to uninstall the game in a rage.
This was especially noticeable during the first Night Market. A lot of fans were complaining about getting too many low-tier offers. According to a poll performed after the initial markets, only 2.6% were satisfied with the event. The remaining 97.4% claimed that the system needs some rework.
For example, there were instances where players would only receive Select and Deluxe cosmetics, the two lowest categories of skins. Others were complaining about the length of the event. The first Night Market lasted for 32 days, which was incredibly long considering the fact you're not getting anything new after the first roll.
The Solution
Given that Riot games usually have massive, vibrant communities, people offered different types of solutions that would fix the market. One of the suggestions was to allow players to modify one of the discount slots. That would give a higher reduction on the skin they actually want.
Eventually, the company decided to add Bad Luck Protection. The first thing they changed was reducing the number of skins per individual weapon. You could no longer get more than two skins for a particular item. Furthermore, you would now get at least two Premium cosmetics.
They also made slight tweaks to percentage discounts, although this was less noticeable than some other changes.
Future of Night Market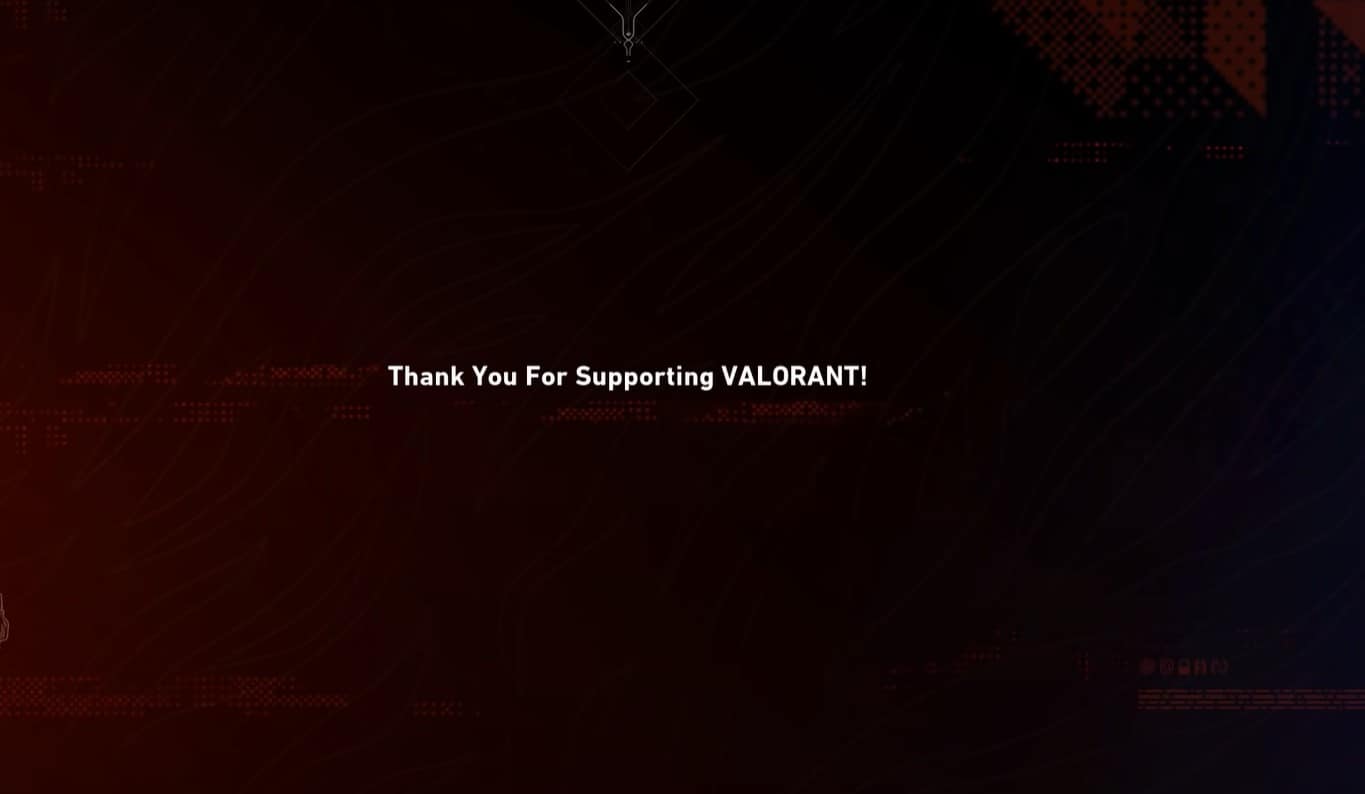 Nowadays, players are much more satisfied with this newer version of Night Market. Even though some people never get what they want, the general consensus is that the system is fair.
One of the things that Riot is still getting criticized for is the lack of skin reroll. Currently, there is no such feature during the Night Market, and you have to stick with the offer you initially received. In theory, rerolling cosmetics would give you another chance to get something cool at a low price.
However, it makes sense that Riot doesn't want to implement this system. They don't want to give their skins for free, and this would definitely be a way to devalue the whole cosmetics market in Valorant.
Other Interesting Information
Here are some other things you might find interesting regarding Valorant Night Market:
The items are predetermined even before you roll for them. So, it doesn't make any difference how or when you will click on the cards as you will always get the same offers.
You can't use this system to acquire all low-tier skins in the game. Night Market always gives two Premium cosmetics. The only way to circumvent this feature is by already having all skins from this tier. Only then will Night Market stop offering Premiums.
If you have all the skins in the game, you can no longer get offers during Night Market. Instead, when you click on a card, a message "Thank You For Supporting VALORANT!" will appear instead of a weapon.
Knives are the most expensive weapons in the Night Market. Unlike other items in the event, you can actually get Exclusive and Ultra melee weapons. Thus, their prices will be much higher than anything else that the algorithm offers.
Although you cannot reroll items within the Night Market, there is a way to get a different offer. Basically, you need to find a particular skin within the regular store and purchase it. This would remove the discounted weapon from the Night market, and the algorithm will offer something different in its stead.
Night Market is designed to prevent exploits. You cannot use it to amass cosmetics, and every player gets a different offer of six skins during the event.
FAQs
Question: How often does Night Market occur?
Answer: Night Market is a periodic event that occurs every two months. There is one Night Market for each act, featuring all the weapons from the store (except for the ones introduced in the last two acts). During this event, you get to purchase six random weapons at a massive discount.
Question: Why is my Night Market not showing up?
Answer: Occasionally, you might encounter an issue where the Night Market is not showing up in the game. In most cases, this happens because you haven't updated Valorant to the latest version. The problem might also happen due to a global glitch. However, this is less likely.
Question: Is Night Market Valorant any good?
Answer: Since the second iteration of Night Market, most Valorant players perceive the feature as a nice addition to the game. Keep in mind that Riot is not obliged to provide any discounts, so this is a great way to get some cool-looking cosmetics without spending too much money. The feature is especially fantastic for people who purchase skins in bulk.
Question: Are Night Market discounts random?
Answer: Night Market offers are completely random, whether we're talking about skins or discounts for those skins. The smallest possible discount is 12%, and the highest one is 50%.
Valorant Night Market: Conclusion
Night Market is a Valorant feature that occurs once during every act. During a two-week span, you have the opportunity to buy six different skins at a discount. Every player gets a different, randomized set of cosmetics at a random discount. There are also several rules ensuring that the system is fair.
Whether you like it or not, I think that Night Market is a great addition to the game. We can always argue about the fairness of the system, but the very fact that the company is giving a discount should mean something. Still, I would love for Riot to give discounts on bundles or top-tier skins. However, this would probably have a very negative impact on their profits.